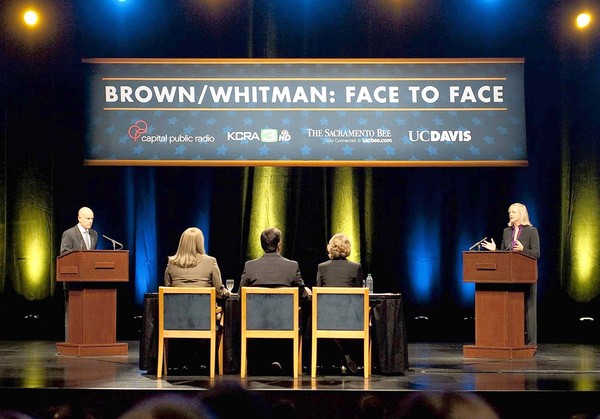 The caveat, of course, is that things change in politics very quickly.  In 1994, California was not a blue state.  Pete Wilson had just been re-elected Governor by a wide margin, despite having extremely low opinion ratings.  Dianne Feinstein needed everything she had to hold off what was then a record spending by Michael Huffington.
The Republicans for the first time won the Assembly, although Willie Brown would nullify that advantage.  They won all but two of the partisan constitutional offices.  And they rode the coattails of Three Strikes and Prop 187 to victory.
But something happened in that election that would entirely change the politics of California for at least the next 16 years.  Prop 187 was an effort to crack down on illegal immigration.  It won overwhelmingly.  Even Hispanics voted for it.
However, its passage marked the turning point in California politics.  Why?  First, Latinos registered and voted starting in 1996 in record numbers.  They took what prognosticators predicted would be a Republican Assembly and turned it back to the Democrats.  Not only did they vote in large numbers but they voted overwhelmingly for Democrats for the first time.  Prior to that election, they tended to split their vote and lean Democratic.  After that election, they looked much more like black voters than whites.
Since 1994's near sweep, only Governor Arnold Schwarzenegger (twice) was able to win major statewide office as a Republican.  If Kamala Harris holds onto her 43,000 vote lead, the Democrats will have won every single statewide election in the most Republican of all Republican years.
How bad is it for California Republicans?  Very bad, according to a Los Angeles Times/ USC Poll which shows a deep reluctance among voters to vote for Republicans and a large portion of the state holding views on the role of government, in direct conflict with those of Republicans.
The poll found that 18% of all voters and 31% of Latinos said they will never vote for a Republican.  Only five percent said they will always vote for a Republican.
56% of voters, including 77% of Latinos, support giving illegal immigrants a path to citizens if they fulfill certain obligations.
The LA Times reports, "By a 41-point margin, voters supported reducing the time needed to immigrate  for those who have relatives in the United States. By a 56-point margin, California voters backed a measure that would award citizenship to those who complete college or serve in the military. By a 19-point margin, they endorsed an immigration reform plan that would allow citizenship for those who fulfill specific requirements like paying a fine."
Those who support same-sex marriage outnumber those that oppose any legal recognition of gay relationships by more than 3 to 1.  49% backed the right to marriage, 29% favored civil unions, and only 15% said there should be no legal recognition at all. Among nonpartisans, support for same-sex marriage rose to 54%.
If the Prop. 8 election were held two years later, would it still have passed?  It seems unlikely, but it took a lot of scare tactics to get it to pass back in 2008.
Moreover, time is not on their side.  The polling found that for those under 30, same-sex marriage was backed by 64%, and young voters back immigrations reform by 10 points higher than the general population.
Furthermore, the LA Times reports, "Ideologically, 42% of those under age 30 described themselves as liberal, whereas only 20% of those age 65 and above did."
The party also faces difficulty between its own ranks and the state at large.  The bulk of GOP voters want the party to be more conservative, while the plurality of California Voters want them to be more moderate.
The demographics are not working in their favor here, as the state voting population becomes more non-white and non-partisan.
The poll found, "Nonpartisan voters, those who register as "decline to state," now make up more than 20% of voters in California. Latinos last month made up about one in five voters. In 2010, as in past years, both groups strongly supported Democratic candidates and policies. The poll suggested that was driven, at least in part, by disagreements with major positions held by Republicans."
"I don't know how any Republican thinks they can win in California after looking at this," said GOP pollster Linda DiVall ,who helped direct the survey along with Democratic pollster Stanley Greenberg.
"California is a diverse state, and this survey … underscores the price Republicans pay for seeming to not [be] welcoming the next wave of immigrants," said Democratic pollster Greenberg.
That said, politics are fleeting and often encompass radical changes in a short period of time.  One election in 1994 radically altered the entire political landscape in California and it could happen again.
In fact, I am much more sanguine about the political landscape.  The propositions and political changes may alter this landscape rather dramatically.
Republicans can site the fact that the voters opposed tax changes – they have balked at changing two-thirds voting requirements for new taxes, voted against new fees, voted to require two-thirds voting for fees, etc.
But when it comes to voting who will carry out policy, California voters have turned against socially conservative Republicans, those candidates who get nominated by their party, for the most part.
The real question is, with the new primary system, will that change the types of Republicans the voters select and thus alter the political landscape again?
—David M. Greenwald reporting