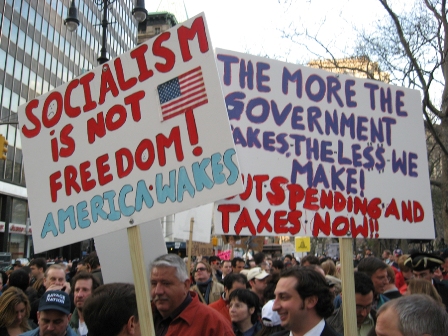 Democratic voters reading this ought to brace themselves for a rough night that is likely to rival 1994, if not exceed it.  Angry voters across the nation are poised to sweep out the incumbents yet again in large numbers – this time to the benefit of the GOP.
However, as I suggested last week, Californians ought to build that moat because the wave is not going to hit here.  Recent polling suggests that, while it may be true that Republicans will turn out in large numbers across the country and Democrats will stay home, there is little evidence that will happen in California.
Polling data indicates that while there may be a Democratic excitement deficit, there will not be a Republican surge that will sway the outcome of many races.  That means that Democrats at the top of the ticket, Jerry Brown and Barbara Barbara, both of whom hold significant leads, will likely prevail in their races.
"Republicans are talking about something that doesn't exist here," said Darry Sragow, interim director of the Los Angeles Times/USC Poll.
Instead, the Tea Party wave that will toss out Democrats across the national will stop at the California border.  Why?
There are some theories. One is that the sheer size of California makes it difficult for a small, intensely-focused movement like the Tea Party to penetrate.
Another is that California is simply too Democratic for the impact to matter.  Democrats hold a 13-point edge in voter registration.
Even in the best-case scenario for the GOP — a big turnout among Republicans and a depressed Democratic turnout — the former would still be outnumbered by 5 percentage points, Sragow said. The Times/USC poll accounted for such a scenario, and had Brown and Boxer still winning handily, they report.
My personal theory is that California's ethnic demographics preclude part of the message of the Tea Party from reaching Californians, and combine that with the fact that at the top of the ticket is Meg Whitman and Carly Fiorina, neither of whom are overwhelmingly compelling in their own right.
Moreover, both are novices in a state run by Governor Schwarzenegger since 2003, himself a political neophyte in what is largely viewed as a failed governorship.  The state has seen record budget deficits, and has been paralyzed by partisan bickering that the Governor has failed to be able to quell and has lacked the capital in his own party to even broker a deal.
As a result, we even see the possibility that Californians will pass additional reform measures.  For example, polling now shows that a full 58% of likely voters support Proposition 25, which would would replace the constitutional requirement that the state budget be approved by two-thirds of the Legislature with a simple majority vote requirement.
Such a change would allow Democrats to pass a budget without any GOP votes, under the current makeup of the Legislature.
However, it would not allow them to raise taxes.  A compromise for sure, but at least it begins to change the dynamics of an unworkable system.
Democrats are not just poised to win at the top of the ticket, but down the line with the exception of the AG's race, which is too close to call, but the smart money points to the moderate Steve Cooley.  Kamala Harris, the San Francisco DA, is seen by many as too liberal on the death penalty, and who also has an office that has been hit by numerous scandals.
Recently, San Francisco's Sunshine Ordinance Task Force found that San Francisco District Attorney Kamala Harris's office violated the city's open records law when it failed to release public records requested by Steve Cooley, her opponent in the race for attorney general.
She has also failed to turn over evidence to defense attorneys and the crime lab has had numerous problems.  Even then, most polls show her within shouting distance and with momentum up for tickets on the Democratic side, she might pull it off.
That statement alone shows how different California is from the rest of the country.
Illegal Immigration Views Different in California
Another factor less explored can be seen in an article in the LA Times on Monday which shows that California has a very different view of illegal immigration in California. 
Back in 1994, the last time we saw such a GOP wave, Californians were perfectly willing to blame illegal immigrants for the state's woes. They passed one of the most restrictive anti-immigration policies in the nation in Proposition 187, which has never been enacted, having been thrown out by the courts.
Times have changed however, with the latest LA Times/ USC Poll showing that 48% of Californians think that immigrants were a benefit to the state while 59% were in favor of allowing illegal immigrants who have lived or worked in the United States for at least two years to remain here.
What has changed?
Several things, it turns out.  First, the flow of illegal immigrants has declined since 2000 with the population growing less than one-third the rate of the rest of the country.  Those who are here have become part of the local population and apparently no longer represent the threat of displacement or cultural upheavel that they did 16 years ago.
As Gregory Rodriguez for the LA Times writes, "Californians survived the much-hyped demographic shift, and we're beginning to get used to our new reality. In other words, whites got to know their new neighbors. And, despite real tensions caused by illegal immigration, familiarity didn't breed contempt."
Californians are now twice as likely to have "exposure" to minorities as residents of the rest of the country.
The bottom line is that it seems that for Californians, the fear of the unknown did not pan out.  The waves of immigrants to California have not destroyed the state.
Is this the wave for other states in the southwest?  It is difficult to know for sure.
However, from one standpoint, the solution to the problem of illegal immigration is likely not going to occur with harsh policies.  Rather, it is more likely that the solution will come from some sort compromise policy that stops short of an open border, but acknowledges the impossibility of removing millions of residents.
We need to find a solution that provides the people who come to this country, wanting to work, a means to do that legally.  If we do that, we will pull the rug out from under the black market that profits from the smuggling of human cargo into the United States.
Through legalization, we can better regulate the flow of immigrants to reduce the disparate impacts on one area, relieve the pressure on interdiction and law enforcement, and help quell border violence and even some of the drug trade.
It is a difficult process, but one that suggests that levels of hostility will not remain high forever and that policies based on fear and anger are likely to be fleeting.
Reflection
In the days and months ahead, there will be much contemplation as to why the Democrats were routed, but at the core it appears to be a failure of leadership, almost a cowardice on the part of the President to engage his political foes in the type of rhetorical battle that a president needs to. 
We can throw in the fairly weak leadership style of Harry Reid and wonder if Charles Schumer would not be a far more formidable leader in the Senate.  We at least know that Mr. Schumer will not back down from anyone in a political fight.
From my perspective, we are far more impacted by what happens at the state and local level than what happens at the national level.  That is not to suggest that the national level does not matter, as we saw firsthand in the last decade how President Bush's policies led to unnecessary foreign excursions.
But in terms of finding ways to solve our problems, we rely much more heavily on state policies and local polices than national ones.  Barring the unforeseen, California will have an opportunity to move forward with a new political vision, and that is something worth watching.
—David M. Greenwald reporting