Proposal for 610 Housing Units Bears Striking Resemblance to Lewis' 2007 Proposal –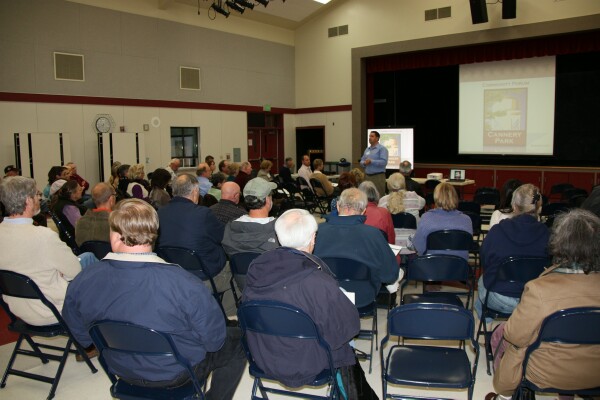 The first Community Forum was held Thursday Night at Harper Junior High School, where Con-Agra and the City of Davis presented their proposal to members of the public, and it was well attended.  Those who previously saw presentations by Lewis Home Communities probably saw something very familiar.
ConAgra has a very aggressive time frame in which they will be rolling out their proposal for a 610-unit housing development, along with 20 units of business park.   A second community forum is tentatively scheduled for January of 2011.  By March of 2011, they will be into the EIR (Environmental Impact Report) preparation phase.  Commissions will make their reviews in January and February of 2012, with the council taking final action by February 2012, before the next council election.
The main presenter for ConAgra was George Philips, who described himself as a Land Use attorney.  But the presentation was more like a marketing seminar.  Also on the team is Jeanne Jones, who was one of the public outreach people for the previous site.
The most striking feature of the presentation was really how similar it was to the previous Lewis Planned Community proposal.  Back in 2008, Councilmember Stephen Souza said that this project does not have the "wow factor" that he is looking for, and thus is not a project he is inclined to approve.  Has two years of a continued slump in the real estate market changed things?
On Thursday night, what we saw was remarkably the same thing that we saw back in 2007 and 2008 from Lewis Planned Communities.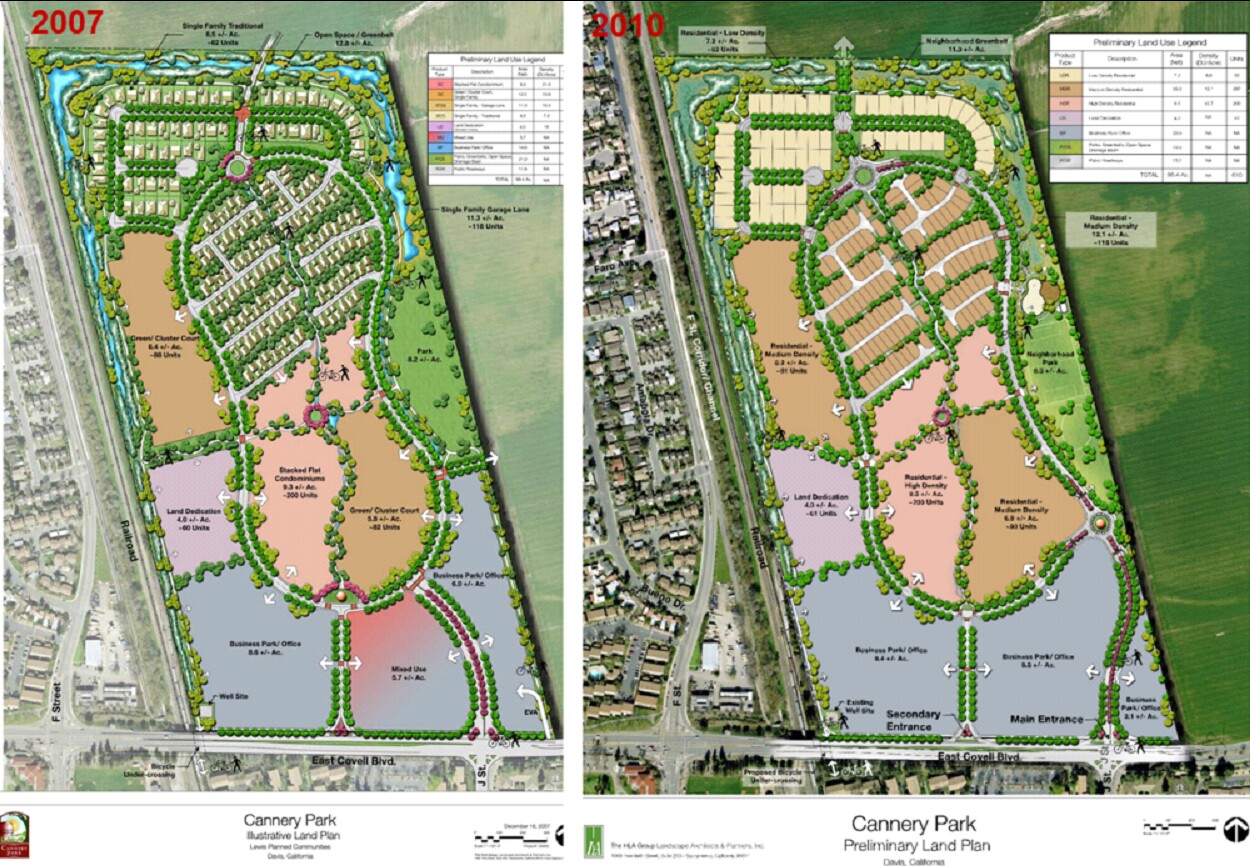 In fact, the biggest difference between the two projects, other than minor alterations, is that the current proposal has 20 acres of a Business Park/Office component, whereas the previous one was for 14.6 acres with an additional 5.7 acres of mixed use that is now gone.
Other than that, there are not a lot of changes.  The size remains 610 units.  The open space component, which they trumpeted in their presentation, is actually slightly smaller than the 2007 proposal which had 21 acres.  The size of the roadways has increased slightly.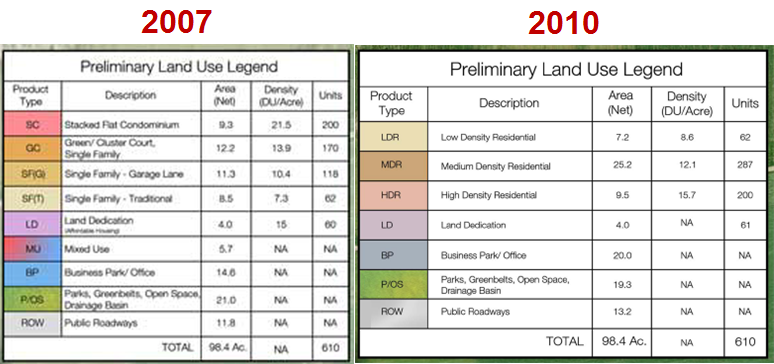 Other than that, the maps look almost identical.  Mr. Philips argued that the 20-acre business park is the gateway to the project, as it sits on the road and would have to attract people to live there who have to drive through a business park to get to their neighborhood.
He touted their 260,000 square feet of office and professional buildings along with neighborhood-serving retail, with the opportunity for live work residential housing units.
Given the quick timeline, the green proposals here lack any sort of specificity.  They talked in vague terms of about energy savings, mainly looking at transportation, water conservation, reuse of materials, reduction of greenhouse gas without specifics and improving the natural hydrology.
Mr. Philips pitched this like one might pitch a time-share. He basically said that no one piece makes this a sustainable project, but put all together it forms a bigger picture.  This sounds a lot like he is acknowledging that if we examine the sustainability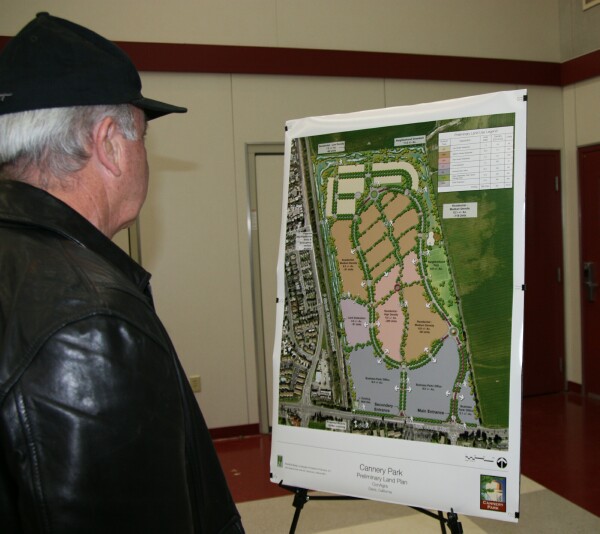 components and the greenhouse gas reductions, we will be unimpressed.
We have seen two recent projects in this community touting their sustainability, with both Wildhorse Ranch and the West Village  proposal claiming rather specific numbers in terms of reduction of greenhouse gases and other sustainability features.  Nothing like that in this proposal.  They did briefly talk about photovoltaic, wind and solar orientation as passive energy design features.
The project presents a tapered approach, with density highest in the south and decreasing as it heads north.  They are proposing 261 units of high density housing just north of the business park in the middle of the development.  Medium density housing would be toward the central portion of the development at 287 units, and 62 units of low density residential housing in the north.
The overall density would be 13 units per acre.  They touted reduced lot sizes, with more emphasis on direct connections to open space.
They are clearly marketing this as a means to bring in more school age children and help quell fears of declining enrollment.  They argue that there is the potential for about 350 school age children.
While the street and paved portion has increased, they have talked about smart street design with separated sideways, four primary street sections, wide parkway strips for streets, dedicated off-street bike and pedestrian trails and traffic calming measures.
While the overall size of the open space is reduced from the previous proposal, they emphasized a public gathering area along with urban green spaces, neighborhood gardens and orchards, and a neighborhood park (which would be required for a project of this size).
Commentary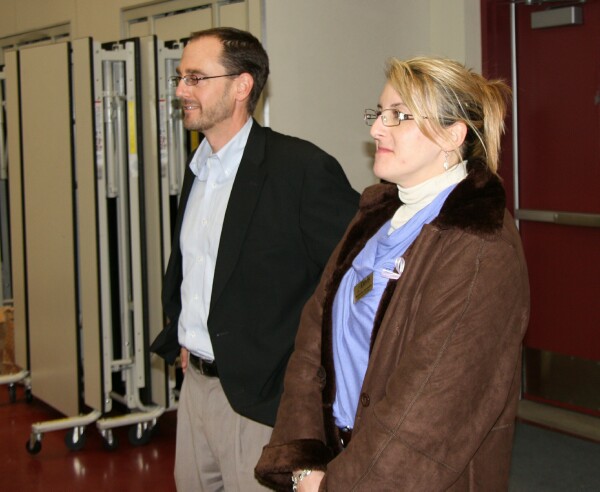 We just had a campaign a year ago in which the principle argument by opponents of a much smaller project was 200 units is too much.  So instead of a project of around 200 units, we have a project of 610 housing units, with no required Measure J/ R vote.  We are proposing this at a time of a still-slumping housing market.
The impact of this project would be to take away around 100 acres currently zoned light industrial.  This is coming at a time when the city has made it a priority to bring in high-tech and green business to the city and at a time when the city lacks land in its borders to provide the acreage needed for this type of economic development.
The byproduct of developing this property as 20 acres of business park and the rest as 610 units of housing will be to put pressure on other peripheral sites such as Nishi, Northwest Quadrant and the Mace-Signature Curve.
The thinking here is that if the public will not support housing in a Measure R vote, maybe it will support a business park in such a vote.  So there is a shift of 100 acres to housing and a hope that the voters will later approve a business park.
It is fairly clear that the business park here is an afterthought and ConAgra is simply trying to mitigate the complaints of those who believe that the entire nearly hundred-acre site should remain zoned for light industrial, and that the city should be actively and aggressively seeking companies to come here.
The project is fully lacking in any specificity about sustainability.  Both the Wildhorse Ranch and the West Village projects touted their sustainability features – here it seems like an afterthought that has been included, in hopes of making the project more palatable to a psuedo-environmentally conscious community.
There was very limited discussion and nothing concrete relating to Senior Housing needs or universal design.  There was no discussion, at least in the main presentation, about concepts like accessibility and visitability.  It is unclear where this project fits into the city's goals developed in their Senior Housing needs.  They talked about an opportunity for senior housing without much in the way of specifics.
In short, while the project does not need to go to the voters, it does not yet even appear ready to go to council, lacking specifics for key features.
There is little "wow" for the prospective community about this project.  It appears to be the same dull proposal from three years ago, which even Councilmember Souza was unenthused about.
As it stands now, if this proposal goes forward, the community may very well use the referendum process to put it on the ballot and have a de facto Measure R vote on it.  Right now, I would not bet on this project passing such a vote.  That will be the test of the developers to head that off.
—David M. Greenwald reporting