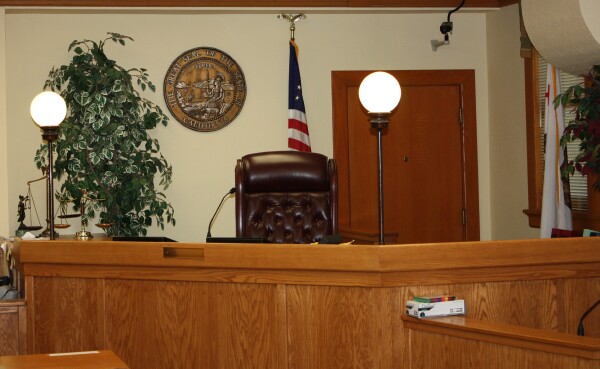 This week I spent my Tuesday night watching the Davis City Council finally deal with their economic situation and make a move towards a more sustainable future, as they faced dead-on the reality of a decade that saw unfunded liabilities soar while we kept increasing salaries and retirement benefits.
On Thursday it was the school district's turn, as they listened to one of the most ominous budgets one could imagine and then voted to ask the voters to help.
On Friday, over a week after Governor Jerry Brown's sweeping prison reform proposal, it was business as usual in Yolo County Courts.  In the morning we heard that the DA's Office and Probation Department are pushing for prison time for Michael Artz, as we reported on Saturday, for his crime of having sex with a 16-year-old when he was 18 years old.
But we are not finished.  In December we covered the trial of Jose Valenzuela, accused of stabbing and attempting to murder two individuals.  He was acquitted of the charges against one of the victims, but the jury hung 11-1 in his favor on the attempted murder charges for the second victim.
The DA continues to seek a plea agreement for 24 years in prison, and apparently is set to re-try him.  Never mind the results of the last trial.  Never mind the poor investigation of the police.  Never mind no witness saw him do it.  And never mind that DNA testing showed that blood on his shirt was not that of either victim. 
How one brutally stabs someone without getting their blood on them is beyond me.  11 of the 12 jurors agreed on this point, but here we are.
It is business as usual in Yolo County, despite the debate that is emerging over budget proposals from Governor Brown to radically reform the prison system.
Governor Brown is calling for an end to prison terms for thousands of convicts who are in prison for relatively minor crimes. 
These individuals would then be moved to county jails, and therein starts the debate.  As Yolo County Sheriff Ed Prieto was quick to complain last week, if adult convicts are released to Yolo County, Monroe Detention Center would be packed well beyond capacity.
"We don't have the facility to handle it," Prieto told the Daily Democrat.
The paper reports, "The county jail, which holds 450 inmates, could be asked to hold up to 800 inmates. He said the jail is at capacity all the time.  Unless Yolo County were to get a new facility, which Prieto said is unlikely, it's not going to work."
As the Sacramento Bee reported, Yolo County is not alone in lacking space to handle additional prisoners.
Writes the Bee on Tuesday, "Just as the state has struggled with prison overcrowding, some counties have had their own problems keeping inmates locked up. Statewide, tens of thousands of inmates are released early from county jails each year because of space constraints."
The story continues, "Jails in 20 counties – including Sacramento, Placer, Yolo and El Dorado – are under court orders to release inmates when they become too crowded. Jails in the four counties often operate at or near capacity."
The Bee reports that while "At least in theory, sheriffs don't think the transfers are a bad idea. They agree with Brown that local government is better positioned to provide the service.  But in addition to overcrowding concerns, sheriffs are worried that funding won't cover the cost of housing the transferred inmates, given the state's financial troubles."
There is a key point missed in this debate and it is the disconnect between the budget crisis and the policies of local counties to incarcerate people for relatively minor offenses, or to continue to use state and local resources to continue to try cases that they are not likely to win.
The cost of putting someone in prison in the California Department of Corrections and Rehabilitation approaches $50,000 per year on average.  Counties offer a lot of advantages, including reduced costs and closer proximity of families.
That shift might work if the counties either had enough space or if they were given funding to increase capacity.
The current budget proposal does call for $1.5 billion to be shifted to counties for incarcerations and other additional costs, but it is not clear that this is enough money.
But even with that, the charging policies of this county, and likely other counties, simply do not make sense. Charging policies seek to maximize incarceration times, often at the expense of common sense.  We can go through a whole litany of cases that may have warranted prison time based on the offense, but the time they received was excessive.  Longer sentences contribute to higher costs and overcrowding.
Moreover, there are a host of crimes that really warranted probation and some sort of training program, rather than prison time.
We were told by a former drug counselor that Yolo County is one of the few counties to essentially double-charge simple possession cases, making them possession and transportation cases, which increases the costs to the system by a large margin.
Changes such as reforming drug laws, reducing charging, eliminating three strikes except in cases where the third strike was also a violent offense, and increasing money for training and drug treatment would go a long way.
Think about it, we spent maybe $7000 to $8000 per year on schooling for students but $47,000 a year to incarcerate someone.  That means we could invest in a whole other tier of education and job training and still save money on incarceration.
Recidivism in California is among the highest in the nation – why is that?  One of the goals of the new Attorney General is to reduce that rate, which is currently 71 percent.  A lot of that are 10,000 individuals each month who are serving time for parole violations, sometimes for pretty minor infractions.
For instance, we mentioned the case of Jose Valenzuela, who appears to be innocent of the current charges.  In addition to facing another court trial at state expense, he is now also facing a violation of probation charge for admitting in court that he had possessed some marijuana and a red belt.  So California taxpayers are now going to have to pay tens of thousands because of very minor violations of probation.
We are asking schools and local communities to do without, but we have allowed our court system to practice business as usual.  We can no longer afford this kind of system.  We need to find other ways to deal with people who do not represent direct threats to public safety.
Until we do, we will never get a handle on this budget crisis.
—David M. Greenwald reporting