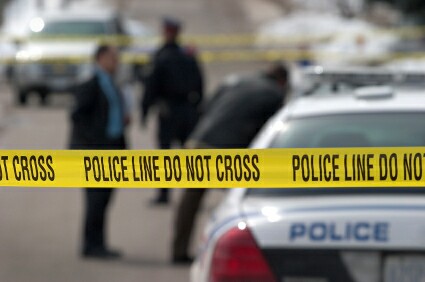 Did the Davis Police Department help prevent a suicidal UC Davis student, heavily armed, from going on some sort of tirade, or did they unnecessarily escalate a tense but ultimately non-threatening situation with a student suffering from serious head injuries?
According to a releaase from Public Information Officer, Lt. Paul Doroshov, at approximately 6:00 PM on Friday evening, Davis Police Officers were dispatched to the downtown area to search for an armed suicidal 25-year -ld UC Davis student, Nicholas Benson.
Apparently, a family member reported Mr. Benson to the police as distraught and suicidal.  Police received additional information suggesting that Mr. Benson was possibly armed with a file and threatening to kill others.  Mr. Benson, however, at this point had not targeted anyone specifically.
According to the department, "Officers made attempts to negotiate with Benson on his cell phone to no avail."
After an intensive area search, officers located Mr. Benson standing by his pickup truck at Fourth Street and A Street.
After Mr. Benson received numerous commands to surrender, he allegedly resisted and headed straight for his vehicle.
Just as Mr. Benson entered the cab of his pickup truck, officers used a Taser and other non-lethal measures to subdue him and take him into custody.
The police found in his vehicle a loaded rifle with a telescopic sight, and a loaded shotgun. They also located hundreds of rounds of rifle ammunition in Benson's possession.
Mr. Benson was arrested and is lodged at the Yolo County Jail on $1 million bail, charged with Making Terrorist Threats (PC 422), Carrying a loaded weapon in a public place (PC 12031), Obstructing and Resisting a Public Officer (PC 69), and Possession of an illegal assault weapon (PC 12280(b)).
While many praised the Davis Police Department for their fast thinking in averting a situation that could have become another case like what happened in Arizona, the Vanguard has learned that the family is angry that this situation was escalated to the point that it was.
Family and friends indicate that as a teenager, the individual suffered significant head injuries in an automobile accident, to the point where he nearly did not survive.
He has struggled to complete college and live a normal life.
They believe that, while he was suicidal, the idea that he was making terrorists threats was overblown and this was simply an overreaction.
"This young man belongs in the hospital not in jail," according to one person familiar with Mr. Benson's situation.
Unfortunately, in the aftermath of incidents like Arizona, the police are invariably going to err on the side of caution.  We may never know what really happened or what his true intentions were.  However, this seems to be an individual who needs treatment rather than to spend the rest of his life in prison, which the charges against him may necessitate.
One thing that is clear, we need more treatment options and support for the mentally ill in this country.  We are apparently willing to spend tens of thousands per year to house inmates, but not invest the kind of money we need into mental health services.
This a tragic case, and unfortunately, as we have learned in all too many incidents, the police may not be the best parties to handle such calls.  We have the example of Abrahams in Woodland, where Mr. Abrahams, also mentally disturbed, had his family call the police after he left a care facility.  What ensued was an escalated conflict, tasering, and eventually the death of Mr. Abrahams, termed by authorities positional asphyxiation.
In a similar case last fall, the West Sacramento Police took an incident involving Anthony Roman who was distraught and whose family called for a welfare check, and they ended up in a confrontation and then claimed he had a knife – which apparently was folded in his pocket.
In that case, Deputy District Attorney Jim Walker who prosecuted the case said: "It's a scary situation when officers are responding to a call for help and they come face-to-face with a fighting, [a] violent man. West Sacramento officers should be commended for handling the situation without anybody getting seriously hurt."
However, defense attorney Richard Van Zandt, a Yolo County Public Defender, told the Vanguard that Mr. Roman was breaking no law when police were called to the residence. The other residents, his family, had police called because he was behaving erratically. Police, knowing Mr. Roman's mental health history, were there to detain him for a 5150 hold. Police arrested him for misdemeanor resisting arrest and left him at the hospital for a mental health evaluation and 72-hour hold.
The bottom line is that it might appear that, in many cases, the police are not best equipped to deal with mentally ill individuals.
However, I will stress that at this point, we do not know the full facts involved.  The amount of ammunition is a concern.  On the other hand, it appears that he was not walking around carrying the weapons, but rather they were in his car and he was on the street.
Would some sort of emergency mental health crisis center have been better equipped to deal with this incident?  We may never know, but it is an issue worth exploring on the policy level.
—David M. Greenwald reporting