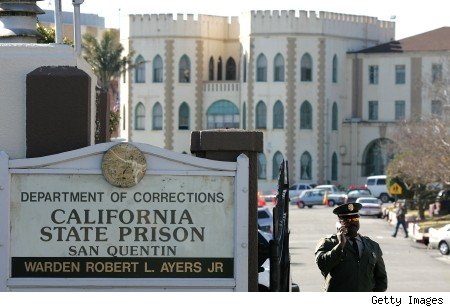 It was nearly a decade ago that Governor George Ryan of Illinois, himself embroiled in scandals that would cost his office, put a moratorium on the death penalty.  This week, Illinois State House passed a measure by a narrow 60-54 vote that would repeal the state's death penalty.
Illinois is a microcosm for the rest of the nation, as the history of the Illinois death penalty shows at least 20 people condemned to death have been freed after exoneration or new evidence surfaced which cast doubt on their convictions.
The death penalty is a good window into the criminal justice system.  The cases get a higher amount of scrutiny and the stakes are higher, but the problems that we see in death penalty cases pervade the system.
In 1976, the US Supreme Court reversed itself and allowed the death penalty again.  By the 1990s, the death penalty was extremely popular.  But what has happened since then appears to be a slow death.
The Death Penalty Information Center (DPIC) put out their annual report for 2010, and found that executions dropped 12% and that the imposition of death sentences themselves remain near historic lows.
In 2000, there were 85 people executed.  Last year it was 46, down from 52 in 2009.  There were 234 new inmates given death sentences in 2000, and that number dropped to 114 in 2010, up slightly from 112 in 2009.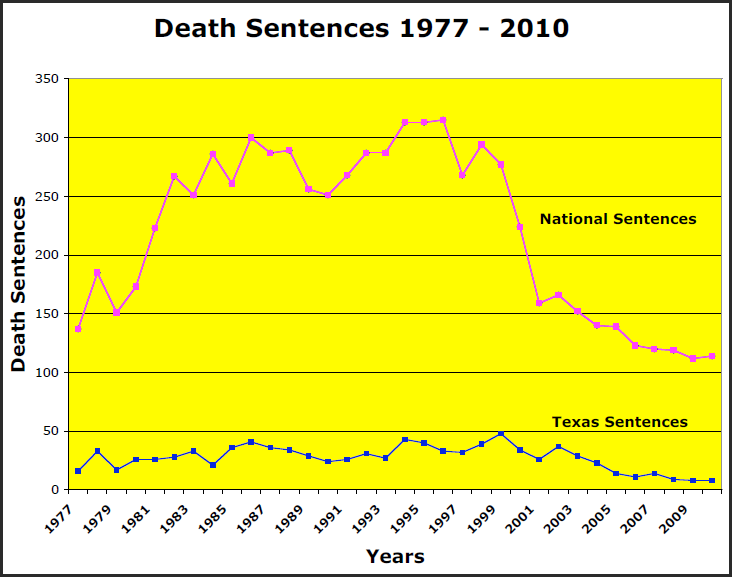 Moreover, the death penalty is a regional phenomena.  The south executed 35 of the 46 people, including 17 in Texas, which accounted for 40% of the nation's executions.  Of the other 11 executions, 8 of them occurred in Ohio.
Polling on the death penalty remains tricky.  If asked flat out whether they support the death penalty, a strong majority, generally in their 60s, says yes.  However, when given alternatives, the numbers change drastically.
Reports the DPIC, "In a recent national poll conducted by Lake Research Partners, 61% of U.S. voters chose various alternative sentences over the death penalty as the proper punishment for murder. Only 33% chose the death penalty. A plurality of voters (39%) selected life in prison without parole, coupled with restitution by the defendant to the victim's family as the most appropriate penalty."
Increasingly, money and economics are becoming a factor.  The same survey found that 65% would support replacing the death penalty and using the savings for crime prevention.
In 2010, there were 35 states with a death penalty, however, only 12 carried out executions.  Of the 12 states, 8 were in the south, with only Ohio, Arizona, Utah, and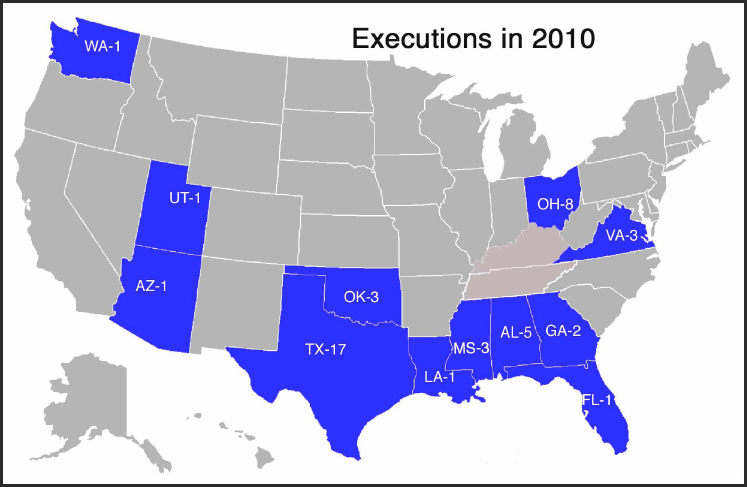 Washington being outside the south.  That is not a new trend, as since 1976, 82% of all executions have been in the south.  666 of the 1234 executions since 1976 have occurred in just three states: Texas, Virginia, and Oklahoma.
Texas saw its number of executions drop from 24 in 2009 to 17 in 2010.
The DPIC report cites a number of causes for the drop, "The state's adoption of a sentence of life without parole in 2005, changes in the District Attorneys in prominent jurisdictions such as Houston and Dallas, and the ongoing residue of past mistakes have led to a sharp decline in the use of the death penalty in the state that drives national death penalty statistics."
In 1999, Texas executed 48 people, that number fell to 24 by 2009, and now to 17.
Reports the DPIC, former death row inmate Anthony Graves was freed from prison in Texas when the state dropped all charges against him after 16 years. Special prosecutor Kelly Sigler said, "[W]e found not one piece of credible evidence that links Anthony Graves to the commission of this capital murder. . . . He is an innocent man."
"Evidence of critical errors made in cases where an execution has occurred continued to mount in Texas," the DPIC reports.  "A special court of inquiry examined whether Texas executed an innocent man in 2004 when Cameron Willingham was put to death for arson. Experts now believe the evidence used to convict him was highly unreliable."
"In another Texas case, new DNA tests have shown that misleading evidence was presented at the trial of Claude Jones, who was executed in 2000, just before then-governor George Bush left office. A strand of hair, the sole physical evidence placing Jones at the murder scene, has now been shown to have no connection to him and belonged to the victim instead," the report continues.
Overall, roughly 138 people have been exonerated from death row since 1973.  Concerns about innocence were among the driving factors in the decline of support for the death penalty.
The report by the DPIC goes on to note the disproportionate or arbitrary use of the death penalty.
"One of the most common rationales for the death penalty is that it is needed to punish the "worst of the worst" offenders," they write.
However, an examination of the data does not show that to be true.  For one thing, there is a quite a bit of data on racial and class-based bias in the number executed.
Moreover, writes the DPIC, "A look at some of the executions carried out in 2010 casts doubt on whether that works in practice. Virginia executed Teresa Lewis, a grandmother with an IQ of 72, who did not physically participate in the murders that led to her death sentence. The two codefendants who actually shot the victims received life sentences."
They continue, "Alabama executed a defendant with even stronger evidence of mental disabilities. Holly Wood's IQ had been recorded at below 70, the level at which intellectual disability is presumed to exist, but he was not spared because no court required that his inexperienced attorney discover or present such mitigating evidence at his trial."
"Brandon Rhode was executed in Georgia shortly after being hospitalized for a suicide attempt. His attorneys asserted in vain that he suffered from fetal alcohol disorder and was mentally incompetent to be executed" they report.
However, on the other end, "Meanwhile in New York, Salvatore Vitale, a crime boss who confessed in federal court to 11 murders, was sentenced to time served and released after 7 years in prison because he cooperated with the government. Rasheed Scrugs, who admitted to murdering a police officer in Philadelphia, was given a life sentence when the jury sharply divided on sentencing."
Former Justice John Paul Stevens was the latest of those, who voted to reinstate the death penalty, to call for its abolition.  He recently questioned the death penalty because it failed to meet the principle that "any decision to impose the death sentence be, and appear to be, based on reason rather than caprice and emotion." He said the Supreme Court's "more recent cases have endorsed procedures that provide less protections to capital defendants than to ordinary offenders."
From the standpoint of Yolo Judicial Watch, we have been monitoring cases in Yolo County for a year now.  While we have not monitored a death penalty yet (one perhaps will be heard this spring in the Marco Topete trial for killing Deputy Sheriff Tony Diaz), many of the issues that have arisen in prominent death penalty cases have arisen here as well.
Issues such as prosecutorial misconduct, failure to turn over evidence that is exculpatory, questionable witness identification, questionable interrogation tactics and policies, reliance on questionable expert testimony and questionable use of forensic science have all played roles in Yolo County just in the last year.
The death penalty remains expensive, of questionable use and ineffective in deterring crime, based on most studies comparing crime rates between jurisdictions with and without the death penalty.
At some point the public should recognize that life without the possibility of parole is an appropriate penalty.  It protects the public from dangerous criminal while costing far less to the taxpayers.
Moreover, while individuals may never get back the years they have lost from their lives, at least we can do things to mitigate the damage caused by wrongly imprisoning people.  For people like Cameron Willingham, it is too late.  We cannot correct that mistake.
As the Chicago Sun-Times wrote in the fall, "In the past, we've supported the death penalty as long as the legal system gives the accused a fair trial that results in a verdict of guilt beyond reasonable doubt. Sadly, in light of experiences in recent years, that goal seems unrealistic."
Salt Lake City Tribune noted, "There simply is no denying that our system of capital punishment in the United States is unalterably broken. To continue to adhere to it is to tread beyond the bounds of what constitutes a humane, moral and just society."
And in the heart of the execution capital of the world, most notably the Dallas Morning News, no bastion of liberal thought wrote, "This newspaper feels more strongly than ever that those flaws are sufficiently widespread that the justice system cannot be trusted to impose irreversible sentences of death."
—David M. Greenwald reporting