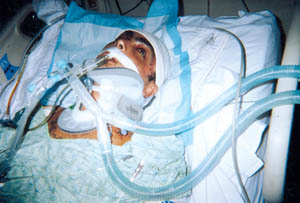 Attorney Anthony Palik, representing Ernesto Galvan, the brother most seriously injured and facing the most serious charges including felony assault on a police officer and resisting arrest, is seeking dismissal of the case that would have to be brought to trial for what may be an unprecedented fourth time.
His brother, Fermin Galvan, was acquitted on a charge of resisting arrest, but the jury hung 11-1 for acquittal on the second charge of allegedly delaying Officer Schlie as he attempted to  apprehend Ernesto Galvan.
Mr. Palik argues in his motion filed on Monday that will be heard by Judge Timothy Fall on January 31, that District Attorney Jeff Reisig is "pursuing a course of selective prosecution against this defendant and in violation of his Right to Equal Protection, as that right is guaranteed him pursuant to Article I of the Constitution of California and the Fifth and Fourteenth Amendments to the United States Constitution."
Mr. Ernesto Galvan, he argues, is wrongly accused of two charges of resisting arrest and battery upon a police officer despite the fact that he "is not accused of, nor even suspected of, committing any other crimes."
His attorney charges that Mr. Galvan "is presently subjected to an act of discriminatory prosecution due to his race and national origin, and that the People are pursuing this action despite the fact that the arresting officers used egregious and deadly unlawful force where such force was not warranted, leaving Mr. Galvan in a state of severe personal disability."
"During his arrest, Mr. Galvan sustained nearly a dozen skull fractures as a consequence of direct baton blows by the arresting officers' batons, as well as a fracture to one of his wrists which medical evidence indicates was due to his being handcuffed at the time," Mr. Palik continues.
Mr. Palik further argues three juries have failed to convict Mr. Galvan after three trials at considerable public expense.  However, despite this, "the Deputy District Attorney assigned to prosecute the case, Ms. Carolyn Palumbo, has stated in open court that her only reason for pursuing a fourth trial is her hope to obtain a "better jury.' "
Because of this, Mr. Palik argues that the fourth trial is being put on more to "protect the arresting officers" whom Mr. Galvan "believes were motivated by racial bias at the time of his unlawful arrest and beating" than to achieve justice for the people of Yolo County.
According to Mr. Palik, the California Supreme Court decision, Murgia, sets forth the criteria for showing discriminatory prosecution.  According to his brief for the Murgia motion, the defendant must demonstrate: "that he [or she] has been deliberately singled out for prosecution on the basis of some invidious criterion."  Moreover, "The claimant must demonstrate that the prosecutorial policy 'had a discriminatory effect and that it was motivated by a discriminatory purpose.' "
In this case, Mr. Palik argues that while the District Attorney may not possess racial motivation in prosecuting this case, that the police officers did and the DA's prosecution thus shields the officers.
He writes, "Although the District Attorney may have had no initial racial motivation at the commencement of the prosecution of this case, by shielding the officers who were clearly motivated by racial animus at the time of the beating of Ernesto Galvan, the prosecutor has ratified their racial animus and thereby adopted that animus as a part of their prosecution of this case."
On that basis he argues, "Any further prosecution of this case amounts to prosecutorial misconduct by the District Attorney and any attorney employed by him and must cease at the earliest opportunity."
Mr. Palik is seeking from the DA's Office a ten-year list of trials that have ended in a mistrial and a listing of the nationalities and place of national origin of the defendants.
In an interview with the Vanguard, Defense Attorney Anthony Palik indicated, "I believe that the Prosecutor is pursuing a selective prosecution  in violation of my client's rights under the 14th and 5th Amendments of the Constitution, with regard to the denial of his equal protection under the law."
He argued, "If this were not a Latino defendant then they would not continue to prosecute a case that cannot be won."
Likewise, Deputy Public Defender Martha Sequeira was stunned by the DA's decision to retry the case.
She told the Vanguard, "I know I have only been an attorney for seven years, but I have never in my life seen a misdemeanor trial being tried four times.  My client has been hung on a misdemeanor three times.  The idea that the District Attorney is going to file or try it a fourth time is disheartening."
She was particularly dismayed due to the professed limited resources that both her office and the DA's Office have and the seeming waste of taxpayer money.
"As a person who lives in this county and pays taxes in this county and owns property in this county – it is really disappointing to see that the District Attorney's Office would think that [it is logical to be] using our really limited resources in such a matter – because that's disappointing," Ms. Sequeira told the Vanguard.
She added, "It seems to me that the Yolo County District Attorney's Office is more interested in representing the police officers in their individual capacity of the West Sacramento Police Department than they are in representing the people of California, specifically the residents of Yolo County."
It seems unlikely that Mr. Palik can meet the very high burden of Murgia to show selective prosecution, however, he is correct in arguing that the DA is prosecuting this case to shield the police from civil action – and using taxpayer money to do so..
Michael Vitiello, a professor at Sacramento's McGeorge School of Law, spoke extensively with the Vanguard and believes that the continued prosecution was occurring in part to prevent a civil lawsuit against the City of West Sacramento from going forward.
It comes down to what he calls "issue preclusion," where a party to the litigation is effectively prevented from pursuing an avenue in civil litigation based on a criminal court ruling.
Professor Vitiello argues, "Here, one of the things that the criminal case is going to turn on, is whether the defendants initiated the confrontation." This will then affect the viability of the Galvans' civil case against West Sacramento and the officers.
"If they are convicted then they're going to be precluded from saying the police instigated the violence," he said, "That's why where you have a fairly trivial case, a misdemeanor assault, nonetheless, it may make sense from the state's point of view, to get a positive finding for government so they can get the preclusive effect for litigation."
Professor Vitiello said he's never seen such a case, where it was tried four times.
"I've never seen one," he said.
While Professor Vitiello does not think there are statistics kept on such things, he said, "Anecdotally, okay maybe two, maybe three, but four trials seems to me to be extraordinary."
Stanford Law professor Robert Weisberg called the move "unbelievably unusual" in an interview with the Sacramento Bee, but also added, "There is no constitutional limit on it whatsoever."
Professor Vitiello said in fairness that after two 11-1 votes in favor of conviction, he could see why the DA's Office would pursue a third case, which they did.  Such votes would suggest that the case is quite strong
However, Professor Vitiello said, "Now that you have a 5-7 [for acquittal], it seems to me that the case is not getting stronger and at some point you just say wait a second."
"One, can we really devote these resources, and then the other thing is [that] at some point defendants are entitled to be free from the repeated efforts to convict them – the anxiety, the resources that are devoted to defending themselves in court."
Professor Vitiello stressed that this is not a problem of double jeopardy, but it begins to take on similar implications.
"The underlying policies are similar," he said, and "at some point people are entitled to be free from the pressures associated with repeated prosecutions.  The state has far more resources than most people."
—David M. Greenwald reporting