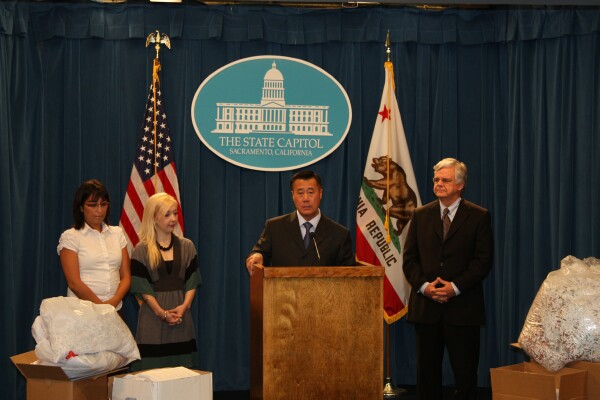 In recent years the Brown Act, which protects the fundament right for the public to be noticed of meetings by public officials and governmental bodies, has been suspended or threatened during the state's current budget crisis.
Under state law, local governments are reimbursed the cost of fulfilling statutory requirements enacted by the Legislature – so when the state's budget fails to allow that reimbursement, local governments have argued that they are no longer required to fully notice meetings.
Despite open government advocates' arguments that there are no significant costs that should be reimbursable by the state for simply posting a single copy of an agenda in a publicly accessible location and reporting action taken in closed session, the Commission on State Mandates has reimbursed local agencies about $20 million annually.
Senator Leland Yee, a strong advocate for government transparency, introduced a constitutional amendment to ensure public entities follow requirements to post agendas and to disclose any actions taken. 
Senator Yee introduced Senate Constitutional Amendment (SCA) 7, after years in which fundamentally important provisions of the Ralph M. Brown Act – the state's main open government law – have been suspended or threatened during state fiscal crisis. 
"Californians have a fundamental right to know what their government is doing," said Senator Yee.  "One only needs to look at corruption within the City of Bell to realize that the Brown Act should never be compromised. Our open meeting laws are too important to be made optional every time the state runs short of money. SCA 7 will ensure government agencies provide the public the information they deserve."
"SCA 7 will once and for all require local public bodies – city councils, county boards of supervisors, school boards and special districts – to give the public ample notice of meetings and actions,"  said Tom Newton, General Counsel to the California Newspaper Publishers Association.  "An open door means nothing if folks don't know the location, time and place of the meeting and the issues to be discussed or decided."
"Senator Yee's proposed state constitutional amendment would provide an important safeguard for people wanting to know – as is their right – about the decisions of their local lawmakers and the bases for those decisions," said Richard Knee, Chair of the San Francisco Sunshine Ordinance Task Force.  "The Brown Act and the Public Records Act are the twin pillars of sunshine – i.e. government transparency and accountability – in California. And sunshine adherence is part of the job of every government official and employee in California."
"It is extremely important that the Brown Act remain the law of the state – otherwise our elected officials will be accountable to no one," said Dean Metzger, Chair of the Berkeley Citizen's Sunshine Committee.
According to a release from the Senator, SCA 7 will require approval by two-thirds of the Legislature before qualifying for a statewide ballot in November or in a special election that may be called in June.
In 2004, nearly 83 percent of voters approved Proposition 59 – the Constitutional Sunshine Amendment – which provided the public greater access to government documents.  It is expected that SCA 7 would face a similar overwhelming approval by the voters.
The Vanguard remains a very strong advocate of open public meetings and transparency.  As we saw with our water process, truncating public input leads to mistrust in the decisions made by government – even in cases when our local officials have acted responsibly.
It is absolutely true that local government is hurting for funding.  However, that should not alleviate the need to perform relatively low-cost methods to inform the public about what is going on.
We have continued to call for the City of Davis, which has a good record in responding to public records requests, to revamp their system of notification.  The city does not take advantage of new technology and instead relies on outreach methods from twenty to thirty years ago.
Moreover, we remain concerned by the lack of clear policy in handling the recording of council meetings and the lack of retention of these vital public records.
—David M. Greenwald reporting