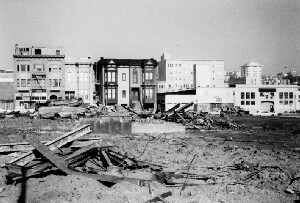 This morning's Sacramento Bee points out that those who own the land and buildings in downtown Sacramento pay an estimated 31 million dollars in property taxes every year.  Contrary to popular belief, most of that money does not go to fund schools or the local government.
Rather, 26 of the 31 million dollars goes directly to the city's redevelopment agency (RDA) which ostensibly uses money to  "subsidize development projects, build affordable housing, fix up rundown buildings and beautify streets."
But critics say this money is simply a subsidy for developers.  In Davis, huge portions of South Davis fall into the redevelopment zone, meaning the money collected goes to the RDA rather than the general fund.
"Ultimately, this is a question about the allocation of local property taxes," said Marianne O'Malley, the general government section director of the Legislative Analyst's Office to the Bee for their article on Monday morning.
Writes the Bee, "There are about 400 redevelopment agencies statewide. Their mission is revitalizing areas that local governments designate as blighted. Their primary tool: a funding system called tax increment financing."
The Bee also gives a good explanation as to how the process works.  When an area is designated as "blighted" and an RDA is formed, the property tax base is frozen.  Over time, as the value of property rises, in part perhaps because of redevelopment efforts, but mainly because land had been dramatically appreciating in value until the last few years, the amount of money that local governments and schools can collect is frozen at the original land value and tax rate.
The RDA then pockets whatever increases there are to tax revenues, less a percentage that can get passed through to local governments and schools.  Our own pass-through agreement works on this principle, siphoning off money to the county in an agreement that precludes them from developing on the city's periphery.
If RDA's were abolished as Governor Brown proposes, that money could go directly to cities, counties, and schools and help restore revenues depleted by budget cuts in the last four years.
Ms. O'Malley told the Bee that the reason school districts have not cried foul is that the state is required to reimburse the school districts for funds that they lose due to redevelopment.
This means that that the state has contributed roughly $1.8 billion a year to schools to reimburse for lost money due to redevelopment agencies. In a time when the state is having to cut billions from the budget, that $1.8 billion could help buffer the next blow.
If redevelopment worked as it was designed, cities could utilize the funds to develop blighted areas, triggering economic development and job growth, eventually leading to higher property taxes as the values go up.
The problem, as the California Budget Report indicates, is that the research indicates mixed results, at best.
"First, it's unclear whether TIF [tax increment financing] boosts property values and results in increased property tax revenues," they write.
"While the research finds mixed results, the most comprehensive independent study of California's RDAs, conducted by the Public Policy Institute of California  (PPIC), found that redevelopment activities in most RDAs studied failed to generate enough growth in property values to account for the tax increment revenues diverted to redevelopment," they write.
The PPIC study concluded that "the existing tax increment system is not an effective way to finance redevelopment. Few projects generate enough increase in assessed value to account for their share of these revenues."
Furthermore, they point out that research indicates that the these projects simply shift economic activity within municipalities rather than creating additional economic activity.
"For example," they argue, "one study suggests that when employment increases in TIF ("tax-increment financing") project areas, it decreases in other parts of the city, which could mean that TIF projects draw jobs from elsewhere in the city, rather than generating new jobs."
The legislative analyst's office also concluded, "There is no reliable evidence that redevelopment projects attract businesses to the state or increase overall economic development in California. The presence of a redevelopment area might shift development from one location to another, but does not significantly increase economic activity statewide."
Governor Brown's proposal will not get through without a strong fight.  Already more than 100 mayors and city councilmembers throughout the state have come together to protest the Governor's plan, calling it an illegal money grab and warning that they will sue the state if it is adopted.
"We would hate to have to take the state to court in order to uphold the will of the voters, but we will do it if we are forced to do it," said Chris McKenzie, executive director of the League of California Cities.
Some have pointed out that Governor Brown himself had redevelopment funds at his disposal when he was mayor of Oakland.
"I don't think it's right to deprive the leaders of Oakland or any city the use of a tool that he [Brown] used in order to create jobs and create housing in Oakland," Mr. McKenzie said.
Meanwhile, cities are rushing through projects before the state cuts off funding.
The Bee wrote last week in an editorial, "Whatever legislators and local government leaders think of Gov. Jerry Brown's plan to phase out local redevelopment agencies, the idea deserves serious consideration. To allow that debate to take place, steps must be taken to prevent cities, counties and agencies from rushing through new projects – thus making it even more difficult and expensive to unwind the redevelopment mess."
While the City of Davis has proposed a number of projects with redevelopment money and the city itself relies on the pass-through agreement to prevent the county from developing on its periphery, in the end we have to look broader and question the utility of such a fund that prevents money from being used by the local government and schools.
—David M. Greenwald reporting