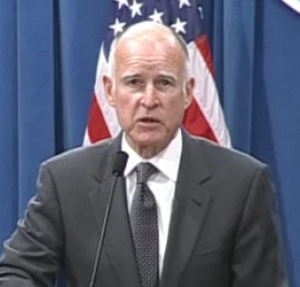 In July, candidate Jerry Brown laid out a series of common sense proposals to deal with pension reform on the state level.  While we have generally focused on pension reform at the local level, clearly, state-level changes could be made to help communities trapped into past promises of unsustainable wages.
However, as critics are quick to charge, Governor Brown's budget proposal has promised cuts to about every sector except one, pension reform. Orange County Columnist Steven Greenhut, a leading proponent of pension reform, accused Jerry Brown of dodging the issue.
"By his actions so far, Brown appears unserious about pension reform," writes Mr. Greenhut.  "At his recent news conference announcing his budget, he punted on pension reform, which is probably the biggest financial mess facing the state. Reporters asked about that, and, in his typically ornery way, he suggested that we go to his Web site and look at his plan."
Mr. Greenhut writes, "By his own words, Brown appears concerned mainly about assuring that pension-fund performance is in line with economic returns on investment. I've yet to hear him talk about the fairness of the current system, in which public employees retire at early ages, often with millionaires' pensions, while those in the private sector must work 15 years or more longer and retire with far less, or who must depend on a Social Security system that resembles an unsustainable Ponzi scheme."
The GOP, for their part, has limited leverage in the state, but they also know that Governor Brown wants the tax extension put to the voters.
Senator Mimi Walters, who was a candidate for State Treasurer but was routed in the polls by Bill Lockyer, is preparing a package of pension reform plans that she is saying must be addressed.
"We want reforms in place before there's any discussion about tax increases," said Senator Walters. "I do know there's not support at all to even put it on the ballot without significant pension reforms."
The Governor has responded that he intends to unveil his own pension proposal in the next few weeks, but does not want it tied to any negotiations with the Republicans over taxes.
"I don't want to put too much on the table and have the whole thing collapse," Governor Brown said earlier this week. "But people are concerned about that and I said I'd have various proposals. I intend to follow through on that."
The problem is that Senator Walters' reform package includes a 401K plan, and that is dead on arrival.  The Republicans have limited leverage in this system and know that their only card may be Governor Brown's tax reform.  However, I suspect that Governor Brown is not going to give into such tactics.
Republicans also have to recognize that Governor Brown is in the position to be able to deliver pension reform, whereas they would have to put the measure on the ballot and that is problematic at best, because the unions have the manpower and resources to defeat such efforts at the polls.
If Governor Brown says he is going to put up his own proposal for pension reform, we ought to wait to see what that pension reform is before moving ahead.
If it is what he pointed out last summer, I think that is a good start and even Mr. Greenhut acknowledges that Governor Brown's plan is not bad.  He writes, "It calls for an end to pension-spiking abuses, a two-tiered system with lower benefits for new employees, an end to retroactive increases, an increase in employee contributions and some good-government reforms to increase oversight of pension institutions such as the scandal-plagued California Public Employees' Retirement System."
However, he points out there is a huge difference between campaign promises and including it in the budget.
Marcia Fritz is the president of the California Foundation for Fiscal Responsibility, the group best-known for publishing a database revealing how many state employees receive pensions of at least $100,000.  She claims to be a Democrat who voted for Governor Brown.  She does not agree with a straight 401(k)-style pension.
Steven Greenhut reports that Ms. Fritz told an audience that "she had advised both Brown and GOP candidate Meg Whitman on pension-reform issues, and she gave Brown a list of several minor things he could do to save money on pensions – the low-hanging fruit that wouldn't elicit much blowback from the unions."
"For instance, she suggested that the administration change the way Cal Fire [the Office of the State Fire Marshall] wants to include planned overtime as part of its pensionable benefit package. CalPERS is about to retroactively increase these pension benefits – which Brown could easily stop. Prison guards, who sometimes can retire at age 50 with guaranteed six-figure pensions, also receive an additional 401(k) program, which could easily be stopped," he added.
"Fritz also pointed to a loophole that allows public school teachers who work part time through job sharing to earn full retirement credit for their time," Mr. Greenhut reports. "She also suggested changes to the state's absurd airtime purchases, whereby public employees can pay upfront for larger long-term pension benefits at about 50 cents on the dollar."
"Not a single one made it into his budget," Ms. Fritz said. "He didn't try very hard."
"This is low-hanging fruit," Ms. Fritz said. "When I see Brown isn't even picking the low-hanging fruit, I wonder how in the world is he going to get behind pension reform of any significance?"
Bottom line is that pension reform activists have to recognize that Governor Brown is the one positioned to actually make some changes.  Both Democrats and Republicans probably need to follow his lead here.
From the Republicans' standpoint, this is "only Nixon can go to China."  Jerry Brown has enough cachet with unions to be able to make the kind of reforms needed – and most acknowledge are needed – without facing the wrath of the powerful interest group.
From the unions' perspective and the perspective of Republicans, at some point the voters are going to revolt no matter how much money and organization unions can muster and when they do, you will get a Proposition 13 of pension reform, which means the end of defined benefits and the beginning of defined contributions.
That is not where I or any pension reformer on the left side of the aisle wants to go.  At the same time, the legislature and governor have to recognize that no matter what numbers you can generate at the state level, pensions and pension obligations are going to be the death of local government.  Local government does not have the resources for the state not to make serious structural changes in terms of what is a vested benefit and what is a gift of public funds.
As I said, Jerry Brown's plan deals with a lot of these issues.  Perhaps we ought to look into some of Ms. Fritz' low-hanging fruit, but the bottom line is that cities need a way to be able to rollback contributions and increase the age of retirement in order to survive.  Unless we do that, it is not state government but local government that is going to land belly up.
—David M. Greenwald reporting