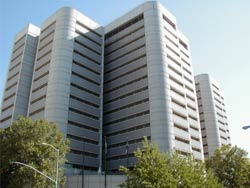 Last week, we reported on the death of Evaristo Ramirez, an immigrant who had been arrested for a DUI and held in the Sacramento County Jail.  He became the victim of Richard Harden, who somehow ended up in the same jail cell as Mr. Ramirez despite evidence that his hammer attack on a Latina female was motivated by hatred towards immigrants.
According to court testimony, when the Home Deport store security subdued Mr. Harden by taking him to the ground, the perpetrator indicated that race was the motivation behind his attack on the Latina female whom he had attacked with a hammer.
Mr. Harden was reported to have said, "You should let me go…  They come over the border and take all of our jobs."
While there are questions as to whether Mr. Harden is truly a racist anti-immigrant or whether he is simply mentally ill, from our perspective what matters a lot more is how Mr. Harden came to end up in the same cell as Mr. Ramirez.
That is the question a Sacramento Bee editorial asked this week, "Why would Sacramento County jail deputies place a mentally ill suspect with an apparent animus toward Mexicans in a cell with an illegal immigrant from Mexico?"
Mr. Harden was reported to have been released from a 72-hour mental health hold the very day that he was arrested and jailed for allegedly attacking the Mexican American woman with a hammer at a local Home Depot store.
Asks the Bee, "Given that history, why was Harden placed in a cell with Ramirez?"
The Sacramento Sheriff's Department has refused to discuss in detail their handling of this case after Mr. Harden was taken into custody.  This makes sense as they are facing a lawsuit by relatives and friends of Mr. Ramirez.
However, they did discuss with the Sacramento Bee's editorial board how they handle jail inmates in general.
The Bee reports, "People taken into custody are screened first by nurses for health and mental health  problems."
"Those who are seriously mentally ill are segregated from the general population, housed in single cells, primarily in the jail's 18-bed psychiatric unit."
That all makes sense, but this part is where things start to break down.  The Bee reports, "Jail officials rely mainly on what inmates tell them about their mental health conditions – responses to questions like: "Have you seen a psychiatrist lately?""
Are you kidding me?  I am not expert on mental illness, but one thing that seems apparent to me is that most mentally ill people fail to recognize that they are mentally ill.  Thus they often refuse to take their medicine.  And more importantly, relying on self-reporting would seem unreliable at best.
It gets worse however.
Writes the Bee, "Incredibly, jail officials do not track whether someone in their custody has ever been placed on a mental health hold."
Sheriff's Lt. Phil Brelje, the assistant commander at the main jail, told The Bee, "We don't have access to records of 72-hour mental health holds."
"So," the Bee writes, "it is conceivable no one at the jail knew Harden had been released from a Yolo County mental health facility the day he was arrested."
But it gets worse than that.  Because this is not simply a case of failing to identify a mentally ill individual, it is also a case of expressed racial animus.
Writes the Bee, "Jail officials also separate people who express any kind of racial animus. An inmate who expressed hatred for blacks or Mexicans or whites would be segregated from the general population."
We know this well from our discussions on prison gangs and how the institutions themselves end up producing prison gang members.
But in this case, jail deputies may not be aware of the details of an arrest record.
Writes the Bee, "while jail deputies may know what a person in custody is charged with, Brelje says they don't know the details of a person's arrest record. Thus jail deputies would not necessarily know that Harden had expressed hostility toward Mexican Americans the day he was arrested."
Furthermore, the jail fails to take into account severity of the charges.  Writes the Bee, "Finally, jail officials say seriousness of charge is not a consideration in how those arrested are housed in Sacramento's main jail. Thus Harden, who was charged with attacking a woman with a hammer, could easily be housed with a drunk driving suspect like Ramirez. That seems dangerous."
As the Bee points out, that seems to be at odds with state guidelines for housing inmates.
"In fact, the state guidelines outlining minimum standards for local detention facilities  specifically state that "seriousness of crime charged," is one of several categories that ought to be weighed in assigning inmates to housing units."
The Bee concludes, "Ultimately a civil lawsuit will determine whether Sacramento jail officials did all they should have done to protect Evaristo Ramirez. But the sheriff does not have to wait for a lawsuit to examine this incident and make the changes necessary to better protect inmates in the future."
This is very good work by the Bee's editorial board.  It seems very obvious that there are at least three fatal flaws with how the Sacramento jail is handled. 
First, the failure to be able to determine who is and who is not mentally ill is a serious risk. 
Second, the failure of jail officials to have read the arrest report contributes to this problem. 
It may be burdensome, but it would seem that security depends on knowing all they can before housing inmates and moreover it seems important for security in terms of how their own personnel should approach these inmates and have true recognition for the danger they present to jail staff and their fellow inmates.
Finally the failure to house according to severity of the crime is a serious flaw and puts a lot of low-level offenders at grave risk.
All of these problems conspired to lead to the death of Mr. Ramirez.  It would seem that the Sacramento Sheriff's Department has little to stand on in this case.
—David M. Greenwald reporting