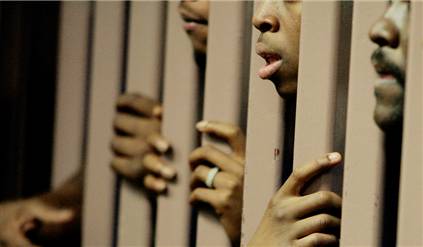 The problem of soaring prison costs is nothing new in California government, even as the state faces largely unprecedented problems with its budget.
The recent polling by the Public Policy Institute of California (PPIC) shows that 70% of the voters singled out prisons as a major area where the budget should be cut.  This exists, in fact, across party lines and geography.
However, prisons remain among the fastest growing pieces of the budget.  Columnist Dan Walters laid out the exact problem that voters, politicians, and policy makers face.
"Prisons occupy a unique, contradictory place in societal priorities and, therefore, in politics," he writes. "On one hand, we want those who commit crimes locked up so they can't prey upon us. But on the other hand, we view prison spending as wasteful."
Coupled with high rates of incarceration is the fact that California spends three times more per inmate than the state of Texas does.
"Another complication is that while politicians may dislike having to spend so much on prisons, they're also afraid of releasing felons who might commit crimes and spark a political backlash," Mr. Walters adds.
"Instead of cutting everything except prisons, Brown could free thousands of prisoners and millions and millions of dollars by making even moderate parole reforms," says Emily Harris of Californians United for a Responsible Budget.
"He could do that today if he wanted," Harris added, citing pressure from federal judges to reduce prison overcrowding.
On the other hand, as Dan Walters cites, groups like the ACLU are "calling on Brown to suspend enforcement of the death penalty to save millions of dollars in maintaining a death row and building a new execution chamber. Commuting condemned inmates to life imprisonment without parole would save a billion dollars, the ACLU contends."
However, Governor Brown will not make these cuts, in the view of Dan Walter.  Instead, "Brown will employ fear of felon releases to persuade voters to raise taxes — if his tax measures actually make it to the ballot."
Therein lies the problem.  In order to seriously cut spending on prisons, politicians would have to use the best wedge issue they have, the biggest fear generating issue they have, and they would have to change the way they run politics itself.
For too long, too many people, from prison guard unions to politicians to police and other law enforcement, have profited either literally or politically from exploiting the public's fear of crime.
It was this fear of crime that George Bush Sr. deftly played up when attacking his opponent, Governor Michael Dukakis, on a prison furlough plan that the latter had inherited in Massachusetts from a Republican Governor.  The case of Willie Horton, serving a life sentence  for murder then committing another violent crime on a weekend furlough, become one of the most notorious political ads around, and it skillfully exploited people's fear that felons would be released from prison and then offend again.
More recently we have seen similar efforts, through the three strikes issue and various acts to protect children from predators, used to the same effect.
There are four policies that would not bring about a new crime wave, that would nevertheless save the state huge amounts of money, while dealing better with problems of recidivism that have plagued the corrections system.
First, we have made much of the power of local firefighters, in terms of securing high salaries with huge benefits, but the group that has done this at the state level better than anyone is the powerful correctional officers.
We are talking about a group of people who make well over six figures and retire to the same 3% at 50 pension that is bankrupting local cities.  One huge difference between the cost of inmates in California versus Texas is the cost of prison guards.
Second, the ACLU is correct.  The death penalty does not work.  It is not implemented in California.  There are problems of unequal application and problems of execution or the potential execution of innocent people because the system is so bad.  We could save millions by converting these sentences to life without parole.
Third, we need to end mandatory sentencing.  Mandatory sentencing arose back in the 1980s and 1990s as a backlash against the last bastions of supposed liberal judges who released criminals.  These days, the courts are not filled with liberal judges.  But judges have a better sense on a case-by-case basis who deserves a longer sentence.  Guidelines are fine, but judges need to be allowed discretion to avoid putting a convicted felon in prison for life for minor offenses.
Finally, we need to decriminalize drugs.  The amazing fact is that when people are scared by politicians about the release of felons, most people see violent offenders, people that would never be released early without very good cause.  The people who would be released early would be the non-violent drug offenders, most of whom have only hurt themselves.
It is far cheaper, even, to put people in residential treatment programs rather than send them to prison.  With the money freed up, we could invest in programs like education, job retraining, and mental health services.  We could actually have a chance to break the cycle and attack crime not after it has happened, but at its source.
But we are afraid to do so, and the reason is because politicians, law enforcement and prison guards do not want to give up their resource monopoly and their wedge issue.
I have argued, across a whole spectrum of issues, that the times that we live in dictate to us the need to change the way we do business.  Nowhere does that need to occur more than with regard to prisons.
—David M. Greenwald reporting