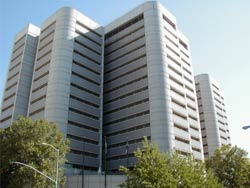 Back in 2009, according to the Sacramento Bee's report, Richard Harden "chased the woman down at the Home Depot on Folsom Boulevard  and bashed her three times with a hammer, sending her to the hospital with injuries to her back, neck and shoulder."
According to court testimony, when the store security subdued him by taking him to the ground, the perpetrator indicated that race was the motivation behind his attack on the Latina female whom he had attacked with a hammer.
Wrote the Bee on Sunday, " 'You should let me go,' Harden said after his attack on Geraldine Leon-Guerrero, according to testimony at his Sacramento Superior Court preliminary hearing. 'They come over the border and take all of our jobs.' "
So what did the Sacramento Sheriff's Department do?  Oh they just put him a jail cell with an immigrant from Mexico, who was in this country without proper documentation.
What happened next?
Writes the Bee, "While the fast-acting Home Depot security team minimized the damage in the hammer assault, nobody was around to take Harden down the next day when, according to authorities, he beat his Mexican cellmate to death and strangled him with a T-shirt."
Now Mr. Harden, 46, faces a murder trial in April for the death of Evaristo Ramirez, whose crime, other than being a migrant day laborer, was a drunken driving arrest.
When that trial ends, the Ramirez family has filed a wrongful death suit against the Sacramento County Sheriff's Department, the county, Harden and six deputies on the job the day of the death.
"Somebody dropped the ball," said Jesse Ortiz, the Sacramento lawyer representing the Ramirez family told the Bee. "My understanding is they were made aware in the jail of exactly why Mr. Harden was in custody – because he specifically attacked a Mexican woman at the Home Depot. The last thing that should have happened was to house him with another Mexican kid."
According to Mr. Harden's attorney, John Jackson, Mr. Harden suffered from mental illness, but he is has Hispanic friends and is not a racist.
"My client was mentally ill," the Mr. Jackson told the Bee. "It's our position the Sheriff's Department should have classified him as being mentally ill. Instead, they put him in a general population sort of area."
The court will obviously have to decide whether Mr. Harden was acting on a hate crime after he attacked the woman at Home Depot and then killed Evaristo Ramirez.  There is little reason to dispute that Mr. Harden was probably mentally ill.  Given the nature of the attack, it seems there would be little doubt about Mr. Harden's mental state.
Friends and neighbors describe the guy as a drunk and a jerk, but not a racist.  And while the "some of my best friends are Hispanic" explanation never washes, it is possible that racism did not motivate this attack.
On the other hand, as we live in a society that has demonized Mexican immigrants, particularly those not in this country through legal means, just as we had an incident in Arizona that exploded perhaps from the combination of political rhetoric and mental illness, the same may have occurred here.
But forget that point for a second.  The real problem here is not Mr. Harden, as horrible as the crimes that he committed are, the real problem is the authorities failing to take proper precautions.
You have an attack on a woman at Home Depot, there are witness accounts of statements made about illegal immigrants, so what do the authorities do?  Oh, they put him in a cell with an illegal immigrant.
To make matters worse it appears that, contrary to the quick work done by Home Depot security personnel that mitigated the severity of the attack there, the six Sheriff's Deputies were slow to respond to Mr. Harden's attack on Mr. Ramirez.
The Sacramento County Jail has a history of problems, and some of these had been dealt with.  But this incident raises all sorts of red flags, particularly the decision to keep Mr. Harden in the general population, then to couple that with the decision to house him with a migrant Mexican laborer and add in the slow response, and the Sacramento Sheriff's Department has a lot of explaining to do here.
To me this boils down to a question of one thing: why the Sacramento Sheriff's Department made the decision that they did, to house these two individuals together when it goes against all established policies for prisons and jails.  They segregate inmates by race in prisons to avoid the very situation that has arisen here.
There are, of course, a number of other issues that make this story particularly cogent, particularly once again the tie between mental illness and political extremism.  But forgeting about that for a moment, what possible rationale could the Sacramento Sheriff's Department have for housing an immigrant with someone like Mr. Harden who, racist or not, had apparently espoused views of hatred toward immigrants?
—David M. Greenwald reporting