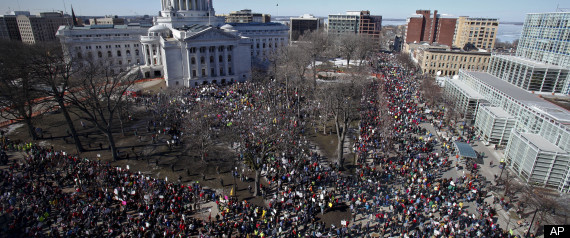 Wisconsin is emerging as the political fault line that might decide the outcome of the 2012 elections.  In a lot of ways, Governor Walker has miscalculated, as we have written, mobilizing groups of people who sat by dispassionately in the just-completed elections.
To put it in Machiavellian terms, he has unified his enemies while dividing his allies, who are arguing whether his policies have gone too far.
Putting that aside, I found a much more interesting discussion from David Crane in the San Francisco Chronicle on Saturday.
Mr. Crane, as you may or may not be aware, is a Democrat who worked as an adviser to Gov. Arnold Schwarzenegger and now lectures on public policy at Stanford University. He also serves on the UC Board of Regents.
He argues that the battle in Wisconsin is not over collective bargaining rights per se, "but rather the appropriateness of those rights in the public sector."
He writes, "In the private sector, collective bargaining is used to equalize the power of employees and employers."
He pointed out that even strong union supporters like President Franklin Roosevelt, and George Meany who headed up the AFL-CIO (American Federation of Labor and Congress of Industrial Organizations), opposed the right to collectively bargain in the public sector.
Unlike in the private sector, public sector employees already had protections against dismissal, based on laws like the Civil Service Act.
Mr. Crane continues, "because state employees already had civil service protections, collective bargaining wasn't needed to equalize their power with employers' power. As a result, collective bargaining for public employees in California changed the balance of power and – most importantly – gave public employees power over their compensation and benefits."
The critical point that he sees, "In the private sector, compensation and benefits are determined through negotiations conducted by unions representing employees and management representing shareholders. Neither side has influence over the other, and there is a healthy tension as each side works to increase its share of the pie."
On the other hand, "In the public sector, no such healthy tension exists because unions can use campaign contributions to gain control of "management," which in California's state government means the 120 legislators and the governor who together determine employee compensation and benefits."
Instead, he sees "a result of the focused power of the unionized public-sector workforce, management (i.e., legislators and governors) can end up being more responsive to public employees than to 'shareholders,' that is, citizens benefiting from public services (e.g., students paying tuition at state colleges, parents taking kids to state parks, private-sector union workers building bridges, etc.) and taxpayers paying the bills."
David Crane makes an interesting point, but one that I think in the end is flawed.
First of all, the fundamental problem that he fails to understand is that this is not a debate about collective bargaining at all, this is a tool designed to destroy unions, and along with them weaken the Democratic Party by severing a key source of campaign funds.
Nevertheless, he does have a strong point.  In the City of Davis in particular, we see how the power that one particularly strong union was able to wield, to shape a decade's worth of public policy by the council.
However, observe closely some unique factors in Davis.  First, there is a strict $100 limitation on contributions.
Second, there is the ability of the union and its members to effectively circumvent that system by collectivizing their activities so that instead of making a $100 contribution, they bundled their contributions to, in effect, make it a $4000 contribution.
But even that is not enough.  So, they utilized their unlimited soft-money exemption and launched a $12,000 to $20,000 independent expenditure campaign which utilized not just their resources, but their name.
They were able to successfully elect the councilmembers that would support their policies, and held up their contributions as a reminder to make sure the council held the line.
The problem here is one of influence peddling.  But it is difficult to see how the problem goes away if we get rid of collective bargaining.  It would simply shift the stage from one location to another.
In other words, they could get rid of collective bargaining tomorrow in California, and you still have the influence of unions and their membership on elected public officials.
That is why in Davis we never sought to do away with collective bargaining, and instead put the focus on electing public officials who were not co-opted by the unions, for which they had to directly make decisions regarding their contracts.
David Crane's argument, therefore, should focus on the way in which candidates need to get elected, rather than the collective bargaining process.
Moreover, unlike in Davis, other forces align to counterbalance the influence of one pressure group.  Corporate interests have been successful in Wisconsin in electing the Governor.  In California it took a two-thirds vote of the legislature and approval from the Governor to pass these new contracts, which generally meant that wage increases were not generally forthcoming.
While Mr. Crane cites the increased wages and benefits to public employees in California, that was in the legislature that occurred during a time of economic boom, after a number of years of no increases.  In a lot of ways it was a perfect storm, but it was also the only real wage increase at the state level in the past couple of decades.
I was reading some of the comments in the Sacramento Bee on the Wisconsin situation, and one individual in particular made the comment that it made no sense to have unions in the public sector because the government was management, and therefore somehow benevolent to workers.
The problem is, as I have witnessed with my wife working as a labor representative in the public sector, just because the governor is the employer does not mean that the supervisors do not have all sorts of problems.
As difficult as it may be to imagine, there are all sorts of problems in the public sector workplace that necessitate union representation.  The individual is probably right that that should not be the case, but unfortunately we are still dealing with very human interactions that unfortunately result in disputes and need conflict resolution.
In the end, while I think David Crane brings up important considerations, the chief problem is on the end of the financing of elections rather than collective bargaining.
—David M. Greenwald reporting