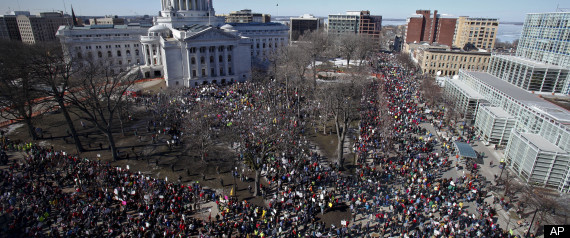 The brewing political fight in Wisconsin gives us a chance to hit the pause button and the recognize how changes need to be made.  I have been a strong proponent of fiscal responsibility within the City of Davis, for a variety of reasons.
First, I recognize that during this economic crunch, we have limited governmental resources and we must therefore prioritize those resources.  From the very beginning, I have argued that our first priority needs to be to continue our investment in education and the second priority needs to be maintaining social services at the county level.
That means that we need to find ways to cut back on other governmental spending in order to be able to maintain our commitment to education, quality health care, and other vital social services.
Second is the longer view, that we have promised too much to some of our public employees.  Not all, but some.  Firefighters in the City of Davis saw their incomes more than double in the last decade while at the same time the city was increasing the formula for their pensions.  Even without the current economic collapse, the rate of increase was unsustainable.
Add to that cities were engaging in a spiraling arms-race that would doom us all.  However, not all public employees are created alike.  The typical government employee in Sacramento makes less than $40,000 and gets 2% at 60 in pensions.  Even working 30 years, that is only $24,000 a year upon retirement.  Teachers are also underpaid, compared to their education level and importance of the job they perform.
Looking locally first, the problem is not the unions.  The job of the union is to represent the interests of the employees.  My wife has worked for unions for years, she has helped to organize employees, but the biggest job she performed was to represent employees in the grievance process or when discipline occurs.  Even in the public sector, workers have their rights violated all the time by supervisors who either do not understand the law, the rights under a collective bargaining agreement, or simply have problems themselves.
The City of Davis is in trouble not because of unions, but rather because the management, in this case city staff in conjunction with the city council, have failed to play their part in the collective bargaining process.  They need to stand up for management, in this case the voters who flip the bill. 
What has happened is that for ten years, the City of Davis has acquiesced to worker demands.  We gave them huge salary increases.  We have given them cafeteria cash-outs (a salary reduction plan where the employee chooses the full salary in cash, rather than being reduced and being used to pay for part of the employee benefits) to allow some workers to cash out their health benefits in lieu of coverage.  And we have increased the pension formulas for all employees. 
No one has been able to sufficiently say no.  It is not the union's problem for asking, it is the council's problem for giving.  Now, there is a problem that one union in particular has helped in the past to buy the votes of council by utilizing and manipulating Davis' campaign finance system and using it to their advantage.
Moreover, the problems with pensions are not merely a union problem.  The biggest pensions, the biggest pension spikers, the most egregious examples of six figure pensions and double-dipping and spiking, are done by non-union management.
This is a separate issue from the influence of money in politics.
There is a huge difference between what has happened in California, where workers have been called on to make concessions, and what has happened in Wisconsin, where the Governor has completely attempted to abrogate the collective bargaining process in the name of fiscal stability.
Governor Scott Walker has unwittingly, or perhaps even wittingly, set off a war.  It is one thing to enact pension reform, it is one thing to ask government workers to contribute more to their health care, it is even one thing to ask workers to take furlough.  It is another thing to attempt to eliminate collective bargaining rights.
This is the type of draconian revolt that we have attempted to head off in California.  For now, the minority party in Wisconsin have avoided a vote based on some sort of quorum rule.  But experts agree that is a temporary solution.
The question is whether Wisconsin can win this fight in the long run.  Yesterday, the Capitol square in Madison was overrun with protesters.  A large group of union supporters.  A small group of Tea Party members.
And yes, there are political overtones on both sides of the issue, as this becomes as much about 2012 as it does about Wisconsin.
Many of the union members told reporters that they would be willing to accept the proposed cuts but not give up their right to collective bargain over issues other than wages.
Meanwhile, Republican legislators are becoming impatient waiting for the Democrats to return to the Capitol so that a vote can take place.  Democratic lawmakers were on the run avoiding state troopers and threatening to stay in hiding for weeks.
Fourteen Senate Democrats left Wisconsin, which at least temporarily delayed action on the sweeping bill.
Sen. Jon Erpenbach said on Friday that the group was prepared to be away for weeks, although he would prefer to end the stalemate sooner.
"That really, truly is up to the governor," he told The Associated Press Friday. "It's his responsibility to bring the state together. The state is not unified. It is totally torn apart."
Estimates of 40,000 people were outside of the Capitol on Friday with a much larger number on Saturday.  Schools were closed again after teachers launched a sick-in.
It will be interesting to see how much disgruntled workers are able to shut down the normal functions of government over this.
Governor Walker claims that "eliminating their collective bargaining rights, except over wage increases not greater than the Consumer Price Index, is necessary in order to give the state and local governments and schools flexibility to deal with upcoming cuts in state aid."
However, Democrats do not buy those arguments.  Instead they say the fight is really about political power and quashing the unions, whose members are longtime supporters of Democrats.
Senator Erpenbach accused Governor Walker of trying to rush the legislation, which was publicly unveiled only a week ago.
"I'm not calling him a dictator. But this is dictatorial, almost," Senator Erpenbach said. "I don't think I've ever seen such a draconian piece of legislation come down from any governor, Democrat or Republican."
Democratic strategist Chris Lehane is correct when he argued that Wisconsin really does not face a worse situation than a lot of states, including California.
"What Wisconsin is going through isn't all that different from other states," he added. "But the way it's being handled is."
Instead of working within the system to gain union buy-in, he is trying to kill the power of unions.  The problem I think he will find is the same problem that Governor Schwarzenegger found back in 2005.  If you strike them down, they will become more powerful than you can ever imagine.
Republicans were able to win elections in part because of the weakness of unions and disinterest of their members.  Now that they have once again kicked the sleeping dog, they may regret doing so.
This is an issue that we need to pay a lot of attention to locally.  We have to bring the City of Davis into fiscal order and make our pension and retirement plans sustainable.  But we must do it within the confines of the collective bargaining process.
The last election, for the first time, allowed the city to escape the shadow of  one particularly powerful local union.  Now three of the four members of the current council and likely the new appointee will owe no allegiances to the firefighters or any other city employee bargaining group.
We must bargain in good faith and honor the collective bargaining system.  We need to bring workers along with us, get buy-in, and help them understand their part in our community and why we are in need of concessions and reform.
What has happened in Wisconsin serves as a lesson for what happens when reform does not occur.  Whether they succeed or not, everyone should take heed.
—David M. Greenwald reporting