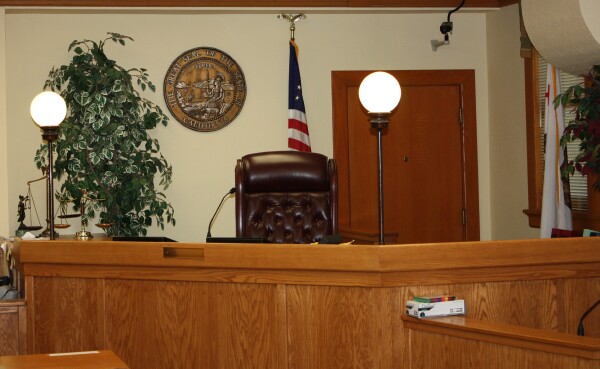 Last Friday, we sat in Judge Stephen Mock's court as he began calendaring long cause trials – those trials that will last into a second court week – for this year.  We were stunned to find out that, as of the first week of February, Judge Mock's calendar was completely backed up until September.
Yolo County officials have for several years now bragged about an improved efficiency that has allowed the number of cases to the be handled to more than double with 55 trials occurring in 2005 and 121 in 2008.  The number of trials remained high, with 121 again in 2009 and a slight drop to 112 in 2010.
"The numbers are in," announced Yolo Superior Court Presiding Judge David Rosenberg back in early 2009.  "The Yolo Superior Court handles more cases than ever, and our disposition rate is at an all-time high."
Judge Rosenberg attributed higher rates of disposition to the Court's new direct calendaring system, first implemented in 2007 and refined in 2008. In this system, cases are assigned to a particular judicial officer who manages the case from start to finish. "In 2008," said Judge Rosenberg, "our judges presided over 121 criminal jury trials and 12 civil trials, a remarkable number for a court of our size. Because we were prepared to try cases and not delay cases, other cases resolved before trial, and often at an early stage."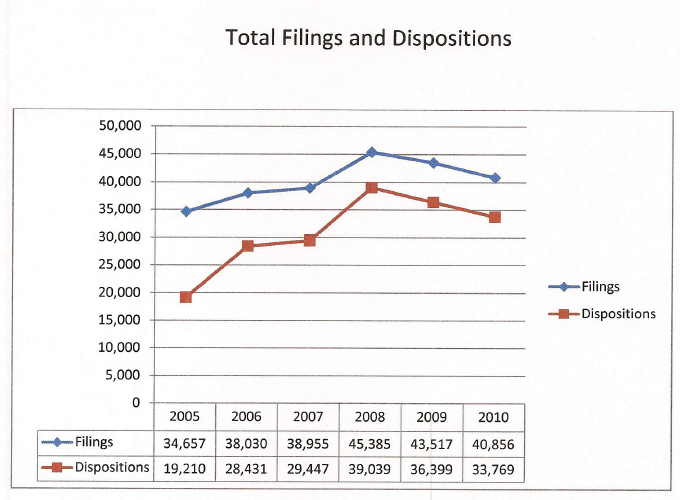 By point of comparison, Judge Rosenberg noted that the court conducted 78 criminal jury trials in 2007 and 58 in 2006.
That trend continued with an article in the California Aggie on March 9, 2010 talking about how the "high disposition rate shows efficiency in Yolo County Superior Court."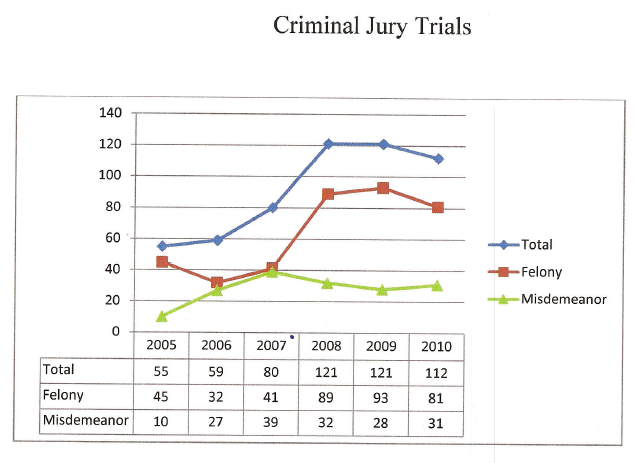 But some of these improvements may have been undone by several small changes in the court assignments this year.
In an October release from the Court, Judge Rosenberg announced a major change in the assignments.
" One major change this coming year will be that there will be two juvenile departments. Judge Kathleen M. White and Judge Steven M. Basha will both hear juvenile dependency cases (cases involving abuse or neglect of a child) and juvenile delinquency cases (cases involving minors who are accused of breaking the law)," the release reported.
Judge Rosenberg stated, "I have decreased the number of judicial officers on the criminal side and increased the number of judicial officers on the juvenile side. This recognizes two realities. First, it acknowledges the superb job done by our judicial officers, the district attorney's office, the public defender's office and private defense counsel in rapidly moving criminal cases through the system toward early resolution. Second, it also recognizes our steady commitment that children in our juvenile system continue to receive adequate time and attention by our Judges."
Judge Rosenberg added, "I appreciate the cooperation of the Yolo Superior Court bench and anticipate a smooth transition to the new assignments. I am confident that these assignments will ensure the most efficient use of our limited judicial resources. Though many challenges await us in the upcoming year, our excellent team of Judicial Officers, court staff and justice partners will continue to work hard to provide the community with fair and efficient service."
However, critics suggest that there did not need to be two full courts for juvenile cases, and now taking one judge out of the felony trials may be causing a problem.
The real bottleneck seems to be that Judge Mock is the only judge who can hear long cause trials, with a few notable exceptions.  Last year, Judge Fall also had the ability to hear long cause trials.
The result is that the long cause trials have now backed up into September or October.
The other problem is that this year there are five felony trial departments, presided over by Judge Mock and Judge Fall, and also Judge Rosenberg, Judge Paul Richardson and Judge Gaard.  However, last year there were six felony departments, but Judge White has now moved to Juvenile Cases and Judge Thomas Warriner has retired.  Replacing Judge Warriner is now Judge Gaard.
It is too soon to know if this will result in fewer trials.  But it does pose a bit of a problem, as the other courts are having to scramble to backfill cases in which the defendants are not waiving their right to a speedy trial.
Shawn Landry, the Assistant Court Executive Officer, told the Vanguard this week that while there are concerns and they are keeping close tabs on the situation, they feel that overall the system is much more streamlined since the 2007 changes, where courtrooms were assigned for all purposes.  The result of those changes more than doubled output from 2005 to 2010.
Mr. Landry further argued that the Topete trial scheduled for March in Judge Richardson's court was one of the culprits in creating a backlog. 
Others we talked to told us that the Topete trial had nothing to do with the problem, because Judge Richardson in general is not hearing long cause trials.  Instead, the problem is the reduction from two to one in the number of long cause courtrooms and the overall reduction in felony courtrooms.
The bottom line at this point appears to be that, by making two juvenile courtrooms, they fixed that which was not broken to begin with.  The problem is that there is really not enough caseload for two juvenile courtrooms, the reality is that there needs to be one and a third courtrooms for juvenile cases.  The result is that already there is a six-month back-up in cases, and that situation figures to get worse rather than better.
By robbing Peter to pay Paul, they have now thrown a huge wrench in the system that they were bragging about just last year.  While that does not mean that things cannot be fixed, it does present a new challenge that will have to be dealt with, or they risk undoing the progress that they had achieved in the previous few years.
—David M. Greenwald reporting