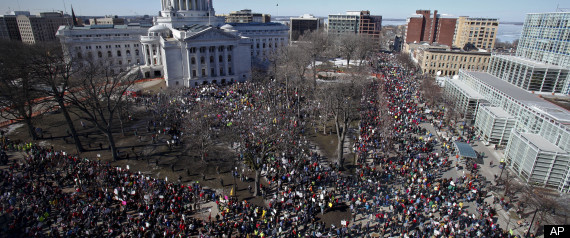 The headline in the Woodland Daily Democrat's AP story was misleadingly labeled, "Collective bargaining for state workers in jeopardy."  In reality, the story was about a Republican State Assemblymember, Allan Mansoor of Costa Mesa, who is introducing a bill that would eliminate collective bargaining for pension benefits by California's public employees.
The long and the short of it, there is a better chance of snow this weekend in Davis than this bill passing.
"I stand with the legislators in the Midwest who are taking brave steps to stand with the citizens," Mansoor said in a telephone interview. "It's very hard to rein things in under the current process. Pensions are out of control. They have to be brought back in line with the private sector."
There is a legitimate concern about pensions as we have reported for several years now, but this is not the way to deal with the problem.
The real danger in this bill is what happens if California, along with local communities, does not deal with its pension problem in a quick and decisive manner.  The real potential is for such a bill to get introduced as a ballot initiative, but even then it would be a long shot.
What is happening in Wisconsin is a high stakes game of chicken.  By raises the stakes, Governor Walker of Wisconsin is running some real risks.  The danger for Democrats and state employees is that if nothing gets down, the voter might be more willing to consider draconian approaches.
However, right now, the public may be turning away from him and all he is really doing is energizing union and public employees – groups that were largely inactive in the last election cycle that saw tremendous Republican gains.
Just as President Obama's moves are activating conservative tea party members, Governor Walker may be activating more liberal union members.
Conservatives probably took some solace when a Rasmussen Poll found that 48 percent of "likely voters" agreed with Governor Walker while 38 agreed more with the state employees.
However, Rasmussen has been scrutinized in the last election for biasing its sample and they may have biased their respondents in the construction of that poll, according to Nate Silver, a polling guru.
The Gallup and USA Today poll found public disapproval of the idea of stripping the ability of public unions to have collective bargaining rights.  It is by a wide margin.  61 percent of all adults oppose the plan, and Independents oppose it by a 2-1 margin.  Only Republicans like the idea and even that is relatively close at 54-41.  Other polls released this week back up this finding.
More importantly to Wisconsin itself, Craig Gilbert of the Milwaukee Journal Sentinel notes that "the polling so far suggests to [University of Wisconsin polling expert Charles Franklin that] Walker may have lost some ground on the issue as it has shifted from a debate over getting public employees to contribute more to their benefits to a debate over taking away collective bargaining rights."
"I thought he won easily on the benefits (issue) but … the Democrats really achieved their goal by delaying things as long as they did. They allowed the issue to change from 'modest givebacks on benefits' and turn it into 'destroying collective bargaining rights.'  And (Walker) is on much weaker ground with the public there," said Professor Franklin. 
In our view that makes sense.  The voters, not just in Wisconsin, but also in California, are supportive of the idea that public employees need to contribute more to their benefits.  In fact, that is what we have been arguing here in Davis for several years.
The problem comes with the idea of actually taking away collective bargaining rights.
Governor Walker, thus, has moved the debate from where Republicans may have had the very clear upper hand even among Democrats, to where most people think the policy goes too far.
We can debate about polling, but I think too many people rely too heavily on polling to ascertain the impact of policy.  Where the real danger lies is measured not in numbers but by salience.
I will point out a key example. Gun control probably cost Al Gore the 2000 election every bit as much as the closeness of the Florida election outcome.  Throughout the 1990s, Democrats looked at polls, saw a solid majority of people supported gun control, and then moved to enact gun control legislation.
The problem is that while the numbers showed strong majorities favoring gun control, they did not measure the salience of the issue.  Salience is how important an issue is to people.  Will they vote on the basis of that issue?
It turns out that the vast majority of people who will vote on that issue are against gun control.  So while Democrats took the majority position, they actually lost ground where it mattered most among white rural voters.  Whereas Democrats already had the voters who favored gun control, based on other issues.
The second key factor is not just salience, but activism.  That's the smallest group of voters – the activists – who will actually do the legwork.  President Obama created new activists starting in 2009 with his policies, all of them against him.
What Governor Walker is doing is mobilizing public employees, many of whom were inactive and a lot of whom are surprisingly enough Republicans, and he is threatening their future. 
People generally go into public employment not because the wages are great, but because they know they will have their pensions upon retirement.  It is supposed to be a trade-off.
The problem is that public employment wages have gone up rapidly in the last ten years, as have pensions.  This is where our debate lies in the City of Davis.
But by threatening to undo this social contract, the Governor Wisconsin and several other states are threatening public employees.  Public employees and unions either stayed home or were largely inactive in the last election cycle.
But now they have taken to the streets and they are fighting for their existence.  And that is a dangerous fight.  But worse yet is that 2000 miles away in Sacramento, guess what, public employees were rallying and getting activated for 2012.
When I wrote about this during the past weekend, someone rejoined with President Obama's note that elections have consequences.  But they forgot the second part of that, President Obama's lesson, so too do policies.  If you mobilize your opposition, you tend to lose in the next election.
So, the problem that Governor Walker now faces is he moved past the point where he had public support, he picked an issue where the salience factor weighed against him, and he activated a crucial opposition constituency.
But the danger is not his to bear alone.  The other danger is that Democrats ignore the clear public sentiment to reform pensions.  This is the number one issue in Davis, one of the most liberal communities in the nation.  This is a huge issue that Governor Brown needs to deal with fast.
If this does not happen, there will come a point in time when there is a ballot initiative and the public will pass a very draconian, anti-public employee, anti-labor law.  Look no further than Proposition 13 which dealt with the issue of property taxes but at the same time crippled the ability of districts to raise local money.  We do not want a Prop 13 for pensions.
—David M. Greenwald reporting