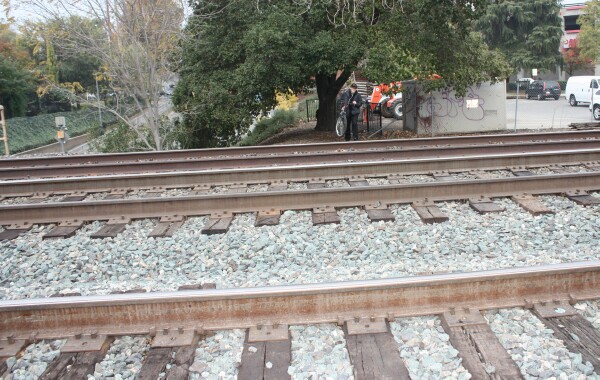 For a change it appears the City of Davis has been too effective in advocating on behalf of the Olive Drive residents, for whom a fence would effectively cut them off from the rest of the city.
As we reported earlier this week, the City of Davis was prepared to oppose public funding of a fence along Olive Drive until a deal could be worked out for a safe crossing for the residents of that street to cross into the downtown.
The city recommended, "Direct staff and the City Attorney to attend the Capitol Corridor Joint Powers Authority Board meeting on February 16th and request that the Board take no action regarding funding for the Union Pacific Railroad 'UPRR' fence and ask the Board to encourage UPRR to work with the City of Davis on all options especially those involving use of UPRR right of way."
In a February 1st letter from the Interim City Manager, he asked for a firm commitment from Union Pacific that they are willing to work with the city before constructing a fence.
He wrote, "The City of Davis would like a firm commitment from UPRR that it is willing to work with the city to explore options, and that UPRR will not pursue or install the fence until the City and UPRR have had sufficient opportunity to develop reasonable alternatives that promote safety of the residents of Olive Drive and the passengers and UPRR employees operating the trains."
He continued, "To this end we request that UPRR commit to delaying the fence project until the city, in conjunction with UPRR, develops alternatives and risk assessments."
That letter was never addressed by Union Pacific, and instead they sent their own letter to the CCJPA, backing out of their request for public funding.
Wrote Scott Moore, Vice President of Public Affairs for Union Pacific, "The purpose of this letter is for Union Pacific to notify the CCJPA in writing that UP would like to withdraw from consideration [of] any public funding for the Davis Fence project."
"Let me be clear in stating that although UP is withdrawing any request for participation from CCJPA for public funding towards the construction of the Davis Public Safety Fence, UP is still interested in moving the fence project forward to protect public health and safety," he continues.  "As such, UP will be exploring options to fund the safety fence exclusively with private dollars, though we have no set timetable for such construction to occur."
He added, "In the meantime, I would suggest that CCJPA staff, UP staff, and the City of Davis continue discussions about what other measures could be taken in addition to the privately funded safety fence to secure the area in question and grant a convenient and safe grade-separated pedestrian crossing and access point for the public."
This comes not long after they claimed publicly that they wished to work with the City of Davis on a joint solution.
At this week's Tuesday council meeting, the City Council voted to direct City Attorney Harriet Steiner to file an injunction to halt construction of the fence until UP addressed local concerns.
Also going to bat for the City of Davis, are its legislative representatives, both residents of Davis, Senator Lois Wolk and Assemblymember Mariko Yamada.
In a letter to Bob Franklin, who chairs the CCJPA Board, Senator Wolk expressed the concern that a fence could "potentially" add to the safety concerns.
"The City is also concerned that this fence may significantly impede access to downtown Davis for Olive Drive residents," wrote the Senator. "The Olive Drive neighborhood represents a socio-economically disadvantaged area.  Most of the residents rely heavily on biking and walking as their primary form of transportation, and improving, not hampering, convenient bicycle and pedestrian access in this area should be a high priority."
Assemblymember Yamada, along the same lines, wrote that "Many residents bike or walk across the tracks to reach downtown Davis because they do not have cars. They do not use the Richards Boulevard undercrossing because it is inconvenient to their neighborhood and schools. I recall transporting students from the mobile home park during inclement weather, when their parents had great difficulty walking their children to school."
"A simple fence is not likely to re-route Olive Drive residents. In fact, I suspect that residents would find riskier ways to get through such a barrier. I believe they need and deserve a safe bicycle and pedestrian crossing instead of a barrier that would only further blight the area," she added.
Both Mayor Joe Krovoza and activist Alan Miller expressed optimism in the Davis Enterprise that a deal could still get done here.
What I find truly remarkable is how much city government has changed in the last three months.  This is an issue in which the city never would have gone to bat, with previous councils.  Now we suddenly see everyone working on the same page to forcefully push to make it very difficult for the CCJPA and Union Pacific to "railroad" the city, even on an issue that the council has no direct authority on.
My guess is that one of two things are going to happen here.  Either there will be no fence and this is Union Pacific's graceful way of bowing out of a fight.  Or there will be a fence but only after an agreement is reached for some sort of reasonable crossing alternative.
—David M. Greenwald reporting