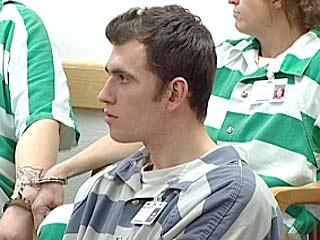 Judge Timothy Fall on Friday agreed to reduce the bail for UC Davis student Nicholas Benson, from one million dollars to 100,000 dollars, in order to enable the family to seek mental health support for Mr. Benson while his case is pending trial.
Mr. Benson, 25, was arrested on January 21 after his family called the police, fearing he was suicidal.  The incident, according to police sources, escalated from there and Mr. Benson was Tasered and finally taken into custody, but not before he allegedly made terrorists threats to police while carrying an assault rifle, shotgun and more than 300 rounds of ammunition in his truck.
Yolo County Deputy District Attorney Robert Gorman objected to his release resulting from the reduced bail, arguing that Mr. Benson remains a threat to the community, and that while at some point mental health facilities would be appropriate, it is too soon for him to be released from custody.
Deputy DA Gorman made a show of the hearing, arguing that if it had not been for the efforts of the Davis PD, Davis might have been added to the list of incidents such as at Virginia Tech and Tucson.
He also argued that Mr. Benson was not mentally disabled, pointing to records of phone calls to his family from Yolo County Jail in which they were discussing what he should wear to the trial and making a reference that he did not want to look evil.
Apparently to the prosecutor, in order to be mentally disabled, one must always be.  The reality is, as defense attorney Steve Sabbadini suggested, that mentally ill individuals often have moments where they carry out lucid conversations. He argued that this was not unusual for Mr. Benson to do so.
Judge Fall denied a defense motion that would have released Benson on his own recognizance in order to receive psychiatric care.
He argued that, at the very least, Mr. Benson represents a threat to himself, if not the entire community.
He did agree to reduce bail to $100,000, citing the fact that the $1 million bail was based on a lack of knowledge that Mr. Benson lacked any criminal history or other violent outbursts.
According to the police's account, at approximately 6:00 PM on that Friday evening, Davis Police Officers were dispatched to the downtown area to search for an armed suicidal 25-year-old UC Davis student, Nicholas Benson.
After Mr. Benson received numerous commands to surrender, he allegedly resisted and headed straight for his vehicle.  Just as Mr. Benson entered the cab of his pickup truck, officers used a Taser and other non-lethal measures to subdue him and take him into custody.
The police found in his vehicle a loaded rifle with a telescopic sight, and a loaded shotgun. They also located hundreds of rounds of rifle ammunition in Benson's possession.
His attorney Steve Sabbadini told reporters outside of the Courthouse, after the arraignment on January 26, that Mr. Benson is a good kid who needs help.
"He grew up in Davis, graduated from Davis High School.  UCD student.  Never been in trouble, never arrested.  Essentially just a meltdown that has to be addressed," Mr. Sabbadini said following his client entering a not-guilty plea.
"He was mainly a danger to himself, not a danger to others," he added. 
As we reported on Monday, family and friends indicate that as a teenager, the individual suffered significant head injuries in an automobile accident, to the point where he nearly did not survive.
He has struggled to complete college and live a normal life.
They believe that, while he was suicidal, the idea that he was making terrorists threats was overblown and this was simply an overreaction.
"This young man belongs in the hospital, not in jail," according to one person familiar with Mr. Benson's situation.
However, Davis police believe that without fast action on their part, we could have been looking at a tragic situation.
They say that Mr. Benson had several hundred rounds of ammunition, both on his person and in his truck.
"It was a military style rifle," Lt. Doroshov told News 10. "We don't want to speculate on what his motive was. But it was potentially explosive based on the weaponry involved, the ammunition that was there, and its close proximity to downtown Davis."
"It's amazing nobody was dead," Lt. Doroshov said. "Everybody walked away with their life, including Mr. Benson himself."
Defense Attorney Sabbadini had, at the time of the arraignment, asked that Mr. Benson be locked in a mental facility with evaluation at that time, rather than a jail.  However, on Friday at the bail hearing he suggested that there is another possible way to proceed.
He told Judge Fall that the facilities need to make their own determination as to what treatment Mr. Benson needs.  They also prefer for him to come in on his own rather than under a judge's order.
The next hearing will be March 3 in Department 2.
—David M. Greenwald reporting