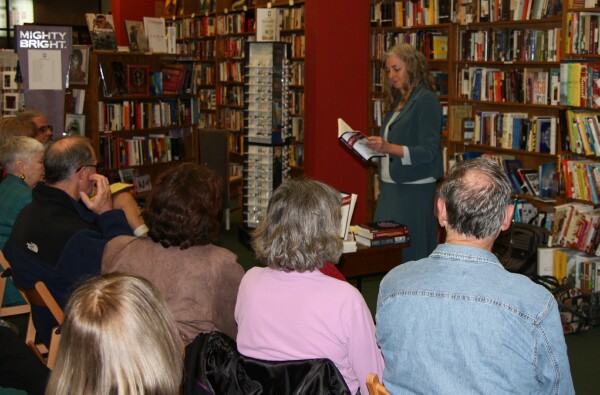 Last week at the Davis Avid Reader, Amy Block Joy spoke publicly about her four-year-long ordeal, having reported malfeasance in her own department at UC Davis and the treatment she received from her colleagues and the university as a whole.
As she told the audience, she became a Whistleblower in August of 2006, and was asked to be silent while the investigation was taking place.  As a result of that isolation, she wrote a book about her experiences.
In the words in the forward, she wrote, "Whistleblower is my personal account of the discovery and reporting of crime."  She added, "I wrote this book to educate furture whistleblowers, especially those in university settings.  My advice: persist, be vigilant, and know that an individual can make a difference."
The Vanguard covered her story back in June 2010, now her book has just been published and she spoke about that book last week at the Davis Avid Reader.  (You can purchase her book there and the Vanguard will receive a small portion of the proceeds – Whistleblower
).
The most difficult part of the whole ordeal seems to have been the isolation that she had to cope with as the result of being asked to be quiet about the investigation.  The book would be her coping mechanism.
"The book began as a way to cope with isolation," Amy Block Joy told the Vanguard in a separate interview this week.  "After I blew the whistle I was warned not to talk about the investigation to anyone.  This was repeated to me on many occasions and by many folks throughout the process.  I found that writing became my way of  'talking.' "
She remains employed at UC Davis to this very day, though she has been moved to a new department specifically designed only for her.  She generally feels that the university has done right by her, and her criticism may be toward the treatment by some of her colleagues.
As she told the Vanguard, "Not having people to talk to or even communicate with was disturbing and cruel.  I did believe that if the people really knew what had happened they would support me—so I focused on doing the best job I could."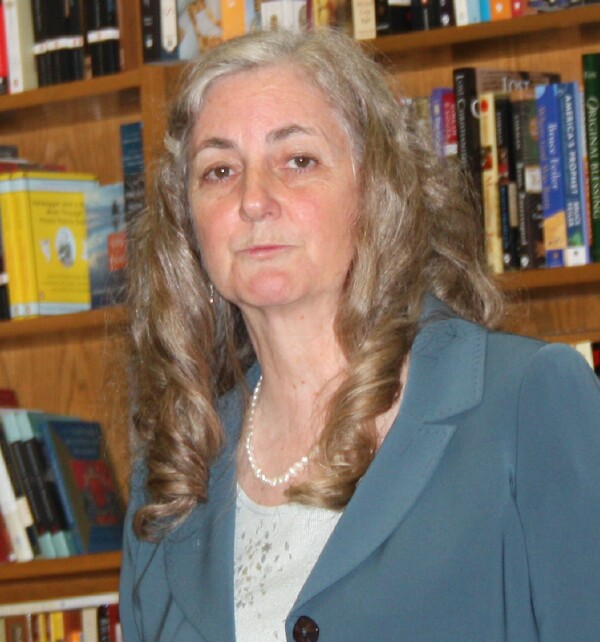 More generally she said, "It's very important for a whistleblower—or anyone who is put in a position where they are told to keep quiet—to have a support system and people to talk to.  I believe that there should be always be a support system offered to whistleblowers."
Amy Block Joy filed her complaint in September 2007 and a subsequent investigation by the university verified many of her allegations.  These included activities of another employee over a 6-year period. 
The employee pled guilty in 2008 to theft in 2008, admitting to spending federal funds on hundreds of items.  Remarkably, the employee was only sentenced to a year in prison and ordered to pay government restitution of $128,681.80.
It was the reaction to her complaint that first drew problems for Dr. Block Joy.
According to her complaint, "People told others she was mentally ill; at a conference, it was falsely announced that she had left the university; mail was taken from her mailbox, torn, and pictures were drawn on it; she was shoved; she was not invited to meetings and people did not reply to her emails, even though she was director of the program; her car was 'keyed' in the parking lot; employees sitting next to her wouldn't speak, even when she addressed them warmly."
Back in June, Amy Block Joy told the Vanguard that she discovered the embezzlement in March of 2006 and confronted the female employee at that time.  However she said, "Because my reporting it through the usual channels didn't work, I filed a whistleblower report in August 2006."
While she believes others knew about the fraud, as was reported by auditors and also explained in a 2007 Sacramento Bee article, she knew little about the investigation.
"UC Davis had a lot of internal controls at the time.  The reason I believe it was good to blow the whistle is because there are loop holes and ways around the institutional controls," she told the Vanguard.  "This is true for all organizations. However, the investigation allowed the university to make adjustments and improvements."
Writing was her escape from this.
She told the Vanguard this week, "Writing was very empowering.  I wrote about every experience during the process and re-visited all my emails (over 100,000 of them) to try to find clues.  I kept asking myself—did I miss something?  When the harassment reached an intolerable level the university recognized this and asked me to stay away from the campus.  I was given a four-month "no-fault" administrative leave."
She also took solace from people like Daniel Ellsberg, of the notorious Pentagon Papers fame, who had experienced a lot of the same reactions on a much broader scale. 
Daniel Ellsberg clearly took to her case, even writing a small testimonial, "In Amy Joy's courageous search for a moral compass one victory transcends – Truth comes first!  Whistleblower poignantly illuminates the dark for future truth-tellers."
According to Amy Block Joy, Daniel Ellsberg, during her struggles, advised her "that this isn't an experience that one bounces back from…" and "you'll need to find new friends and build a new life." 
She said she wrote much of this book in 2008, where she took the notes that she had written and developed them into a book chapter.  She would then submit it to a writer's conference in Taos, New Mexico.
"During my 2008 July vacation, I went to Taos and met my editor, Alan Rinzler.  I wrote and he edited a chapter a month," she said.  "Writing this book was highly motivating and kept me moving forward."
"The book also inspired me," she continued.  "I wanted to understand what happened and why it happened, with the purpose of educating future whistleblowers on the nitty gritty details of the experience."
Moreover it was about completing the journey and then moving on.
She said, "In the end, I wanted to reach a conclusion and then "close the book on this chapter of my life".  I wanted my book to tell the next whistleblower—it's very difficult and painful—but in the end you'll be glad you blew the whistle!"
The question one always asks is what they would do differently, having learned through life experience something rather extraordinary.
For Amy Block Joy, it may be a lesson in cynicism and skepticism.
"In the end, my optimistic view that the majority of people are basically ethical, moral and have integrity may have made me more prone to being manipulated," she told the Vanguard. 'I think I assumed too many good things about people that turned out to be wrong."
She related a story in which, even after blowing the whistle, she again trusted the wrong person. 
"This was someone I had admired for decades and I thought was supporting my efforts to fight poverty," Amy Block Joy told the Vanguard.  "I still wonder why this particular individual chose to retaliate, spread malicious gossip about me and smear my name."
Dr. Block Joy argues however, that the result of her complaint was that she had been retaliated against precisely because she blew the whistle.  She believes that the system worked for her, despite her hardships along the way and that the university did a very good job of investigating her complaint.
"The system worked—although it was a very long and lonely journey to get to the end of the road—and then, of course, one is faced with the horrible things that people said and did.  But the best way to deal with this is just to let it go and move on," she told the Vanguard.
The value of sharing such experiences is that it helps empower others in her place to take action rather than to sit by fearing retaliation.
"Now that I'm speaking publicly about my book, people are feeling more comfortable talking about this issue," she told the Vanguard.  "Many are telling me about things that happen at work that they were afraid to report."
Amy Block Joy said that people need to learn how their organization operates toward whistleblowers.
"The reason organizations have tutorials is to make sure that everyone is aware of what is expected by the organization.  Don't skip the tutorials—in fact, read them carefully," she said.
Moreover, people need to recognize the warning signs and not ignore them.  Specifically said, "If you find yourself experiencing any of the following signs: thinking about something that happened at work much more than you want to; feeling uncomfortable about it and trying to not think about it; and finding excuses, explanations or even becoming angry about something, this may be the first internal clue that you are aware of wrong-doing."
Once an individual identifies a problem, they need to find the right person to talk to, clearly someone they trust.
"UC Davis has policies that provide guidance on what to do," she said.  "In fact, there are a number of ways to make reports and many are confidential.  It is very important that you trust the person that you confide in."
Most importantly she added, "Never, and let me emphasis this, never turn your back on it."
But whistleblowing comes with a huge price that people are often not willing to pay.  Amy Block Joy is one of the more fortunate cases, as she found the right people at the upper levels and once they completed their investigation, they did right by her and put her into a new position where she was protected.
Others are not so fortunate.
As she told the Vanguard, "Right now, most people believe that if you use the whistleblower route to reporting misuse you will lose your job.  Statistics seem to show that.  It was very important to me both personally and professionally to keep my job so that I wouldn't become one of those statistics."
She was determined to keep her job.  That was her clear goal. 
"I want people to know that you can be a whistleblower and stay employed with a good job.  I did," she said.
Last summer Governor Arnold Schwarzenegger signed a bill authored by Senator Leland Yee that closes loopholes from a July 2008 California Supreme Court ruling that prevented UC employees who are retaliated against because they report wrongdoing from suing for damages under the state's Whistleblower Protection Act, so long as the University itself reviews the complaints in a timely fashion, regardless of their findings.
Under the new law, UC faculty and workers who report illegal or improper actions from retaliation in the workplace will have the same rights as other employees.
"This is the classic case of the fox guarding the hen house," said Senator Leland Yee.  "UC executives should not be judge and jury on whether or not they are liable for monetary claims.  Finally, we are able to close this legal loophole and restore some dignity for UC whistleblowers and integrity to the system."
Fortunately, such retaliation did not go unchecked in Amy Block Joy's situation.  The University in this case has acknowledged that retaliation occurred and has taken steps to rectify the situation. 
"The university takes all allegations of retaliation, including whistleblower retaliation, very seriously and investigates them diligently," Claudia Morain, News Service Director at UC Davis said in a statement to the Vanguard last summer.
"In this instance, a university investigation determined that Dr. Block Joy was retaliated against for her whistleblower complaint concerning fraud and misuse in the Food Stamp Nutrition Education Program," Ms. Morain continued. "Administrative action was taken in response to this substantiated allegation of retaliation.  We're pleased that we were able to reach a mutually satisfactory agreement with Dr. Block Joy."
As they say, if you want to know the rest of the story, read the book.  You can order the book here and , again, the Vanguard will also get a small portion of the proceeds – Whistleblower
.
—David M. Greenwald reporting