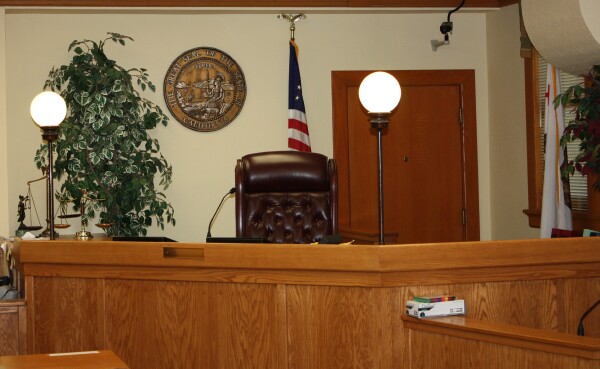 Aaron Ray Wilson this week was ordered free by Judge Arvid Johnson, following a late December ruling by the Third District Court of Appeals which threw out his convictions for carrying a concealed dirk or dagger which constituted a third strike and had him in prison for 28 years to life.
Mr. Wilson appealed the verdict that would have sent him to prison for a minimum of 28 years "contending, among other things, that the trial court erred in denying his motion to suppress a knife (the alleged dirk or dagger) seized from his back pocket during a pat down search initiated after a police officer was dispatched to a public park to investigate "five subjects [possibly] smoking H and S [sic] in the men's restroom."
He argued that his detention was unlawful because it "was based entirely on an uncorroborated anonymous tip" and "the seizure of the knife was the result of police exploitation of [that] unlawful detention."
The appellate court agreed, concluding "that the officer who detained and searched defendant lacked the reasonable suspicion necessary to justify the detention, and that the knife was fruit of defendant's unlawful detention."
In a hearing on February 7, Deputy District Attorney Clinton Parrish announced that, based upon the appellate court reversal "suppressing all evidence [in this case all evidence was the knife itself] against the Defendant and declaring his arrest and detention illegal, that the prosecution cannot proceed with this case against the Defendant."
"The court orders the dismissal of these charges based thereupon," Judge Johnson writes. "Based upon that dismissal, the court orders that all penalties assessed against the Defendant based upon this reversed conviction and dismissed case are vacated, including the Defendant's state prison sentence."
He then ordered Mr. Wilson to be released from prison.
Prior to the trial, Aaron Wilson's attorney Rodney Beede had moved to suppress evidence that was seized during an investigatory stop and search of his person, based on the fact that it was the result of an unlawful search.
According to the appellate ruling, "Officer Gina Bell of the Woodland Police Department was the only witness to testify at the hearing on defendant's motion.  She testified as follows:  At approximately 3:00 p.m. on September 24, 2008,  she "was dispatched to five subjects," three males and two females, possibly smoking an illegal substance inside the men's restroom at Harris Park in Woodland."
The officer entered the rest room and checked around and apparently found a small plastic baggie floating in a toilet in the women's restroom.  The bag was empty, however, Officer Bell testified that she had seen contraband in that type of bag in the past, and based on her training and experience, knew "people try to flush contraband, and plastic baggies float." 
Mr. Wilson advised Officer Bell that he was not on parole or probation. 
According to the opinion from the Third DCA, "Bell asked him "if he had anything on him he shouldn't have and he did not answer."  Defendant conversed with his wife, and Bell overheard defendant's wife mention something about knives.  Bell asked defendant about the knives, and he responded that he had "a lot of them."  Bell then performed a pat down search of defendant "for [her] safety."  Among other things, she seized a knife from his back pocket."
They continue, "During cross-examination, Bell acknowledged that the dispatch did not indicate that anyone 'saw them smoking methamphetamine out of a pipe or smoking a joint of marijuana,' but rather it was a '[s]uspicion of the reporting party.'  Nor did she observe any of the five individuals engage in 'any illegal or even suspicious activity' or make any threatening gestures before asking them to sit on the curb.  At that point, she was just 'investigating.' "
The trial court denied defendant's motion to suppress, finding "there were specific and articulable facts that the officer brought to the courtroom and expressed with regard to officer safety and reasonable precautions that an officer would take to make sure that something didn't get out of hand." 
In particular, the court noted that "[t]hese individuals were in an area where at least there was reported drug activity, though not confirmed in any true sense of the word, [and] certainly she had a right and a duty to investigate.  In doing so . . . she found the knife on the person of the defendant." 
In this case, Mr. Wilson argued that the detention itself was illegal, since it was based entirely on an uncorroborated anonymous tip.
The appellate court noted, "The People do not dispute that defendant was detained when Bell asked him and the others to sit on the curb; rather, they respond that the detention was lawful because the anonymous tip was sufficiently corroborated to furnish the requisite reasonable suspicion that defendant was engaged in criminal activity."
Citing case law, the court wrote, "An anonymous tip alone will seldom provide the reasonable suspicion necessary for an investigative stop because 'ordinary citizens generally do not provide extensive recitations of the basis of their everyday observations and' . . . the veracity of persons supplying anonymous tips is 'by hypothesis largely unknown, and unknowable.' " 
The court argued that Officer Bell "had no information concerning the reporting party or the basis of his or her belief that three men and two women may have been smoking an illegal substance in the men's restroom at the park.  Thus, the report was tantamount to an anonymous tip."
The court added, "Apart from the tip, Bell had no reason to suspect defendant of illegal conduct.  She did not observe defendant or any of the other individuals engaged in any suspicious activity, and none of the individuals made any threatening gestures or acted aggressively toward her."
The court argued that the defendant was not lawfully detained at the time of the pat search and found that the fear that Officer Bell asserted was not "objectively reasonable."
"Bell had no reason to believe defendant was armed at the time she detained him," they wrote. "She did not observe anything akin to a bulge in his clothing, and neither defendant nor the others made any threatening movements or acted aggressively."
"Accordingly, defendant's detention was not justified by Bell's purported fear for her safety," the Third Appellate Court concluded.
The court thus ruled, "Defendant's detention was unlawful and the evidence seized through the exploitation thereof, most notably, the knife seized from defendant's back pocket, was fruit of that detention, and thus, should have been suppressed."
This is the fourth known Yolo court ruling, and third criminal conviction, that was overturned in the latest month and a half by the Third District Court of Appeals.
Some will undoubtedly argue that Mr. Wilson is free on a technicality since he had committed a crime.  However, those people ignore the value in the constitution that protects individuals from unreasonable searches and seizures.  In other words, Mr. Wilson was doing nothing that should have warranted the search in the first place.
Moreover, here is another case where a relatively minor crime is met with a completely disproportionate sentence in which he would have served 28 years to life for carrying a four-inch knife in his back pocket – how anyone can justify that punishment is beyond me.
There is no evidence to suggest that Mr. Wilson used that knife to attack or threaten anyone.
So, on that note, a technicality gets one put into prison for life and a technicality gets the individual who was unreasonably incarcerated released from prison.  Hopefully having served his time, Mr. Wilson will use his second chance to get his life straightened out.
—David M. Greenwald reporting