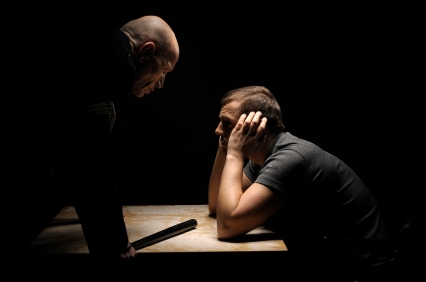 After some lengthy discussions about the interrogation process, following the conviction of Bennie Moses for the rape of his daughter over a nine-year period, it seems that there is a need to revisit the issue of false confessions.
To be extremely clear, in the Bennie Moses case, there is no reason to believe he falsely confessed. However, we do believe, with a good deal of justification, that the interrogation tactics used were improper, even if they were likely completely legal.
The Innocence Project cites the statistic that in about 25% of DNA exoneration cases, innocent defendants made incriminating statements, delivered outright confessions or pled guilty. 
According to them, "These cases show that confessions are not always prompted by internal knowledge or actual guilt, but are sometimes motivated by external influences."
Think about this. DNA enters into the picture only a small percentage of the time, which suggests that the number of people that have falsely confessed is probably much higher than the known numbers would indicate.
In Bennie Moses' case, the substance of the confession, along with DNA evidence that was largely unexplained, leads us to the conclusion that he was still guilty of the charges, but that should not let authorities off the hook.
The jury in the Moses case was originally only allowed to see the six minutes of the interrogation which would constitute his confession.  However, defense attorney Emily Fisher argued that this took the confession out of context.
The actual confession occurred nearly nine hours into an interrogation that began at 6 pm and ended at 3 am.
Judge Mock allowed another edited version to be shown, this one showing about 42 minutes of dialogue where Mr. Moses denied committing any crimes.
Judge Mock announced at the outset of showing the video to the jury that he had selected the edit points, but even this extended version of the video does not do justice to the extent and length of the interrogation.
It did not show long periods where Mr. Moses was forced to wait as they used various tactics to wear him down.
Mr. Moses also took the stand in his own defense and thus faced cross-examination from Deputy DA Michelle Serafin.
Ms. Serafin, as she cross-examined Mr. Moses, tried to trip him up with regard to his confession.  She hammered on him, asking him why he lied to the police about committing the crime.  He told her that he decided to go along and tell them what they wanted, because he just wanted it to end and get it over with. 
He also said he realized that they were lying to him.
Omitted from what the jury saw was a section at the beginning of the interview, where Mr. Moses asked if he were under arrest.  The officer told him that he was not under arrest and he could leave at any time. Soon after, a sergeant came in and told him he's not going anywhere.
In her closing statement, Ms. Fisher broke down the experience in a chart that showed the length of the interrogation and the section in which Mr. Moses finally broke down and confessed.
The problem for Mr. Moses is that he did not merely give up and slump his shoulders saying he did it.
Instead he said, "She just danced around and teased me in her nighties all night long."  And he also talked about how she instigated the sex at times.
As we have observed previously, there would be no one who would make that kind of statement unless he thought of his daughter in sexual terms.
Under the conditions to which Mr. Moses was exposed, he probably would have broken down whether he had done it or not.  Fortunately for West Sacramento PD, he seems to have done it.  And even if the confession were thrown out, it would be difficult to throw out the guilty charge, given the broad swath of testimonial evidence.
But again, that should not excuse the police.
The New York Times ran an article, "Confessing to Crime, but Innocent."  In it they highlight the case of Eddie Lowery, who spent ten years in prison for a crime that he did not commit.  The only evidence to tie him to a rape was a confession.
The Times reported, "At trial, the jury heard details that prosecutors insisted only the rapist could have known, including the fact that the rapist hit the 75-year-old victim in the head with the handle of a silver table knife he found in the house. DNA evidence would later show that another man committed the crime."
"I beat myself up a lot" about having confessed, Mr. Lowery told the Times in a recent interview. "I thought I was the only dummy who did that."
The Times reported that at least 40 others have confessed since 1976, where DNA evidence has later shown the confessions to be  be false, according to research by Grandon Garrett, a law professor at the University of Virginia.
Professor Garrett has an article that demonstrates how various incriminating facts can get into confessions, leading the police and prosecutors to conclude that the individual knew facts only the individual at the crime scene could know.  Often the police were the ones who introduced these facts.  Sometimes they were unintentional, other times they appear intentional.  Sometimes, they even introduced facts that turned out to be false, and they still were not caught.
Professor Garrett writes, "Scholars increasingly examine the psychological techniques that can cause people to falsely confess, and [they] document instances of known false confessions. This article takes a different approach, by examining the substance of false confessions, including what was said during interrogations and how the confession statements were then litigated at trial and postconviction. Doing so sheds light on the phenomenon of confession contamination. Not only can innocent people falsely confess, but all except two of the exonerees studied were induced to deliver false confessions with surprisingly rich, detailed, and accurate information."
"We now know that those details could not have likely originated with these innocent people, but rather must have been disclosed to them, most likely during the interrogation process," the Professor continues.  "However, our constitutional criminal procedure does not regulate the postadmission interrogation process, nor do courts evaluate the reliability of confessions."
According to the Times article, the new research is opening eyes of defense lawyers.  "In the past, if somebody confessed, that was the end," said Peter J. Neufeld, founder of the Innocence Project, to the Times. "You couldn't imagine going forward."
The notion that such detailed confessions might be deemed voluntary, because the defendants were not beaten or coerced, suggests that courts should not simply look at whether confessions are voluntary, Mr. Neufeld told the New York Times. "They should look at whether they are reliable."
Professor Garrett told the NY Times he was surprised by the complexity of the confessions he studied. "I expected, and think people intuitively think, that a false confession would look flimsy," like someone saying simply, "I did it," he said.
Instead, he said, "Almost all of these confessions looked uncannily reliable," rich in telling detail that almost inevitably had to come from the police. "I had known that in a couple of these cases, contamination could have occurred," he said, using a term used in police circles for introducing facts into the interrogation process. "I didn't expect to see that almost all of them had been contaminated."
Professor Garrett's study found that more than half of the defendants were mentally disabled, under 18, or both.  None of these individuals had a lawyer present, which ought to be a regulation necessity for a confession.  About half of them were taken to the crime scene.
One of the scary findings is that eight of the defendants in Professor Garrett's study were actually cleared before trial by DNA evidence, and yet convicted anyway.
The Times cited the example of an individual who spent 16 years in prison for a murder in Pennsylvania.  Wrote the Times, "Prosecutors argued that the victim may have been sexually active, and so the DNA evidence may have come from another liaison she had. The prosecutors asked the jury to focus on Mr. Deskovic's highly-detailed confession and convict him."
Steven A. Drizin, the director of the Center on Wrongful Convictions at the Northwestern University School of Law, stated to the New York Times in their article that the significance of contamination "could not be understated. While errors might lead to wrongful arrest," he told the Times, "it's contamination that is the primary factor in wrongful convictions.  Juries demand details from the suspect that make the confession appear to be reliable — that's where these cases go south."
"Jim Trainum, a former policeman who now advises police departments on training officers to avoid false confessions, explained that few of them intend to contaminate an interrogation or convict the innocent," The Times reports.  "You become so fixated on 'This is the right person, this is the guilty person' that you tend to ignore everything else," he said. The problem with false confessions, he said, is "the wrong person is still out there, and he's able to reoffend."
According to the article, Mr. Trainum argues in favor of videotaping entire interrogations. "Requirements for recording confessions vary widely across the country. Ten states require videotaping of at least some interrogations, like those in crimes that carry the death penalty, and seven state supreme courts have required or strongly encouraged recording."
In fact, that is the recommendation of the Innocence Project as well, "the mandatory electronic recording of interrogations, which has been shown to decrease the number of false confessions and increase the reliability of confessions as evidence."
You will note that there was an electronic recording of the interrogation here, although the edited playback may understate the nature of fatigue and other factors in creating the confession.
California does not require electronic recordings of confessions, but, again, it happened in this case.
Writes the Innocence Project, "For the recording of interrogations to be effective, the entire custodial interrogation must be recorded. This record will improve the credibility and reliability of authentic confessions, while protecting the rights of innocent suspects."
They continue, "In some false confession cases, details of the crime are inadvertently communicated to a suspect by police during questioning. Later, when a suspect knows these details, the police take the knowledge as evidence of guilt. Often, threats or promises are made to the suspect off camera and then the camera is turned on for a false confession. Without an objective record of the custodial interrogation, it is difficult to gauge the reliability of the confession."
They conclude, "For law enforcement agencies, recording interrogations can prevent disputes about how a suspect was treated, create a clear record of a suspect's statements and increase public confidence in the criminal justice system. Recording interrogations can also deter officers from using illegal tactics to secure a confession."
In this case, the key evidence was what Mr. Moses said.  When he talked about his daughter teasing him, he implied that he was sexually aroused by his daughter, something that an ordinary person would not state. 
This was not the product of an interrogation, it was simply a signal that Mr. Moses thought of his daughter in sexual terms.
The question that people must ask however, under the conditions in this interrogation, is if Mr. Moses would have eventually confessed, even if he had done nothing to his daughter.  We do not know the answer to that for sure, but it is a matter of concern.
I go further than the Innocence Project in this regard, but I do not believe there is a reason that it should be lawful for police to attempt to browbeat or trick or fatigue someone into a confession. There is never a reason to hold a guy for nine hours, to deceive him as to whether or not he is free to leave or the circumstances of his being held, and frankly there is no excuse to question the guy without a lawyer for that length of time.
The best protection against a false confession is to have a lawyer on hand.  If your response is that no lawyer would allow his client to confess, then I think the response should be exactly that.
Are confessions important for solving crimes?  Of course they are.  But the reliability of confessions enters into the equation, and we have a system that has tended to produce a number of false confessions.
People argue that I am merely soft on crime and criminals, but observe, if a crime was committed, and someone falsely confesses, that means that not only is an innocent person in prison but a guilty person is loose.
There are other issues at work here, as well.  The more educated someone is, the more likely they are to invoke their right to an attorney.  There is no way I would allow myself to be subjected to nine hours of interrogation unless a lawyer was present.  In fact, I would not even talk to the police without a lawyer present.
—David M. Greenwald reporting