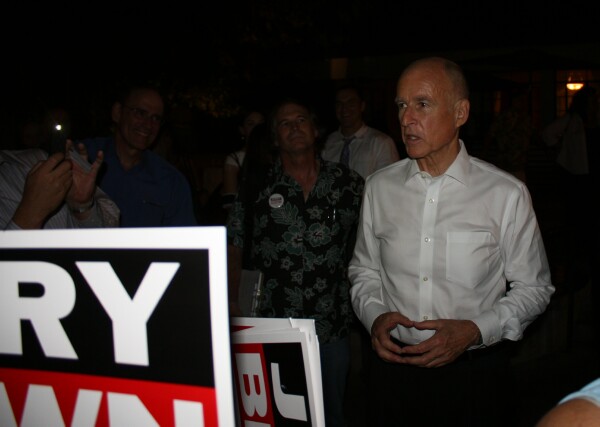 Governor Brown has made this week his deadline for reaching a budget deal – yes – March 8.  That deadline has been dealt a blow, as yesterday it was reported that Republican senators released for the first time a list of demands and declared an impasse.
"We accepted your invitation to bring you our ideas on important structural reforms and willingly took to heart your admonition 'to get out of our comfort zone,' " the letter to the Democratic governor from key Republicans read. "Although it is clear that you engaged in our conversations seriously, it appears we have reached an impasse in our discussions about how to move the state forward."
While the governor could certainly pass the budget with a majority vote and maybe even get a modified version of his tax plan on the ballot in June, he realistically needs at least two Republican votes in both houses of the legislature to achieve the two-thirds majority he seeks and which would make his ultimate goals much easier to accomplish.
There are a couple of points embedded in a weekend Sacramento Bee article and commentary, by Maureen Dowd about Governor Brown, which are interesting, particularly in light of the continuing conflagration in Wisconsin over Governor Walker's proposal to limit, if not eliminate, collective bargaining for public employees.
First, I find the wording of the letter from Republican senators interesting because the Republicans acknowledge that he "engaged" in their conversations "seriously."  That is important for future talks, as the Republicans did not apparently feel that he was merely giving their concerns lip service.
The Bee also quotes San Jose State political science professor, Larry Gerston.
"There's no question about it, that the governor expended some political capital when he announced that he wanted agreement by that date," said Professor Gerston.  "Is it a bit of a black eye? Perhaps, but you know, he has shown a great ability this time around to take a punch and get back up."
That is perhaps the key to Governor Brown, he is not going to panic at missing a deadline.  He also appears quite willing to lose or not run in four years if this does not work.
Moreover, one has to wonder how many people care if he gets this done in March or even May.  Missing the deadline would still be a vast improvement over the past when budget statelemates dragged through the summer and relied on gimmicks to give the appearance of the funds balancing, when they did not.
The analysis that Maureen Dowd lays out, in her opinion piece this past weekend, really hits a lot of nails on the head in terms of the changes in Jerry Brown from the 1970s and why, if anyone is to succeed at this, it is likely to be him.
She writes, "In the old days, he tried to get people to accept their limits when they didn't think there were limits; now that they've learned the hard way that there are, his gospel sells well."
The funny thing about the Republican talking points during the election was that they tried to portray Jerry Brown as tax and spend, when in fact, Jerry Brown was notorious for being frugal, during a time of excess.  In that sense, Jerry Brown probably has changed less than the times. Also, Ms. Dowd quotes him as saying, "I thought I knew a lot, but obviously 30 years later, I know a hell of a lot more."
Ms. Dowd continues, "If the legislators approve his plan, a mix of spending cuts and tax extensions, the big test will be a referendum on it in June."
She notes, "If his plan passes, California could become the laboratory for how to do things right, the anti-Wisconsin. It is remarkable to watch the governors on two coasts, Brown and Andrew Cuomo, both sons of iconic liberal governors, boldly go against the grain to do what works today. They are eliminating or reforming many of their dads' hallmark programs."
There is a lot that needs to be accomplished here, and Jerry Brown is going to need concessions from the unions to enact the kind of pension reform he is seeking, but Ms. Dowd has an interesting point.  Jerry Brown has proposed huge cuts that the previous governor would never have gotten the Democrats to concede to.
Governor Walker of Wisconsin has virtually torn his state apart with his proposals.  Jerry Brown could achieve the same thing with minimal amounts of hand wringing.
There is of course a temptation to note that Jerry Brown has not achieved a single thing yet, and that would be true.  But then again, neither has Governor Walker, has he?  Other than tearing apart his state.
She writes, "Some of Brown's ideas that seemed wacky in the '70s have now gone mainstream."
He responds, "I'm open and innovative and experimental, and sometimes that works and sometimes it doesn't work."
He says that in a world where politics is ever more scripted by "gnomes in the basement," he simply tries to speak his mind.
"I am more confident," he says. "When you've done something for decades, you know the drill."
He calls himself  "an insider with an outsider's mind."
Ms. Dowd continues, "He was a precursor to the Tea Party, and he admits he tends to be a 'tear-it-apart guy.' "
"But I feel I'm in a more constructive mode at this time of my life," he said. "I understand hostility and alienation from the soulless bureaucratic state, but the Tea Party is a tear-it-apart group. We have to have continuity along with change if we're going to hold the place together."
One thing is clear, Governor Jerry Brown is no less interesting than he was in the late 1970s. 
I remarked last fall that if Jerry Brown cannot succeed in fixing the budget mess, I thought we needed to start again from scratch.  I maintain that position.  I am not suggesting that Governor Brown will succeed, but look at all of the delicate dynamics at work. 
There needs to be a Democrats' governor willing to slash programs and departments and get the buy-in of unions and Democratic legislators.  If I am a casting director, I cannot think of a better person to play that role than Jerry Brown.
—David M. Greenwald reporting