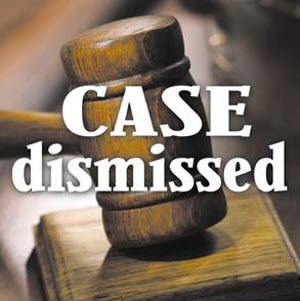 Much has been made on these pages about the fact that the DA has a tendency to bring some rather problematic cases to trial.  For the most part the DA loses these cases, but they exact a toll nonetheless, as we saw in the case of Fernando Ortega who faced criminal charges stemming from what was largely explicable, by the fact he was carrying a truck battery and had a number of tools on him at the time he encountered Woodland Police.
However, Mr. Ortega remained in custody nearly five months, missed going to the funeral of his daughter, and lost his residence.  Mr. Ortega is one of the fortunate ones, exonerated by the a jury trial and now out of custody and free to move along in his life.
The DA's Office is said almost never to dismiss a case that they have charged, and only on a rare occurrence in the last 15 months have we seen a case that was dismissed, let alone two in the same day.
Given these dynamics, it was somewhat stunning on Monday morning to see two cases where the DA dismissed a case due to lack of evidence.  Charges against James Welty were dismissed, according to his public defender Martha Sequeira,when lab results showed only a smudge amount of meth, that was deemed a non-usable quantity.  Given that the DA has charged on a regular basis for less than a tenth of a gram of meth, Mr. Welty should consider himself rather fortunate.
More stunning is what transpired in a case involving Ines Trujillo and Tina Quinn, a case stemming from 2008.  Fortunately, both defendants were out of custody and it was about to go to trial on Monday.
The Deputy DA, Robin Johnson, stood up and interrupted Judge Timothy Fall as he called the case and began to talk about trial preparation.
Judge Fall indicated that it was fine that she had interrupted him, provided that what she had to say would save him time.  She said that it would. 
Ms. Johnson stated that "The People feel that we cannot meet our burden to prove this case beyond a reasonable doubt." 
She continued that her office came to this conclusion on Friday, and hence had to wait until Monday to make the motion.  She made a motion requesting the case be dismissed.
Ms. Johnson stated that it came down to the reason that there were "two completely different stories about what happened."  She said that most witnesses were related to one another.  She said that for those reasons "we cannot say that we'd be able to convict."
Judge Fall asked Ms. Johnson whether she was saying that, looking at a jury and having them look back at you,  putting on the evidence, that in the best case scenario, the case could not be proved beyond a reasonable doubt.  She said that that was what she was saying.
Judge Fall asked defense counsel if they had objections, to which they replied they did not.  The judge dismissed the case.  Bail bonds were exonerated.  Ms. Johnson stated for the record that her office does not intend to re-file the case.
Discussion
Something is changing in Yolo County.  Robin Johnson is a good example of this because, while she does not have the authority to make the ultimate call on dismissing cases, it is worth noting that we have covered three trials involving Robin Johnson and each of those trials could have fit the description that she gave to Judge Fall on Monday.
We had the case last summer where Rudy Ornelas was ultimately convicted, despite witnesses changing their stories and the victim going from a complete lack of memory to vivid technicolor description of the shooting.
Ultimately, in the wake of conflicting accounts, the jury sided with the police's account of the story and convicted Mr. Ornelas of numerous counts, which eventually gave him 45 years in prison. An appeal has been filed, and an appellate attorney has been assigned.
But the next two cases did not go as well.  Jesus Solis was accused of murdering Jesus Cortez Heredia in September 2009 in West Sacramento.  However, none of the witnesses at the scene could identify Jesus Solis, one went so far as to ask the prosecutor from the stand where the shooter was (that she did not see him in the courtroom), and the only witness that could identify Mr. Solis, was not at the scene of the murder.
Jorge Gomez, a close friend of Mr. Solis and relative to other potential suspects, was not present the night of the shooting, however, after a seven-hour interrogation by Detective Eugene Semeryuk of the West Sacramento Police Department, Gomez pointed to Mr. Solis as the perpetrator.
Mr. Gomez, who had immigration problems and needed the police to forestall an ICE hold multiple times, agreed to make a pretext phone call to Mr. Solis from the police department, with Det. Semeryuk guiding him. 
That taped phonecall was ambiguous evidence, at best.  So was the lengthy videotaped interrogation of Mr. Solis, which is a good illustration as to why interrogations and confessions ought to be treated as suspect – Mr. Solis never claimed to have shot anyone, but the process clearly disoriented him.
The trial was a mess, the jury hung and eventually the DA would have to throw out the case.
The third trial was the trial of the Niazis that we covered at the beginning of this year.  The jury cleared the defendants of all but one misdemeanor charge, and it was a case that involved conflicting testimony by the participants and even the witnesses for the state.  Everyone was related.  From the start there appeared little reason to believe the state could get a conviction.
But that did not stop Robin Johnson from getting a grand jury indictment after the case had been thrown out in 2006 by Judge Lebov, and it did not stop three additional years of prosecutions which drove the legal bills of the Niazis through the roof.
In the end, acquittal.
Perhaps these trials have taught the DA lessons about which cases ought to be pursued.
Perhaps reality is setting in.  A few weeks back, the Public Defender's Office indicated that this calendar year, they had taken 20 cases to jury trial.  They had six outright acquittals, 4 hung juries, and four more cases where they beat the best pre-trial offer by the DA's Office.
That success does not include the conviction of Bennie Moses two weeks ago, or last week's trials which resulted in three acquittals for the Public Defender's Office.  It also does not include trials where the defendant was only represented by the conflict panel or private attorneys.
Part of what may be happening is that the economic system that is crumbling is starting to finally impact the policies of the DA's Office.  Moreover, jurors are starting to dump a lot of these cases when every other step of the system has failed to provide its own quality control.
Still, it was only a few weeks ago that I got a perplexed email from a Sacramento defense attorney, baffled that Yolo was charging cases as felonies that every other county would charge as misdemeanors.
It is not that we do not get serious crime in Yolo County, however, it seems like mixed in are a lot of cases that would be best off handled either as misdemeanors or, better yet, outside of the legal and judicial system all together.  I am not just talking about minor possession drug cases, but cases like Fernando Ortega, where no clear crime occurred other than the guy partied too much and should have been sent into his home to sleep it off.
Here was a guy not causing any kind of disturbance, and his only crime (besides partying, in his home) was trying to fix his car in the middle of the night.  But from there he was arrested and spent five months in custody.  Can we afford that kind of law enforcement in times of budget crises?
There are a handful of types of cases that concern me the most in this county, but by far the ones most rife for abuse, along with gang prosecutions, are these minor incidents that are blown into serious enough crimes that would warrant jail time.
As I've said before, people get murdered in this county, people try to kill other people, and people get raped and assaulted.  While in some cases, the DA overcharges these cases, and in some cases they charge the wrong person, for the most part we would hope that they get the right people off the street to make us safer.
But it's these minor kinds of "crime" that worry me, because there is no clear victim, no clear crime and no clear threat to public safety.  It seems an overreach, by both police and prosecutor.
Hopefully, this is a beginning of a new and more concerted effort by the DA's Office to get rid of these problematic cases, but as the last few weeks have shown, this seems more the exception at this point than the rule.
—David M. Greenwald reporting