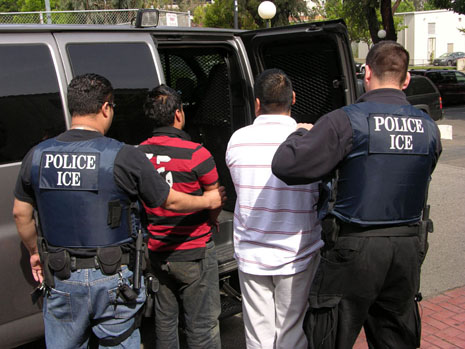 Humberto Morales was arrested in Davis last year.  He was stopped at 7:45 am by the Davis Police Department who found car stereos and CD players with wires sticking out of them in his vehicle.
Within an hour the police department was able to locate a victim whose car had been burglarized.  Within Mr. Morales' vehicle was a number of stolen items.
He was arrested and charged with six counts, including two felonies for burglary and possession of stolen property, three misdemeanors, and a violation of probation.
There was a plea offer put on the table that he was willing to plead to.  He would plead to the second degree burglary and receive a "no state prison" term (NSP).
This is where the story gets a bit odd.  Mr. Morales had an ICE hold put on him by immigration.  So whatever disposition happened in this case, following that, he would be deported to Mexico.
Based on that, Judge Mock told the attorneys that he would impose a one week probation on him, long enough to get the paperwork in order, and then he would immediately be deported.
In light of this information, Deputy DA Tokhi, the prosecutor in charge of this case, was overruled by his supervisor Steve Mount.  Mr. Mount stipulated to Mr. Tokhi that if that were the ruling by Judge Mock, he needed to plead to the sheet (meaning the entire six charges) if Judge Mock were to impose anything less than standard terms.
According to Deputy Public Defender Emily Fisher, the deputy district attorneys are always saying that even when plea agreements are reached, the judgment and sentence are up to the judge.
DDA Tokhi objected, and attempted to withdraw the offer because Judge Mock only put the defendant on one week's probation and the District Attorney's Office never agreed to that.
However, Judge Mock overruled their objection and refused to allow the DA's Office to withdraw the plea agreement.
He argued that, in light of overcrowded jails and the fact that the defendant was immediately going to be deported, it made no sense to have a three-year standard probation term that would force the defendant to be held in jail until his time expired.
The entire case was odd.  Given that it was a probation case from the start, it made little sense to attempt to hold the defendant in jail, due to his immigration status.  It was far more expeditious and fiscally prudent to simply allow him to be deported back to Mexico.
There seems to be a growing detachment between the DA's Office and the fiscal reality facing the state.  On the one hand, the DA's Office and DA Jeff Reisig have lamented cuts to county funding, and warned that they would have no budget to pursue minor crimes.
But in a number of instances, their own policies seem in contradiction to this reality.  We have witnessed numerous small quantity meth possession cases that have actually gone to trial, at taxpayer expense through incarceration, attorney fees, court costs and treatment.
We have seen the DA's Office retry cases it has very little chance of prevailing on.
And we see the DA's Office pursuing enhancements in cases that are life sentences anyway.  All of this adds up to money that could be spent in other areas.
This is just the most recent, and perhaps petty, example.  Because they could not get a standard term probation, they were going to throw out a plea agreement, force a case potentially to trial (that would have been a sure win, but at the cost of two court days plus staff time), and then look to incarcerate a guy who was going to be deported immediately anyway.
Fortunately, in this case Judge Mock stepped in and put a stop this.  But it is time for taxpayers to start questioning our charging practices, in a month that saw ten Sheriff's Deputies laid off.
—David M. Greenwald reporting