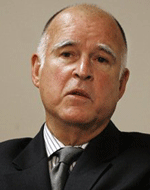 While it remains a clear Plan B, it is becoming increasingly clear that Governor Jerry Brown is moving closer to a contingency that would circumvent the need for two-thirds legislative support and move toward spending the millions it would require to circulate a petition for the November ballot, placing his plan before the voters at that point.
As recently as yesterday afternoon, a spokesperson for the Brown Administration said that the Governor remains committed to negotiating with the Republicans in the Assembly and Senate – needing two votes in each house from Republicans – and still believes he can reach agreement.
However, time is running out to get a measure on the ballot and the Governor said yesterday in a speech to labor groups that a vote would occur regardless of what the Republicans say.
According to the Sacramento Bee, The Democratic governor is more likely to pursue an initiative than to try putting taxes on the ballot through a simple majority in the Legislature."
According to their sources, the Governor believes "business groups are more likely to support a ballot initiative than any maneuver for a majority vote in the Legislature" and "thinks business groups fear a majority tax vote may set a precedent for other taxes."
Such a ballot measure would apparently include concessions to conservative interests including regulatory reform and a spending cap.
This morning's Sacramento Bee added, "Republicans want pension cuts, a cap on future state spending and regulatory changes that help businesses as part of a deal to place taxes on the ballot. Democrats say some ideas are negotiable, but the most extensive changes on pensions and a spending cap are non-starters."
The Bee argues that the signature gathering process would take months and millions of dollars to gather sufficient signatures to qualify for a ballot initiative, making it a plan that would have to be implemented in November.
But the problem is what to do with the taxes, if approved, and how they would balance the budget.  The Bee argues that by November, "the state will have lost one-third of the additional sales and vehicle tax revenues it could have raised through a June election. It is also unclear how such an initiative would treat income taxes, since it would be hard to sell a retroactive income tax hike in the 11th month of a tax year."
The Bee also argues it would be a very tight window to even qualify for November at this point.  Given the length of time for the Attorney General's office to process an initiative process, the proponents would have to submit signatures by late May, which would give the Governor a month or less to gather signatures.
There are political obstacles as well.  School districts would have to layoff teachers anyway because there is no assurance they would have the funds to cover further cuts from the state.
The Democrats would have a difficult problem trying to portray this measure as bipartisan, though, as the Bee argues, "Democrats are counting on business support to win over moderates."
Furthermore, because the tax increase would have lapsed, it would be more difficult to sell this as a tax extension rather than a tax increase.  Polling indicates that, while voters support a tax extension, support drops significantly when they perceive it as a tax increase rather than an extension.
The Bee weighs the possibility of a majority vote in June, as well.
They write, "Democrats have considered placing tax extensions on the ballot using majority-vote powers granted by voters last year in Proposition 25. That may open lawmakers up to criticism that they are exploiting Proposition 25, but Democrats would say they are putting the question before voters rather than raising taxes themselves."
However, "This route would run afoul of the legislative counsel's opinion, which said placing taxes on the ballot that way would be an unconstitutional delegation of authority. But under a different legal theory, the Legislature may argue it could delegate such questions to voters because it believes the electorate has ultimate authority. Undoubtedly, this route would face legal challenges from anti-tax groups."
The Bee does not discuss the third option, which would be an all-cuts budget and would further cut education, social services and the prisons.
Clearly, the Democrats would like to avoid the all-cuts budget, but the other two paths without Republican support would be perilous at best.
Personally, I would recommend the Democrats put pension reform on the table, propose the Governor's election plan, and see where that gets them.
—David M. Greenwald reporting