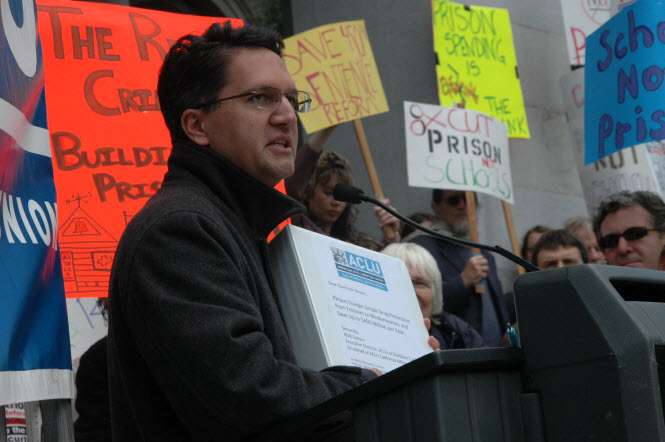 The campaign to link the budget with reforms to the criminal justice system got another boost this week, and activists descended on Sacramento to urge the California Legislature to protect critical social services — including education programs and drug treatment — by cutting the Corrections budget.
One simple reform would free up $450 million dollars, they say. According to them, that is the amount California taxpayers spend to lock up adults who were convicted of non-violent instances of possessing a small amount of drugs for personal use.
If these offenders were charged with misdemeanors instead of felonies, they could be housed at local facilities at a far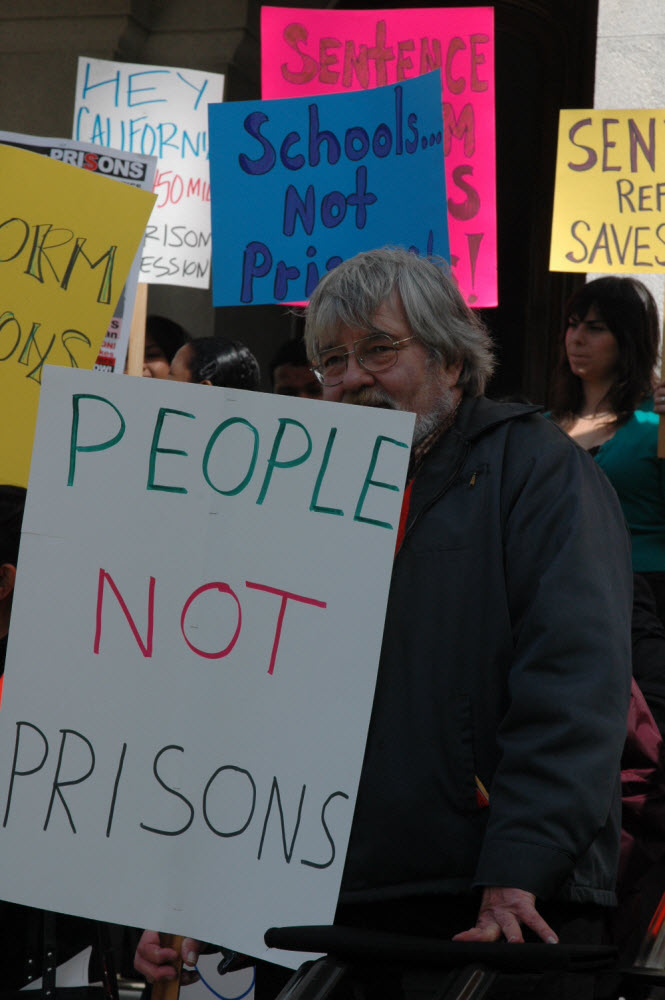 lower cost — saving the state close to half a billion dollars.
"It's time for California to stop spending hundreds of millions of dollars sending people to prison who pose no threat to public safety.  Let's invest in education, not incarceration," said Allen Hopper, an attorney with the ACLU of Northern California.
They argue that during a time of declining crime rates, sentencing reform will help to preserve scarce dollars for education, health care and social services, and local police and firefighters.
Many states — New York, New Jersey, Michigan and Oklahoma among them — have recently made significant cuts to their prison systems by choosing not to incarcerate people convicted of low level drug offenses.
This is only the latest of such efforts.  Earlier this year, Governor Jerry Brown proposed an end to prison terms for thousands of convicts who are in prison for relatively minor crimes.  Those individuals would be moved to county jails.
Activists are correct to argue that these matters can be better and more cheaply handled at the local level.  The problem is that county jails are at, near or even above capacity.
According to the Governor's budget, such a move would save the state nearly half a million next year and $1.4 billion annually on an ongoing basis, while at the same time dealing with the critical prison overcrowding and prison reform issues.
The Governor's plan is responsive to the building consensus among criminologists, justice advocates and finance experts who have been advocating a reduction of the prison population, believing that it could also produce enhanced public safety by moving relatively low-level inmates closer to their families and giving them access to better treatment programs.
The Governor argued in January that local government is in a better position to end "the revolving door of the corrections systems."
While some of these reforms passed, others were eliminated or watered down as Governor Brown backed off some of his reforms to the criminal justice system.
The Governor and legislature agreed this week to keep some of the state's youth correctional facilities.
"The agreement, approved by the Legislature last week with the passage of AB 109, the Criminal Justice Alignment Bill, illustrates that having counties take over functions of the state can present unexpected challenges. In this case, county officials balked at Gov. Brown's plan to have counties handle the 1,200 or so youth now housed in five state youth correctional facilities," reports Louis Freedberg from the California watch.
Reports Mr. Freedburg, "Costs to the state have risen to an astonishing $225,000 per offender. Early this year, Gov. Brown suggested that California become the first state in the nation to shut its youth correctional system completely and turn over the remaining wards to the custody of counties."
Joan Petersilia, a Stanford University  criminologist, told the Mercury News this week, "This is just an incredibly massive shift for a state system that was sending everybody and their brother to prison."
But she offered widely-echoed caution: "We shouldn't be naive and think we can do this on the cheap — these offenders have serious needs."
"Our recidivism rate is high. Lockdowns are above the national average. The Supreme Court is breathing down our back," the Governor said Monday. "It's definitely an important area for reform and reduction."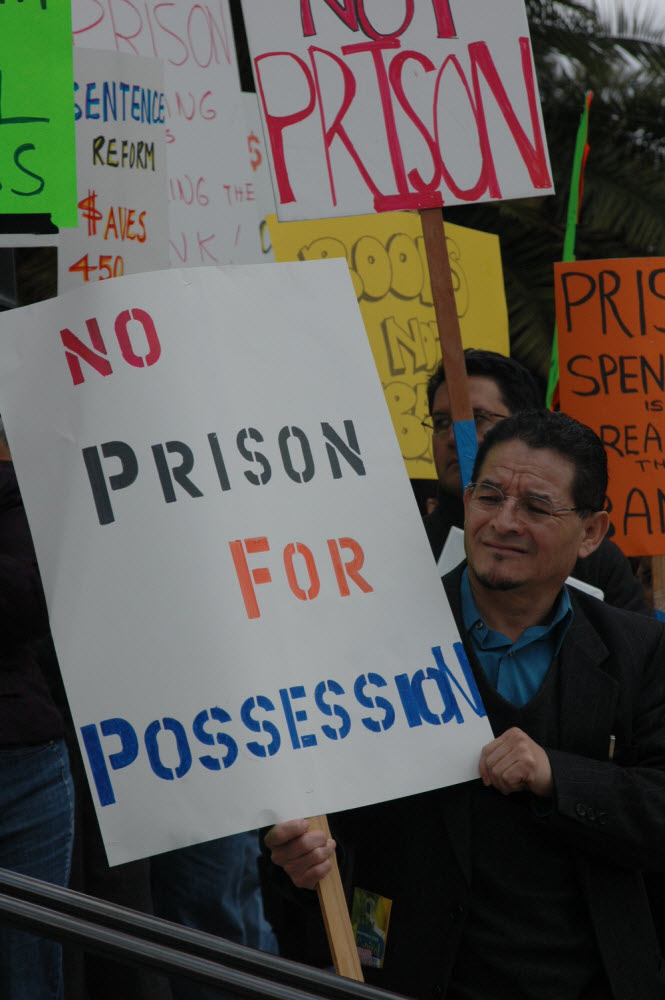 The Governor added that legislators, district attorneys, sheriffs, police chiefs, probation officers and victims' advocates all have agendas,
Governor Brown said, "Each one can derail well-intentioned reform." The issue is "full of competing claims and perspectives. Therefore, you have to do it surgically and with a great deal of sophistication."
The Drug Policy Alliance  has also endorsed the Governor's proposal.  They argue that it reverses a historic trend toward sending minor offenders to state prison that was "part of the tough on crime insanity that got us mass incarceration in the U.S.," said Margaret Dooley-Sammuli, deputy state director of the Drug Policy Alliance.
"Nobody benefits by sending a shoplifter to state prison," Ms. Dooley-Sammuli added.
About 10,000 people are in California state prison for drug possession and this proposal shift affects  people incarcerated for the simple possession of drugs, among other petty offenses."They're not people convicted of possession less than an ounce of pot, which is an infraction," the DPA stated.
"He's not talking about potheads," said Ms. Dooley-Sammuli. "But they do include some of the 17,000 or so arrested for sale or growing recreational pot in California, which can get up to four years in prison."
"An uncounted number of parole violators are going back in for smoking a joint, she said, though the state doesn't keep statistics on it. California's recidivism ranks among the highest in the nation at about 71 percent. Roughly 10,000 people enter and exit state prison each month, and most are serving time for parole violations," the DPA said.
However, not everyone is celebrating the much-needed reform to the prison system.
The Woodland Daily Democrat reports that Yolo County Sheriff Ed Prieto is concerned that if adult convicts are released to Yolo County, Monroe Detention Center would be packed well beyond capacity.
"We don't have the facility to handle it," Prieto told the Daily Democrat.
The paper reports, "The county jail, which holds 450 inmates, could be asked to hold up to 800 inmates. He said the jail is at capacity all the time.  Unless Yolo County were to get a new facility, which Prieto said is unlikely, it's not going to work."
The death penalty is another way that reformers have attempted to link criminal justice reforms to the budget.
Argued the ACLU in January, "At least one overfunded, broken government program was allowed to keep its bloated budget without a single cut: the state's billion-dollar death penalty."
They break down the additional costs of the death penalty as follows:
It costs roughly $1 million per death penalty trial over and above the cost of non-death penalty murder trials.  This money comes from county prosecutors' budgets.  For instance, if the DA took a plea agreement in the Topete case instead of trying for the death penalty, the county's office may have additional money to fight other crimes.
In addition, the state spends "$63 million per year extra spent housing people on death row and another $60 million spent on their appeals, again over and above the cost of housing and appeals for life without parole."
Moreover, these line items are hidden, "tucked away in the budgets for corrections, the Supreme Court, the attorney general's office and public defense."
Finally, the state is proposing building a new death row facility for $400 million when it has executed 13 people in the last 30 years.
Argues the ACLU, "Over five years, that tally comes to just over $1 billion."
"Now, repealing the death penalty in California can only be done at the ballot box," they argue, "but defunding the whole system can be done with a few strokes of the governor's pen: just ask any senior citizen, recipient of in-home medical care, or single working parent. They'll tell you how powerful that pen can be when it comes to cutting government programs."
The numbers are staggering in a time of budget cuts and billions cut to education.
For 2009, they found that, "California taxpayers spend an estimated $117 million each year at the post-conviction level seeking the execution of the 680 inmates on death row."
A fraction of the billions cut to education, but how many teachers would $117 million pay for?
Moreover, "Death penalty trials cost local taxpayers an additional $20 million per year, at the current death sentencing rate of 20 sentences per year."
They continue, "In total, the death penalty system cost California taxpayers $137 million each year, the California Commission on the Fair Administration of Justice found, whereas permanent imprisonment for all those currently on death row would cost just $11 million."
Finally, the death penalty does not work.  It is not currently being implemented in California.  There are nationwide problems that have led to states like Illinois, New Mexico, and others banning the death penalty. 
There are problems of unequal application, and problems of the execution or potential execution of innocent people because the system is so bad.  We could save millions by converting these sentences to life without parole.
We simply need to end prison sentencing and clogging court rooms with simple possession cases.  We have covered trials utilizing court resources, prosecutors and public defenders for small quantity drug possession.  Some of these cases are being prosecuted for less than one tenth of a gram of meth.
Meth is one of the worst drugs that we have out there, but if we move resources from the criminal justice system toward health and other support resources, we would save millions.
It is far cheaper, even, to put people in residential treatment  programs rather than send them to prison.  With the money freed up, we could invest in programs like education, job retraining and mental health services.  We could actually have a chance to break the cycle and attack crime not after it has happened, but at its source.
In order to do that, we have to get over our fears that changing drug laws will bring forth deep dark forces.  We can no longer continue, at a whole host of levels, to practice law enforcement as we have.  We simply do not have the resources.
—David M. Greenwald reporting