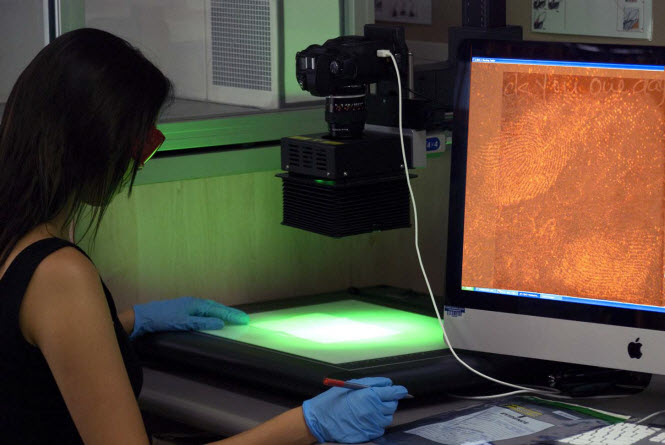 Yesterday the Yolo County trial of Oscar Barrientos opened.  Mr. Barrientos is accused of burglarizing a West Sacramento home.  Not exactly the stuff that a Judicial Watch is made of, except for the fact that the only real evidence linking him to the burglary is a partial print of a palm.
As the defense attorney, Deputy Public Defender Amber Poston, argued in her opening statement, fingerprint analysis is not the exact science that it is portrayed on TV.  Indeed, there is no standard for testing.
The police found four prints on the burglarized residence but only one, that of a palm print (not the whole palm print, but part of a palm print) was found and matched to Mr. Barientos.
The critical question is: was Mr. Barrientos' palm print really found on the window of the burglarized residence, or did the police believe it was Mr. Barientos for other reasons and draw a faulty conclusion?
That is the question the jury must answer.  But for us, the question is whether fingerprint analysis is really based on the kind of hard science that fingerprint experts claim.
According to one attorney's newsletter, "Fingerprint experts believe that fingerprint patterns never change and are unique to each individual. For this reason, state and federal judges do not usually question their evidentiary validity. Juries typically agree when such evidence suggests an individual is guilty of committing a crime. At times, such evidence is so convincing that individuals accused of crimes confess when confronted with a 'match.' "
But then we have cases like the 2004 case of Brandon Mayfield.  Does the name ring a bell?  Well Mr. Mayfield was a 37-year-old lawyer living in Portland, Oregon.  In 2004, he was arrested for two weeks, after the FBI discovered his fingerprint on a bag of detonators recovered after the deadly Madrid train bombing that killed 191 people.
On the basis of the fingerprint, Mr. Mayfield was arrested and sent to jail.  The only problem is that the fingerprint was not Mr. Mayfield's at all.
Wrote Slate Magazine back in 2004, "In the affidavit, [FBI Special Agent Richard] Werder was unequivocal about whose fingerprint was on the bag—it was Mayfield's. 'The FBI lab stands by their conclusion of a 100-percent positive identification,' was the way the print match was described."
They continued, "Botched forensics, whether they result from oversight, sloppiness, ego, or malice can easily sink an innocent defendant who might be ill-equipped and sometimes unable to unscramble the convincing, if false, forensic hash cooked up by the government. And with fingerprint evidence, often elevated to 'smoking gun' status by our culture and our courts, the chance for serious mischief is greatly increased."
Why did they mess up?
"The confusion, said Robert Jordan, the FBI agent in charge of Oregon, resulted from analyzing an image of substandard quality."
However, as Slate argued, "One of the most frightening consequences of the Mayfield incident is the bureau's attempt to explain away Mayfield's total misidentification by blaming it on a bad digital print. The reality is that it's not the print that's bad, it's the science."
The article continued, arguing that the problem was not the print but the practices.  The FBI analyzed not the original print but a digital copy.  And "the use of digital prints isn't at all unusual. The FBI has already admitted that they regularly use digital images of fingerprints, and that, in this case 'it was absolutely acceptable to examine a digital image.' "
The article continued further, "For generations, and until DNA came along, fingerprint evidence has been touted as the ultimate forensic tool. So unique and special are our fingerprints that DNA itself is often described as a 'genetic fingerprint.' And that essential truth remains."
Here is the core, and this is what we need to remember when evaluating our own case: "Done correctly, fingerprint analysis can be a powerful forensic tool of identification. The problem is that there aren't universal standards for what 'done correctly' means."
The Slate article then explained how fingerprint matches are done and the problem with that system:
"Fingerprint matches are made on the basis of what's known as "points of comparison," as a quick look at your thumb will demonstrate. What you will see are the friction ridges that comprise your unique fingerprint. The friction ridges whirl and spit, creating unique patterns that ultimately become the biometric data every burglar loves to hate. Comparing prints is a matter of looking for places where the ridges join or split—something that can be compared between prints. These points of comparison are used to both exclude prints (prove they are not the same) and to match prints."
Here's the problem: "The problem is this: Print examiners and even the computers that do the preliminary scans don't actually match the entire print. In deciding if a print matches they almost always decide on the basis of a partial analysis."
They use a system called the Integrated Automated Fingerprint Identification System or IAFIS.  Once the IAFIS finds a match, it spits it out but then the human has to take over.
There lies the weak point.  As the lawyers wrote, "Mistakes in identification may occur because the actual determination of a match is based on human inspection, a process many deem to be an imperfect science."
Moreover, as the SLATE article pointed out, there is no national standard.
Indeed this is BY DESIGN.  Wrote the lawyers, "In fact, the International Association for Identification (IAI), an organization considered by many experts as the authority for fingerprint analysis certification, determined in 1973 that there is no need to require a set formula or standard in order to prove a fingerprint match. Specifically, it stated that 'no valid basis exists to require a predetermined number of characteristics to exist between two fingerprint impressions in order to establish positive identity.' "
Bottom line, they argued, there is no uniform definition of a match, and many states disagree on how many points of similarity are needed before declaring the existence of a match.
Wrote the Innocence Project of Florida on their blog, "Television's CSI this is not. Despite all that technology, it then falls to fallible human beings to step in and make visual comparisons and the ultimate judgment calls on matches."
The blogger continued, "I had already considered fingerprint analysis a junk science. Human examination is the key method to matching fingerprints and humans make errors, as previous cases and the article demonstrate."
They reported on a study done by cognitive scientists in which five internationally respected fingerprint analysts were given the same print twice, but received different information about the case each time.
Mostly, all of the test subjects changed their minds based on the information given.
They reported, "In Dror's study with Charlton, the five experts were told they were seeing the erroneously matched fingerprints of Brandon Mayfield, the Oregon man once linked to 2004's terrorist  train bombings in Madrid. That he'd been wrongly accused based on fingerprint misidentification was widely known, thus suggesting what an expert determination would be.  What they were actually seeing, however, were fingerprints from other cases that they'd made determinations about years before."
The blogger wrote, "Dror's study proves what we already knew – that humans are inconsistent and capable of making mistakes."
That does not even get into the problems such as reported in 2007 by the LA Times. "The Los Angeles Police Department has acknowledged in a confidential report that people have been falsely implicated in crimes because the department's fingerprint experts wrongly identified them as suspects."
The Times continued, "The 10-page internal report, obtained by The Times, highlighted two cases in which criminal defendants had charges against them dropped after problems with the fingerprint analysis  were exposed. LAPD officials do not know how many other people might have been wrongly accused over the years as a result of poor fingerprint analysis and do not have the funds to pay for a comprehensive audit to find out, according to police records and interviews."
"This is something of extraordinary concern," said Michael Judge, public defender for Los Angeles County. "Juries tend to accord the highest level of confidence to fingerprint evidence. This is the type of thing that easily could lead to innocent people being convicted."
The article continued, "Sims-Lewis and other department officials, however, described a poorly-run operation, in which records and evidence were left lying around or misplaced, and supervisors 'were stuck in the old way of doing things.' Pressed to explain the sloppy work of the unit, Yvette Sanchez-Owens, commanding officer of the Scientific Investigation Division, speculated that 'people were reviewing the work of friends and just rubber stamping it without really reviewing it.' "
This may offer a bit of solace to people in Yolo County, but it should not.  We have repeatedly watched trials where evidence was improperly stored, inappropriately disposed of, and much worse.  If LA has problems with their print analysis, what of West Sacramento and smaller communities?
The bottom line from this research seems to be that, unlike bullet-lead analysis, fingerprint science in essence is sound.  The problem is that the application of it is wrought with human error.
I do not want to make a judgment about the Barrientos case, since we have not heard the testimony and other evidence.  But one thing that seems concerning here is that, based on the research, bias may lead to false conclusions.  In other words, if one believes they have the right suspect, perhaps one finds a match where one should not have ordinarily.
This is definitely something to watch for in the trial that is set to continue throughout the week.
—David M. Greenwald reporting