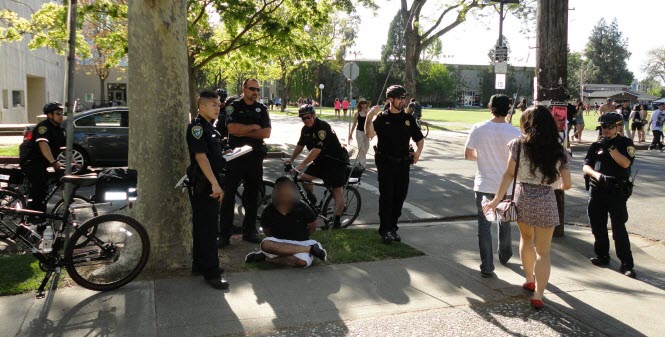 The statistics emerging from the Davis Police Department are starting to mirror our on-the-ground perceptions of Picnic Day.  While the DPD is not offering opinions on whether this year's Picnic Day was better or worse than last year, they indeed plan to "conduct further analysis of our [their] activity and seek input from community members and other stakeholders before offering any conclusions," and they do report that there were fewer crimes of violence this year than last year.
"At this time the Davis Police Department is not prepared to issue any opinions about whether this year's Picnic Day was better or worse than last year," the department spokesperson Lt. Paul Doroshov said in a press release on Monday.
They added, "While the record of our enforcement actions may provide a sense of the types and volume of activity in which enforcement activity was taken, the police department's overall perception of things is that there were fewer crimes of violence (reported and not reported) than during Picnic Day 2010."
"While there was a significant amount of alcohol-driven disorder, the Davis downtown area seemed a safer place than last year. The reasons and explanations for these phenomena—good and bad—will be the subject of soon-to-be-held after-action reviews and critiques," the Lt. Doroshov concluded.
In the release, Lt. Doroshov breaks down the 54 physical arrests to include 32 arrests for public intoxication, 6 arrests for public intoxication where the suspect resisted arrest, one arrest for felony assault and resisting arrest, 9 arrests for DUI, 3 arrests for fighting, and one each for cocaine possession, domestic violence and an outstanding arrest warrant.
The department also issued 207 citations, the majority for an open container in a public place (124 of the 207).  The rest include 37 citations for minor in possession, 20 for urinating in public, 4 for open containers in a motor vehicle, 3 for furnishing alcohol to minors, 2 for loitering, 11 for noise violations, five for marijuana possession and one for violating the smoking ordinance.
"Officers from the California Highway Patrol issued 61 tickets for various vehicle code violations and impounded 9 vehicles," the press release added.
In assessing these data, I would point out that regarding the 20 citations for urinating in public, one problem that the city should address was the lack of available restrooms, which undoubtedly contributed to the urinating in public. Also, water in the downtown was not readily available to people walking around.  I went into the Starbucks in an attempt to get water and had to wait 20 minutes for a small cup of water per their rules, and I even offered to pay for it but that was declined. 
The question now is whether Picnic Day will continue after dozens of arrests and the death of Scott Heinig.
I would argue that things were fairly mild in the downtown area, even quiet once darkness hit.  There were not a lot of major parties that we saw. 
Old North Davis had a number of vandalism incidents and residents there are concerned that the Safety Enhancement Zone ended up pushing problems from the core to the rest of town.
I would argue that things were calmer and safer and that the arrest numbers are due largely to heightened enforcement rather than a string of problems.  People may have been intoxicated, but the problems they caused were minor.
There is little that can be done to downplay the tragic death of Scott Heinig. However, I would also argue that his death could have occurred at any time – it just happened to fall on Picnic Day.
On the other hand, while it seemed calmer, Joy Cohan from the DDBA (Davis Downtown Business Association) expressed concern in this morning's Sacramento Bee.
She said, "The reduction in the mayhem was not quite as dramatic as we might have hoped for," and pointed to broken merchandise and messes in the restrooms.
Apparently, some merchants are saying they will not open next year and it appeared that many closed early.
"Some people are exploring that thought more than they were a year ago at this time," Ms. Cohan told the Bee. "People are getting more comfortable with the idea that Picnic Day needs to radically change or not exist."
From our vantage point, things were generally calm, almost normal by the evening.  We did not see a lot of drunken people causing problems, we did not see a lot of fights, we did not see mass problems.
Our chief complaint was expressed yesterday.  While the heightened security helped to keep a lid on problems, it also created its own problems.  There were too many police hanging out in groups.  Police did not appear to have enough to do, and appeared to single out people who were not behaving much differently than the rest of the crowd.  They also reacted with huge numbers.
Nevertheless, if Ms. Cohan's take is accurate, I think we are looking at something very different still for next year.  I suspect one reason for that is that there were simply not enough people and not enough business in the downtown to justify the few problems that were caused.
—David M. Greenwald reporting