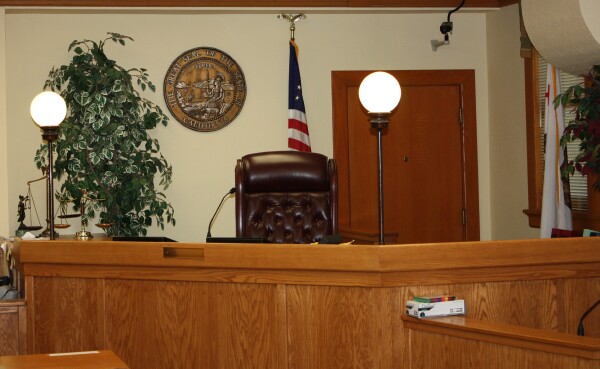 A Yolo County jury on Monday convicted 26-year-old Hoang Nguyen of six felony counts, the most serious of which was the assault with attempt to rape during the commission of a burglary – a charge that carries with it a life term.
Mr. Nguyen became infatuated with the victim after he broke up with the victim's older sister.  He would purchase a stun gun, then attempt to incapacitate her and to rape her.  However, when the stun gun failed to incapacitate her, he stunned her repeatedly before she eventually escaped and was able to call for help.
Mr. Nguyen confessed the assault to Davis Police Detective Jeff Beasley, and the defense acknowledged the assault, but denied it was an attempt to rape the victim.  The defendant claimed that his intent was not to rape, but rather to see her naked, and he described in vivid details dreams he has had of doing just that – seeing her naked.
The defense would argue that he was a good person who did a very bad thing.  They would attempt to explain why he did the bad thing, but argued that the jury should, after considering all the evidence, find the defendant not guilty on the most serious charges.
What ensued is one of the more bizarre cases one can think of, one that led a veteran psychologist to proclaim he has never seen a case like this in all of his years of clinical work.
Mr. Nguyen was a good student, formerly enlisted in Navy, a family man who sent money home to help his family on a regular basis, who had no criminal record or record of violence whatsoever and who was completely clean in terms of his psychological profile. But he somehow became so obsessed with the 19-year-old UC Davis student and younger sister to his ex-girlfriend, that he perpetrated this heinous attack.
Hoang Nguyen immigrated to the United State from Vietnam as a ten-year-old kid, as his father was granted asylum for aiding the US in their efforts in Vietnam.  Described by his sister as a geek and a nerd, into computers and video games, Mr. Nguyen would enlist in the Navy.  After four years he returned to San Jose where his family had settled.
There he attended community college, where he met the victim's sister (whose name we have withheld at her request).  They did not start dating right away. Instead, they were described as class friends as the sister, also an immigrant from Vietnam, lacked confidence in her English.
Eventually they would date.  The victim's sister transferred to UC Davis in the fall of 2009, where the two would break up.  She was his first and only girlfriend.  After their relationship ended, they remained friends and he would frequently spend the weekend at the apartment that she shared with her sister, who was five years younger and a freshman at UC Davis.
The two would occasionally remain physical, as both admitted to having sex with each other even after breaking up.
It was in the Spring of 2010 that Mr. Nguyen became increasingly infatuated with the younger sister.  According to the testimony of the younger sister, he had made some moves on her, but they had never dated.  She herself has a longtime boyfriend, from high school, and was not interested in her sister's ex-boyfriend.  Moreover, the older sister was horrified at her ex-boyfriend's interest in the younger sister.
However, Mr. Nguyen would testify that they had gone out alone on several occasions, something that the sister vehemently denied.
Somehow, Mr. Nguyen had gotten it into his mind that he could use a stun gun to incapacitate her, and she would therefore not struggle.  So he went to San Francisco, and purchased a stun gun at a place called Movie Craze, a place that apparently sells, in addition to stun guns, pepper spray and porn.  Mr. Nguyen thinks he purchased the stun gun from a police officer, but Detective Beasley determined that he had purchased it from a registered sex offender.
He purchased the 200,000 volt stun gun the day before he went to Davis on May 5, 2010.  According the prosecution, this is a clear indication of his intent to commit a crime. 
The defense argued and Mr. Nguyen testified that he was torn on the purpose for which to use the stun gun.  He claimed while he was considering using it on the younger sister, he was also considering giving it to the older sister for protection. 
This became the basis for the burglary charge, whether he entered the residence with the intent to commit a crime or whether he formulated the idea inside the residence.  The jury would convict him of the 1st degree burglary charge, indicating that they believed he had the intent to commit the crime when he entered the apartment.
On May 6, 2010, the sister went off to class, leaving Mr. Nguyen and the younger sister alone in the apartment.  Mr. Nguyen went up behind the victim and shocked her with the stun gun on the back of the neck.
Her hit with the stun gun numerous times and a struggle ensued.  She would beg him to stop.  She was in excruciating pain.
She would eventually grab a kitchen knife and stab him three times.  It was not until she lain down and pretended to pass out, hoping to quell the attack, that Mr. Nguyen testified that he realized he was cut.
What happened next was in dispute.  The victim testified that, while she was passed out, he took off his pants and lowered his boxer shorts.  There are discrepancies in her accounts, as in some she did not mention his taking off the pants, in others she said he took off his pants and on the stand she claimed she saw his genitalia.
In his account, he took off his pants because he had been stabbed on the leg, he was shocked and suddenly realized he was hurt, and so he pulled off his pants to examine the wounds.
This became a center point in the question as to whether he indeed intended to rape the victim.
The victim testified that he leaned over her, she got up and tried to run out, he hit her again with the stun gun but she was able to make it out of the apartment.  The defendant claimed he never hit her again after she had passed out.
The victim would then run to the manager's office and eventually the police were called.  Mr. Nguyen was arrested and the arresting officer described on the stand that he was extremely cooperative.
He would go to the hospital where Detective Jeff Beasley would talk to him.  Detective Beasley described Mr. Nguyen as calm and not showing a lot of emotion.
He admitted to having started the confrontation.  He admitted to being infatuated with the victim, having dreams about her and having very strong sexual and physical urges.  His urges were to make his dreams about the girl a reality.
This was a point of contention again, but under cross and from Mr. Nguyen's testimony, it appears that those dreams centered not around having sex with her, but around seeing her naked.
He then admitted to buying a stun gun, first researching it and eventually purchasing the weapon and taking it to Davis.
Mr. Nguyen took the stand in his own defense.  He took responsibility and showed clear remorse, not merely for the consequences of his action but also for the pain he caused the victim.
He was a meek and pathetic figure, almost sympathetic.
Under cross-examination, Deputy DA Deana Hays attempted to get Mr. Nguyen to admit that he wanted to do violence against the victim, not just see her naked.  She asked him if he wanted to see her naked, why not just drug her?
When he suggested that was illegal, she asked sarcastically, "So you didn't want to break the law?"
In the end, what he said probably rang most true, that he did not really consider how he would carry out his plan or the implications.  He said, "I had no exit plan."
Deputy DA Hays argued that the reason he used the stun gun rather than other means of seeing her naked, was that he was attempting to hurt her.
Some of the more interesting testimony in this case came from psychologist Dr. Jonathan French.  He has a long history of testifying in trials about psychological evaluations, and he has testified relatively equally for the defense and prosecution.
He testified that Mr. Nguyen had no prior criminal or psychological history.  He ran a test for sexual deviancy, and found that while the act was "disturbing" and "weird", he did not see a pattern of behavior that would indicate he was a sexual deviant.
He found no hint of antisocial behavior or an aggressive personality.  He called this a completely "isolated history."
He found no evidence that he was a SVP (sexually violent predator).
There was no evidence of the defendant having had any kind of psychosis or delusional behavior.  Again, he said that the defendant showed "pretty poor judgment in this," but no pattern of behavior.
Deputy DA Hays countered that his testimony indicated that "everyone gets one free bite of the apple," suggesting that the first offense did not lead to a diagnosis of any disorders.
Dr. French responded that there is a first time for every behavior, but the SVP diagnosis requires two victims.  Moreover, there are other circumstances that can be diagnosed in addition to crimes – risk factors – but Mr. Nguyen did not exhibit any.  He said that he would never have predicted the instant offense.
Dr. French went on to call this a "very unusual case" and the "first for" him.  He would not have predicted this would have happened – "no one would have."
On Monday, the jury came back with its verdict.  They found Mr. Nguyen guilty on six of the eight counts.  Count 2 was thrown out as it was essentially a lesser included offense to Count 1.  It was the assault with the intent to commit rape without the burglary charge.
Judge Fall instructed the jury not to consider Count 2 unless they acquitted on Count 1.
The jury found the defendant not guilty on the seventh count, the third assault.  Basically, as we understand it, the jury did not think there were three separate assaults, but rather it was part of a continuous act.
Deputy DA Deana Hays declined comment to the Vanguard following the verdict.
The Vanguard did speak to San Francisco-based defense attorney Jai Gohel.  Mr. Gohel acknowledged this was an "extremely tough case with difficult facts."
He said that, despite his client's model life prior to the assault, the facts of this case were difficult to over overcome and the jury held him responsible.
He did argue he believes that he was charged with more crimes than the facts allow, however he will have to live with the verdict.
He hopes that there will be some consideration for the life that his client has lived.  He has expressed a lot of remorse for the effect that this has had on the victim.
Mr. Gohel gave it a valiant effort, considering he never got any kind of plea offer from the DA's office.  However, as he acknowledged the facts of the case, the confession to Detective Beasley made the case largely unwinnable.
In our evaluation of the case, the jury reached the only verdict it could.  Frankly, we are not sure that the distinction of attempting to rape versus seeing the victim naked is all that meaningful.  And under the letter of the law, we are not sure the crime would be that much different anyway.
It is clear that Mr. Nguyen lived a good life prior to the assault.  But the assault was heinous and very disturbing.  It is difficult to imagine a more violent means to carry out this crime.
We would estimate the ultimate sentence will be somewhere between 15 and 20 to life, where Mr. Nguyen would be eligible for parole after perhaps 12 years.
Given the severity of the crime, if Mr. Nguyen were in prison for 15 to 20 years before release, that seems about right.
—David M. Greenwald reporting