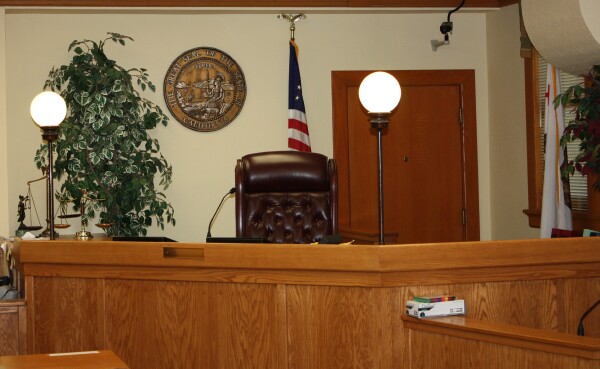 Judge David Rosenberg and District Attorney Jeff Reisig have argued that the increased number of trials in Yolo County is due to new court management practices that have streamlined the judicial process.  While that may have initially been true, there is now increasing evidence that the high volume of trials and the costs associated with them have more to do with the failure to settle cases that should have been settled earlier in the process.
There was an interesting discussion at the Board of Supervisors meeting last Tuesday on the number of jury trials in Yolo County, which have soared in the last few years.
Public Defender Tracie Olson told the Board that there were a large number of jury trials in the last few years.  "It's absolutely true that we're having more and more jury trials," she told the Board.  "I think we had 112 last year, 121 each of the two years prior which prior to that I think we had 50 or 60 jury trials.  So workload is still very very high."
Supervisor Matt Rexroad said, "I'm still struggling with that."  He continued, "There's the representation that we're only filing on those things that we need to file on, that Jeff [Reisig] made, I believe him but at the same time we're pushing people trying to push them through the process and that makes sense as well, I get that."
"But," he continue, "has crime really increased that much that jury trials need to increase to points that are double what they were previously?"
Tracie Olson responded, "It is my opinion that the number of jury trials has nothing to do with the crime rate."
Previously, she said, we did have a backlog, and there were people in custody for years before their trial.  But she argued that is gone.
"There are some cases that you just have to try because we think the facts are one way and the District Attorney thinks its the other, both are legitimate, and a jury has to figure out for themselves which ones they believe and which witnesses are credible," Ms. Olson said.
However, she said that there were a lot of jury trials where the two sides should be meeting in the middle.  She said her office has had 11 acquittals since the start of the year, including three acquittals on one day, and two of those three they could have settled.
We covered two of those trials that she mentioned, and the third one was a misdemeanor case.  One of them was the trial of Maria Cortez in which the jury acquitted Ms. Cortez after the police account did not match the video evidence.  That is a case where the public defender would have settled with an offer that would have protected the woman's chance for amnesty in her immigration status, but the DA refused and it went to trial.
The other case was Fernando Ortega, who was fixing his truck while under the influence of meth, the jury acquitted him of having illegal weapons, but convicted him of being under the influence of a controlled substance.  In that case, the DA offered prison time and had they offered probation, they could have settled for what the jury ultimately decided.
In our view, both of these cases are examples of a waste of resources by the county, by local agencies, and by the state.  But if the DA refuses to make a reasonable offer, there is little choice for the defense but to take it to trial.
Public Defender Tracie Olson was a bit more diplomatic on Tuesday, both, in terms of blame and in terms of the solution.
"We just couldn't meet on the minutiae," she said, "so we ended up having a jury trial, we did a great job, and our clients were acquitted."
Supervisor Rexroad asked what has changed in the past few years, saying, "So far I have not seen any major changes in society out there, so the only thing that can account for that is a decision by your office or the District Attorney's office to force those things to a jury trial."
"I think my office would say the DA's have changed.  I think the DA's office would say my office has changed," she responded.  "I think they're both right."
She also suggested that the courts do not get involved as much as they used to.  By this she meant that judges need to pre-conference cases "in a meaningful way."  The sides in chamber would lay out their cards and the judges would say, "given this, this is what I would do."
"Sometimes we don't have to fight anymore if we know [what a judge is inclined to do given the facts presented to him]," she said.  "So the judges need to do more work and the judges acknowledge that."
Supervisor Jim Provenza indicated that this was brought up last year and Tracie Olson responded that it has been subject to ongoing discussions.
Supervisor Provenza added, "I don't want to cut costs by eliminating jury trials where there needs to be one.  But if there are cases that could settle but for the lack of judicial involvement then that's something that we need to address."
Tracie Olson concluded that portion of the discussion by citing shared blame among all of the parties.
Ms. Olson is going out of her way to be diplomatic here, I get that.  She wants to look reasonable in front of her bosses.  And she is in a tough position, because she is the unequal partner here.
The DA is independently elected.  Judges are appointed and then, at least nominally, face reelection every six years.  However. the public defender is appointed by the Board of Supervisors and works at their pleasure.
So it is understandable that she would be diplomatic.  However, in terms of her responsibility, it is to her clients and their best interests.  Many of the interns at Yolo Judicial Watch and I have watched her office at work, and they have some excellent attorneys and they do a great job of representing their clients.
From my standpoint, the problem is not the public defenders or the defense attorneys.  The problem is primarily with the DA's office.  They overcharge cases.  They charge cases that they should never charge.  They charge felony charges in misdemeanor cases.  And finally, they do not make credible offers.
If the public defender's office had taken the plea offer in either the cases mentioned, they would have been negligent in their primary duty, to provide a good and credible defense to their clients.
The Public Defender's office should not be concerned with costs when they make their deals.  That is the job of the District Attorney.  The DA in this county views their role almost as the pure opposite of the Public Defender's office and defense attorneys.
But I do not believe that is the proper role.  The DA should be representing the people of this community, not just the victims, and their job is not just to prosecute but rather it is to dispense a just outcome. The DA possesses the power of discretion in deciding whether to file or not, and that is a role that is more than purely adversarial. The defense must respond and defend.
Tracie Olson has been diplomatic as she should, but there is no blame for her office in not taking the plea agreements offered in the two cases we cited above, they were not reasonable and her office's clients are better off having gone to trial.  The blame there falls with the DA's office not offering a more reasonable plea agreement.
I also understand why Ms. Olson would want more judicial involvement, even though for the most part the judges seem inclined to side with the prosecution in this county.  But at least that would be a moderating force on the DA's actions.
We will see where this goes.  Obviously, after a slew of acquittals, the DA's office may be forced to change the way they charge and prosecute these cases.
Some have suggested this is the way the system should work, but in my view it is the expensive way for the system would work.  There is no reason we should be having 120 felony trials a year in this county.  Half of these case are either bogus or should have been settled long before the trial stage – maybe more.
—David M. Greenwald reporting