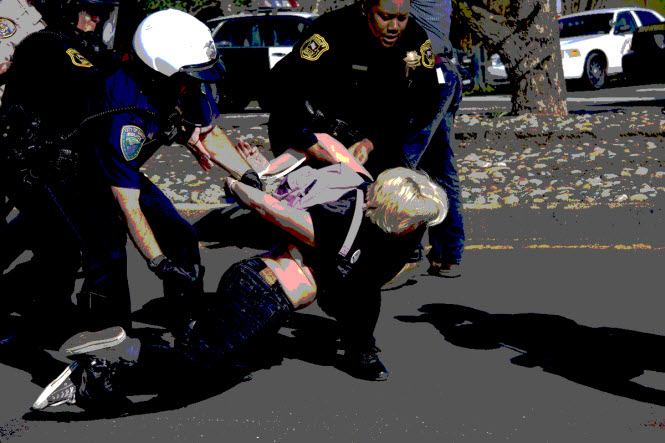 When I first heard about the Student Activist Team (SAT), I was very alarmed that UCD would be expending resources to track student activities.  After all, they have limited resources, or so we have been told, and the students for the most part were exercising their first amendment rights.
It hearkened back to stories about the sixties and FBI infiltration into groups.  The truth however, seems to be much more mundane, according not just to the UC Vice Chancellor involved, but also a member of the SAT.
I do not personally know Jeff Austin, but I first met him through his work in a very different arena.  He was the lone hold out in one of the first trials that Yolo Judicial Watch covered – the Galvan Trial where two men were badly beaten by West Sacramento Police and then charged with resisting arrest.
Mr. Austin was the only juror who held out for acquittal in the second trial.  By the third trial it became clear that Mr. Austin was right to be skeptical about the claims of the West Sacramento Police.
So when Mr. Austin tells me that the group is not taking lists of names and is not engaged in inappropriate activities, I am going to tend to believe him.  Then I am going to tend to believe Vice Chancellor Griselda Castro when she represents that the SAT's activities have been as a supportive role, and that what happened was that a March incident involving a UC Davis Police Officer got conflated with their activities.
Unlike Mr. Austin, UC Davis Police do not have a great history when it comes to dealing with student protesters.
Mr. Austin told the Vanguard earlier this week, "The police are NOT part of our volunteer team. We only contact them if we observe an illegal activity or if a student's action might result in someone getting injured or killed."
"One of our goals by being there is to reduce or eliminate the need for police presence, as quite often, they are seen as a threat by many students, especially when emotions are running high," he said.
However, the police in the recent incident became aware of the protesters leaving campus and going to the Chancellor's residence.
He said, "They, without contacting us, chose to send a plain-clothed officer there and when confronted about who she was and why she was there, she lied. Her lie was the catalyst that, in my opinion, created this level of mistrust between some of the students and staff/administration."
He added, "That is totally understandable as it is very hard for anyone to trust someone who has lied to you."
In fact, this is not the first problem with UC Davis police.  Back in 2007, students had entered Mrak Hall protesting for the food service workers.  At that time, the UC Police would arrest all of the protesters for trespassing, despite the fact that they were in a public building during business hours.
When a police officer was ordered to arrest the protesters, he refused, arguing that the arrest would be illegal.  He was relieved of duty and subjected to discipline.  However, he was correct and the DA was forced to throw out the charges against the arrested protesters.
In another incident that we have covered, Brienna Holmes was arrested for resisting arrest.  However, when the case went to trial there seemed a huge discrepancy between the police account and what was seen on the video.  The jury would hang and charges would be dropped.
The March incident is a bit chilling because it was so unnecessary.  A plain-clothed police officer gained access to protesters by misrepresenting who she was.  However, when the students figured out that she was a police officer, she should have been honest.  Instead she lied to them.
Is this illegal?  No.  But what it did was undermine the trust of the students in the university, and the university knows it.
University Spokesperson Claudia Morain denies that there was an undercover officer and that this was an infiltration.  She told the Vanguard yesterday, "The officer was in plain clothes and part of the police presence to ensure public safety."
However, she did acknowledge that this was not handled as well as it should have been.
"This clearly has caused concern among some students and members of the community, and we can do better in the future," Ms. Morain told the Vanguard. "Officers are going to identify themselves from now on, and they'll either be in uniform or have a badge on their belts."
One of our concerns moving forward is that there a whole host of problems with the leadership at the UC Davis Police Department.  There are several pending lawsuits against them internally and now externally.
Police experts have pointed out to the Vanguard, at various times, that the University of California is hiring less-qualified officers.  There is likely something to that, as what police officer would want to work at a university when the majority of calls are likely to be alcohol-related?  In short, what police officer wants to be a party cop?
It is perhaps not fair to overgeneralize, however, but from our observations City of Davis police officers have been much more professional in their conduct than their university counterparts.
It alarms me that some readers have been willing to excuse this behavior by some of the UC Davis Police officers, based on the fact that there were students who have broken the law.
Our response to that is very simple.  Two wrongs do not make it right.  There are certainly legal ways to prevent students from doing dangerous things in the course of their protests.
We encourage the students and administration to have an open and honest dialogue.  But the ability to do that has been harmed by the actions of Officer Johanna Zaconi.  The University has taken the first step toward fixing that problem, as they have admitted that it was a problem and that they will do better in the future.
That is a good step, from a university often loath to admit mistakes.  We must now move forward and hope that all sides can work together toward co-existence.
It is a tough time with the budget as it is, fees going up and classes more scarce.  Everyone involved has to recognize, however, that they are in this together.
—David M. Greenwald reporting