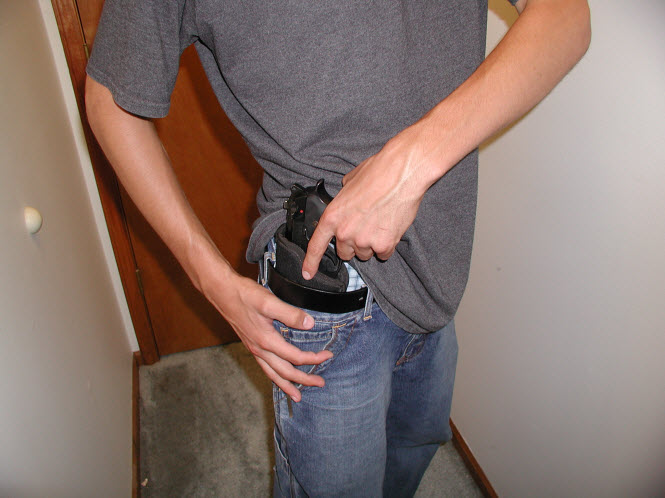 Back in March, the Vanguard reported that Yolo County had become the focus of a nationwide gun debate as a federal court on Thursday heard arguments in a case where gun-rights advocates have challenged the courts to determine how much discretion California's law enforcement officials have in issuing concealed weapons permits.
County Sheriffs, the plaintiff argued, who handle the bulk of these situations, must issue permits to anyone who completes a training course and has no mental health problems or criminal background.
In so doing, they challenged a policy by Yolo County Sheriff Ed Prieto who argues that Yolo county residents "must prove they have a reason to carry a concealed weapon, such as a threat to their safety."
On Monday, a federal judge ruled that there is no constitutional right to carry a hidden gun in public.
Instead, US  District Court Judge Morrison England, Jr., in Sacramento, supported the policy laid out by Yolo County Sheriff Ed Prieto that directs applicants to provide a reason, such as a safety threat, to legally carry a concealed weapon in Yolo County.
Similar lawsuits have been filed in other jurisdictions, but this is the first resolved.  The conservative blog Paco Villa argued on Tuesday, "It is likely that at least one of them will end up before the Supreme Court somewhere along the line."
Alan Gura, who filed the suit on behalf of the gun groups, filed a notice indicating the intent to appeal Judge England's decision to the 9th U.S. Circuit Court of Appeals in San Francisco.
Mr. Gura argued that Sheriff Prieto's policy would give law enforcement, in this case the sheriff, the arbitrary discretion over a fundamental constitutional right to bear arms.
Judge England countered in his decision that "Under the statutory scheme, even if Plaintiffs are denied a concealed weapon license for self-defense purposes from Yolo County, they are still more than free to keep an unloaded weapon nearby their person, load it, and use it for self-defense in circumstances that may occur in a public setting."
"Yolo County's policy does not substantially burden plaintiffs' right to bear and keep arms," Judge England wrote in decision.  "Sheriff Prieto retains discretion to issue a license to carry a concealed firearm to residents within Yolo County."
"The Supreme Court of the United States recently clarified in a landmark case, and the "right secured by the Second Amendment is not unlimited," the Judge wrote.
He further argued that the Second Amendment "does not create a fundamental right to carry a concealed weapon in public."  He added, "The policy does not create a total ban on carrying a firearm, such that the policy completely infringes on the rights protected by the Second Amendment."
"Regulating concealed firearms is an essential part of Yolo County's efforts to maintain public safety and prevent both gun-related crime and, most importantly, the death of its citizens. Yolo County's policy is more than rationally related to these legitimate government goals," Judge England added.
Alan Gura said the gun groups disagree with England's reasoning.
"Obviously, it doesn't do anyone any good to walk around with an unloaded gun, especially in public, because that's just an advertisement for a criminal to take it off your person," Mr. Gura said. "They're not going to have time to start loading their handgun. Criminal events usually play out more quickly than that."
The suit alleged, "In addition to the successful completion of a background check and training, the issuance of a permit to carry a handgun is left to the discretion of the issuing authority, based upon that authority's determination of whether the applicant 'is of good moral character, [and] that good cause exists for the issuance of the permit.' "
They allege that one of their plaintiffs, a law-abiding citizen, in March 2009 "contacted Defendant Prieto's office to inquire about the process for obtaining a permit to carry a handgun. Defendant Prieto's office advised Plaintiff Richards that the desire to have a gun available for self-defense would not constitute 'good cause' for the issuance of the permit, and that his application would be a 'futile act.' "
The suit continues, "Plaintiff Richards was further advised that as a matter of policy, his application would not be considered unless he first applied to the Chief of Police in the City of Davis, where Plaintiff Richards resides."
According to the suit, Chief Landy Black denied the application in April 2009, stating, "An evaluation and comparison of our current services to available resources has forced us to discontinue processing and issuing CCW (Carry Concealed Weapon) licenses. I apologize for the inconvenience this action will cause you."
Sheriff Prieto's office was represented by Attorney Serena Mercedes Sanders.  She noted that, "No case has held that there is a right to carry a concealed weapon."
Marc Halcon, President of the California Association of Firearms Retailers issued a statement on Monday, "One of the most fundamental rights we have as citizens of this country is the right to feel safe and secure, not only in our homes but within our community."
He continued, "Although I question the logic of carrying an 'unloaded' firearm, I understand the concern of some of our lawmakers.  This entire situation would be solved in a matter of minutes if the State of California would follow the vast majority of the other states and allow for the 'shall issue' provision for law abiding citizens to carry a concealed weapon."
He added, "A secondary benefit would be an increase in State revenue generated by the fees and tax's associated with allowing a 'shall issue' licensing process for law abiding citizens."
—David M. Greenwald reporting