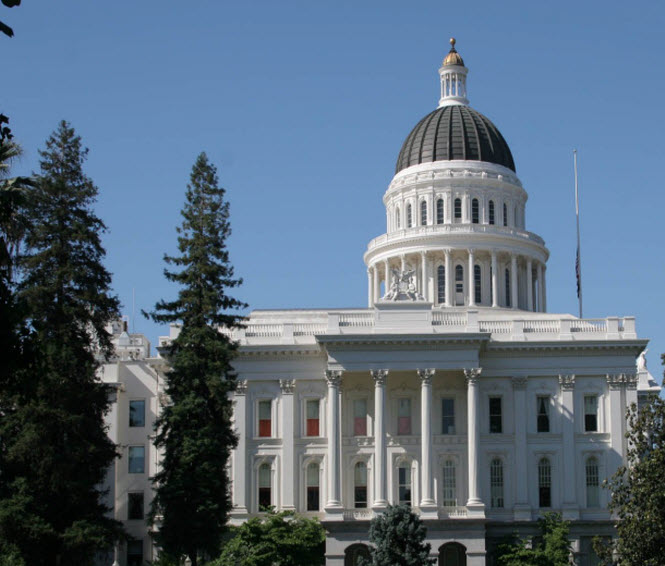 Local official are bracing for the May revise to the state's budget.  The Governor was able to close a portion of the more than twenty-five billion dollar deficit through an initial round of cuts.  However, his plan was to extend the tax increases to deal with most of the remainder of the budget deficit.
Politics have derailed this effort and it appears increasingly likely that the budget gap will be closed through an all-cuts budget, despite a strong majority of the public who prefer the opportunity to at least vote on the Governor's tax extension package.
The economy remains weak, despite the fact that the state has increased employment by over 200,000 between September and March.
However, according to analysis by the non-partisan California Budget Project, "these increases have not been enough to bring down the state's jobless rate, which was still the second highest in the nation at 12.0 percent in March. In the same month, 2.2 million Californians were still unemployed, nearly half of whom had been searching for work for at least six months."
A recent report from the non-partisan Legislative Analyst's Office continues to see unemployment at least at 11% for the foreseeable future.
The California Budget Project (CBP) argues that one reason for the slow recovery in the California's job market has been state budget cuts, which they argue have cost tens of thousands of jobs.
In 2010, local government employment – particularly teachers, firefighters and police – declined by 3.6% or 61,700 in 2010.  Much of that was due to layoffs for teachers at public schools.
Writes the CBP, "In fact, local government job  losses were larger than those of any other major sector in 2010. Without these losses, California would have gained nearly twice as many jobs last year."
They argue that an "all-cuts" budget "would threaten the economic recovery in the short-term and compromise the state's competitiveness in the long-term."
They continue, "Deeper cuts would inevitably lead to additional public sector losses at a critical time when the labor market is slowly improving.  These job losses would threaten California's tenuous recovery."
"California is at a crossroads; a balanced approach that couples recently enacted spending cuts with additional revenues is the only way to preserve the public structures essential to California's prosperity," the CBP reports.
We know an all-cuts budget means about a six million dollar deficit for Davis schools.  Half of that would be mitigated by Measure A, but the rest would come out of employees, particularly teachers.
Davis is, of course, hardly alone in that area, but that does not represent much comfort.
Aside from education, one of the areas most impacted are cuts to CalWORKS and the Supplemental Security Income/State Supplemental Payment.
Writes the CBP, "The cumulative impact of cuts made to CalWORKs and SSI/SSP  amounts to more than $8 billion between 2008-09 and 2011-12. The reduction to CalWORKs during this period – $3.5 billion – is equivalent to a loss of roughly $3,100 for each of the 1.1 million children in the program, while the cut to SSI/SSP – $4.6 billion – equates to a loss of about $3,600 for each of the nearly 1.3 million seniors and people with disabilities who receive cash assistance."
State lawmakers have now merely suspended cost-of-living adjustments for cash assistance.  COLAs allow the benefits to increase at a rate that keeps pace with inflation.
But the cuts go further than this "by making deep grant cuts and reversing longstanding policies, including those designed to protect children and help parents successfully move into the workforce. "
One cut, reports the CBP, was "The Legislature cut the maximum monthly CalWORKs grant for a family of three in high-cost counties from $723 in 2007-08 to $638 in 2011-12, an $85-per-month reduction."
Moreover, "The Legislature also cut CalWORKs grants by up to an additional 15 percent for many families who receive "child-only"  cash assistance, including families in which a parent has "timed off" aid, but the children continue to receive subsistence payments."
They write, "The loss of funds due to these and other CalWORKs cuts will disproportionately affect California's high-cost – mainly coastal – counties, including Los Angeles, Orange, and San Francisco, because that's where more than half (55.4 percent) of CalWORKs families live."
While it is true that everyone is hurting, it seems that those most impacted by cuts are the most vulnerable in society, students in public education, impoverished children and the elderly.
In the meantime, the state is still crippled under a system that does not allow the majority to govern the state.
In frustration, as George Skelton reports, "Senate leader Darrell Steinberg (D-Sacramento) is hurling a few brushback pitches at Republicans  and business interests, trying to get them thinking about the consequences of not extending the state tax increases that were passed two years ago."
Mr. Skelton reports that the Senator is telling them that if they do not like state tax hikes, they will allow local government to raise taxes on their own.
Writes Mr. Skelton, "So far, however, Steinberg's tosses have had the effect of gentle lobs. Republicans aren't backing off their no-tax positions. And the business lobby has just lined a pitch back up the middle, targeting Steinberg's threat with a radio and mail ad campaign."
"Under Steinberg's bill, counties and school districts would have a huge menu of potential taxes to choose from — subject to local voter approval — in raising money for services, including K-12 education," he reports.  "For the first time, they could impose local income taxes. They could hike the sales tax and the vehicle license fee. They could boost levies on liquor, tobacco and soft drinks. And they could enact their own tax on oil production. For starters."
Here is the kicker for the anti-tax people in the readership, as Mr. Skelton reports, "This isn't just a Steinberg pipe dream. His bill could be passed on a simple majority vote with no Republican support."
And it is not the worst idea according to Mr. Skelton.  It would be basically like de-federalizing the state, with local control.  
Writes Mr. Skelton, "Regions of the state that abhor taxes could reject them and live with the public services they can afford. Areas that put a premium on education, public safety and healthcare for the poor could raise the money needed for those services."
He continues, "State government could lighten its load while loosening its control over local communities."
Senator Steinberg said: "If the opponents of my bill would show the same level of intensity, speed and determination toward helping reach a budget agreement, we'd have a balanced budget deal in no time."
—David M. Greenwald reporting