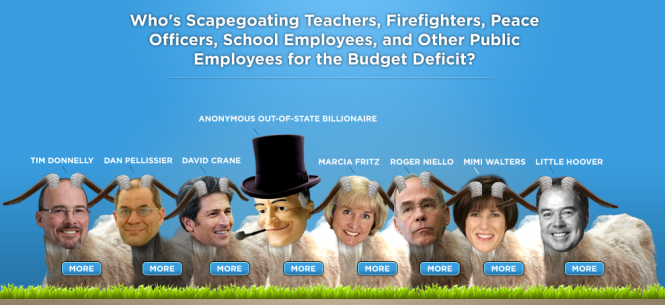 Unions and other defenders of the current pension system are fighting back with a new website launched yesterday called "DontScapegoatUs.com."
The website strongly criticizes eight figures who they say are leading the charge to change public pensions.  These include Dan Pellissier, president of California Pension Reform; Marcia Fritz, executive director of the California Foundation for Fiscal Responsibility; and an "anonymous out-of-state billionaire."
The site is filled with facts and also various attacks on opponents.
For instance, for the Out-of-State Billionaire they write, "Who's behind the well-financed attacks on California's public employees? Pension busters say that it's an 'out of state billionaire.' "
They continue, "That's right: someone from beyond California's borders who has no worries about his own retirement security is bankrolling anti-public worker efforts in our state!"
According to the investigative journalists at California Watch, "An unknown out-of-state foundation has become a substantial backer of an ambitious nonprofit group that is positioning itself at the center of the state's debate over public pensions."
They also cite George Skelton's report that we covered two weeks ago in which he once again does the math, and concludes, "State employee pensions are not to blame for Sacramento's budget deficit. Not by any math."
However, he does add, "Down the road, the current state pension system probably is not fiscally sustainable, as some studies have reported. It could burn a hole in the state vault — some time in the future. But not now or any time soon."
However, and this backs up our earlier point, "Yes, some local governments are suffering financially because of their politicians' short-sighted largess in negotiating overly-generous pension schemes with public employee unions."
He cites an article last week that found that 180 local governments "in California kept sweetening employee pension plans even after the state's economy began tanking, sinking the entities further into debt. Now they're forced to lay off workers and reduce public services."
So, here is the math.  In the next year, the general fund is roughly $85 billion dollars.  The total payment that goes for pension is: $3.7 billion.  That is not chump change to be sure, but it is not even five percent of the state's budget and not even a significant chunk of the deficit.
Mr. Skelton breaks down that $3.7 billion.  $2.4 billion goes to state employees through CalPERS (California Public Employees' Retirement System).  The other $1.3 billion goes to teachers through CalSTRS (California State Teachers' Retirement System).
There is also about a $1.8 billion payment to CalPERS that "will come from special funds that don't figure in the deficit."
Writes George Skelton, "So, hypothetically, even if the governor and Legislature eliminated all payments to the state and teacher pension funds, they still would face a budget deficit of nearly $12 billion. And, of course, that's not a realistic scenario. They're not going to completely stiff public employees and provide them with no retirement benefits at all."
"It would not have a significant impact," Mr. Skelton quotes former Republican Assemblyman Roger Niello of Sacramento County, who is pushing a pension initiative for the 2012 state ballot. "Frankly, I don't know of anything that can be done [with pensions] that would have a significant impact on this or next year's budget."
Another target of the website is Moinca Fritz, Executive Director of the California Foundation for Fiscal Responsibility
They write that it is not a real foundation, but instead, "Its board of advisors aren't pension experts or academics. It includes a lobbyist, political consultant, a dealer in 401(k) plans, and anti-tax groups, including Jon Coupal of the Howard Jarvis Taxpayers Association, and Lew Uhler of the National Tax Limitation Committee."
Dave Low, Chairman of Californians for Healthcare and Retirement Security, has called on Californians for Fiscal Responsibility to reveal the out-of-state donor financing its assault on California public employees. "It's time to pull back the curtain and expose the special interests parachuting in to target California's middle class. We don't need Wisconsin-read style political attacks bankrolled by out-of-state-billionaires. Californians deserve to know the identities of these secret donors buying their way onto the ballot to try to change the California constitution for their own special interests."
Roger Niello is the part-owner of a series of luxury auto dealerships in the Sacramento area and a former Republican state assembly member.
He is supporting what they call a "draconian ballot measure" that they claim would "drastically reduce retirement security for thousands of public employees in the very communities he used to represent."
They write, "It would make 62 the lowest allowable retirement age for all future public workers, leaving us with the real possibility of gray-headed police and firefighters working well beyond their able years. Remember, such "safety" retirement was instituted for the public's safety to ensure that those police and firefighters retired before age diminished their effectiveness and put the public at risk."
While I largely agree with their conclusions on a statewide level that pensions are not the problem, I think they miss the boat when it comes to the impact on local communities – cities and counties in particular.
In fact, aside from the conservative anti-union proponents of pension reform at the state level, a potent force is the more liberal local officeholders, including organizations like the California League of Cities and others that represent local governmental bodies.
For several years now, sites like this have urged unions and Democrats to get out in front on this issue to protect the defined benefit pension pension system that allows public employees to have reasonable standards of living upon retirement, while at the same time cuts down on the excesses that will eventually lead the Roger Niello's of the the world to push for and get the sort of draconian proposals that they are pushing.
Toward that end, Governor Jerry Brown has a reasonable and commonsense approach to pensions.  As Mr. Skelton points out, the Governor is right in the middle of the two sides, he has not gone far enough for Republicans and other reformers, but he has gone two far for unions.
"Actually, he probably went about the right distance, considering the stormy political climate. There's still much, after all, to be negotiated," he writes.
The top three proposals include capping pensions at $106,000 annually.
"We think that's a very reasonable pension, a very adequate amount for people to live a fine life on," Governor Brown's veteran labor director, Marty Morgenstern, said. "Beyond that, we think it's excessive."
Second, it would prohibit pension spiking by basing benefits only on base wages and for an average of three years, rather than the final year.
Finally it would offer an hybrid system which would reduce the public pension portion, but add in a 401(k) type plan.
The problem is not the statewide impact of pensions, it is the impact on municipalities like Davis.
This year we are projected to pay just above $6 million to furnish pensions.  That number could jump significantly by 2014-15.  Right now, that number is projected to be around $9 million in two years, but could rise significantly higher should CalPERS eventually reduce their expected rate of return from 7.75 down to 7.5% where most people think they should be.
If that happens we are looking at $11 million from our budget going to PERS.  To put that into perspective, our payroll is roughly $30 million and the general fund is right around $40 million.
So, unlike the state pension hit which is less than 5% of the state's general fund budget, our current pension obligation is about $6 million out of a $40 million budget, and an increase of $5 to $7 million would push the obligation to over 25%.
Remember, these pension increases are occurring at a time when we are not expecting revenue growth.  We have a flat budget expectation for the next few years.
That is why the pension issue matters to Davis far more than it matters at the state level.  And this is in part why the issue of pensions have so much legs, because it is not just the right wingers that the website above attempts to demagogue, it is also reasonable people who recognize that local government cannot sustain the pension obligations they have.
—David M. Greenwald reporting