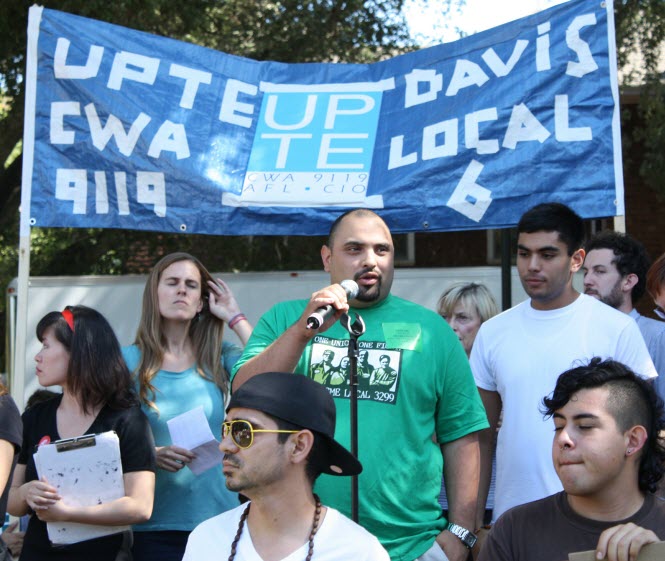 UC workers maintain that they are opposed to state cuts to higher education, but have  suggested hundreds of millions in cost-saving measures to protect student services on campuses and quality patient care at UC Medical Centers, in the face of a 500-million-dollar decrease in state funding.
They argue that UC executives' current plans to cover the shortfall have focused on limiting enrollment of qualified California students while increasing out of state admissions, consolidating academic programs and cutting frontline line workers hours and benefits.
Moreover, UC President Mark Yudof has warned that there will be even worse measures should an "all cuts" budget become a reality, presenting UC with a $1 billion cut.
In a statement last week, ahead of a rally at the Capitol in support of saving state education funding, UC workers, who do everything from cleaning dorms and classrooms to providing daily care for patients, are echoed by key state legislators, saying UC executives' plans are not the only options. 
According to stakeholders, UC leadership needs to break the cycle of only turning to students and workers in tough financial times, while protecting perks for executives and overlooking UC's multi-layered bureaucracy.
"The University of California cannot balance their budget on backs of students and frontline service workers and still remain true to its mission," said Senator Leland Yee from San Francisco, one of the biggest critics of the University of California's plan.  "The proposed budget alternatives from UC workers to cut excess and executive perks should be implemented before looking at any cuts that would harm student services, patient care and working families."  
In their budget alternatives, UC workers say that they highlight hundreds of millions in savings that could be realized without balancing the budget on the backs of student and workers, and without risking UC's ability to recruit and retain the best qualified patient care providers. 
"I commend these workers for their creative thinking about solving our budget woes while protecting student services and quality patient care throughout the University of California system," Assemblymember Luis Alejo from Watsonville stated.
According to their plan, they could achieve $260 million in savings simply by bringing UC's management ratios in line with best practices, from 7-to-1 to 8-to-1.  They write, "An analysis of UC's payroll data reveals the system-wide ratio of non-management employees to management is about 7-to-1.  In contrast, the Texas state government, where UC President Yudof formerly worked at the University of Texas, mandates a worker-to-management ratio of 11-to-1."
They cite a UC Berkeley study on Operational Efficiency that supports the "conclusion that UC is saddled with growing layers of unnecessary management."
They write in a briefing memo, "For instance, supervisors at Berkeley's campus oversee an average of just 4 persons. Systemwide, UC's employee-to-management ratio is 7 employees to 1 manager."
The report adds, "Since at least 2004, UC's management has grown twice as fast as non-management employees. In addition, $1.6 billion in cash compensation went to management in 2009. That's 8% of the entire UC budget. Managerial bloat is a costly systemic problem throughout all levels of UC."
They also find that more than $20 million in savings could be achieved by eliminating extra perks for 1,000 of UC's highest paid.  Senior managers receive a number of supplemental health, welfare, and retirement benefits.  In addition, many who receive these benefits are paid through state funds, meaning a significant share of their benefits are also state funded.
Furthermore they find that roughly $12 million in savings could be achieved by eliminating athletics subsidies system wide, which could be used to support UC's core educational mission.
A Berkeley Academic Senate report found huge financial shortfalls in the University of California's model for athletics.  They found, "During FY 2009, Berkeley's campus was forced to absorb a $14 million shortfall between athletics income and athletics expenditures."
This is but one part of a long-standing trend. and there were similar findings for UCLA, which lost $3 million the same year.
They conclude, "Reducing academic subsidies of athletics to zero systemwide would save UC's core educational mission roughly $12 million annually."
Other suggestions show a potential for $300 million in additional annual revenue for bringing the UC system up to speed in the area of cost recovery rates for grant-funded research.
As UC Davis continues to try to explode in terms of grant funding for research, "UC's Commission on the Future flagged the University's woeful cost recovery rates for grant-funded research as a targeted area of improvement."
They add, "The University aims to capture an additional $300 million in revenues by renegotiating cost recovery rates such that the real cost of agency-sponsored research in future years is fully covered. The Commission on the Future notes "The current gap … amounts to several hundred million dollars per year systemwide."
UC's Commission on the Future believes $300 million in savings is achievable.
The savings generated in this report at least appears to point the way towards tightening spending, rather than resorting to more fee hikes, salary reductions, furloughs and layoffs.
—David M. Greenwald reporting