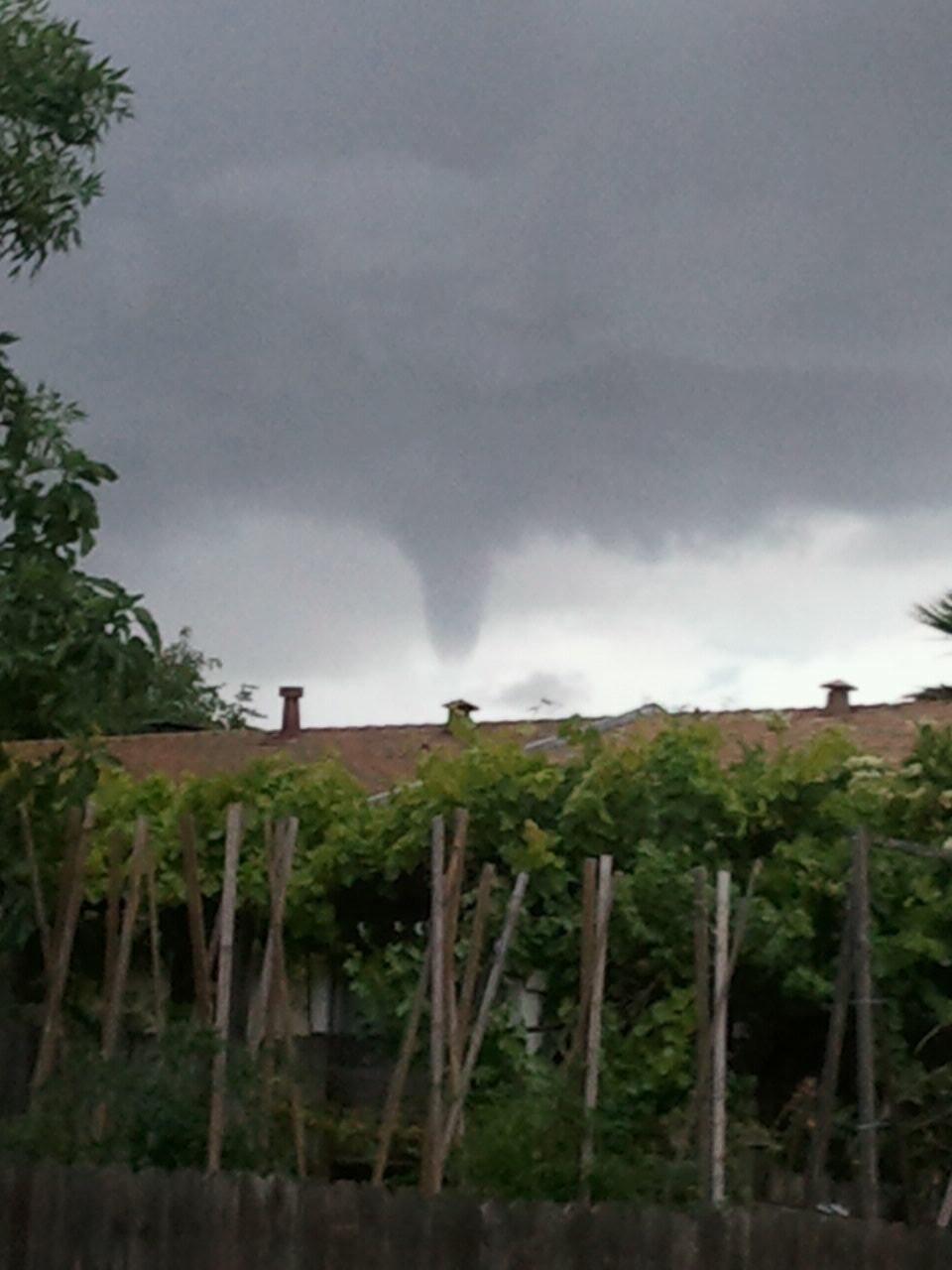 It was Wednesday around 1:45, I just picked up my nephew from school at Patwin Elementary when I saw something strange up in the sky on the horizon.  As I moved forward, it vanished behind the trees but looked like a funnel cloud.
Long before I got a political science degree, before I became the blogger and founded the Vanguard, my passion was weather and in particular tornadoes.  It is a well known quasi-joke in my family that I dream to go on a storm chase in the Midwest, going after serious twisters.
So instead of heading home, I turned off on a side street hoping to get a better view of what looked to be a funnel cloud.  I eventually got to a spot and stopped the car.  Quickly I pulled out my cell phone, snapped two pictures and took about 30 seconds of video.
What I saw astounded me.  I could see the rotation and it extended downward from the cloud towards the ground, but never getting close to the ground.  Eventually and quickly it would dissipate. 
I got home and quickly sent the picture to the local news.  I got a call from Channel 10 and there I was, being phone-interviewed about a funnel in a storm they were actually already tracking over Davis.  Shortly after I got home, we got bombarded with heavy rain and hail.  The cell would move east, and spawned at least two or three other funnel clouds, as well.
There would be tornadoes that actually touched down to the north in Marysville, but they kept showing my picture on Channel 10, as it was so clear and vivid.
I had already been following the tornado season, as I have a number of friends in Missouri.  What we had is nothing compared to what struck in Joplin a few weeks ago, and before that down in Alabama.
The fact is that this country has been rather fortunate that more tornadoes have not struck populated areas.  Neither Joplin nor Tuscaloosa, Alabama, are particularly huge urban areas, both are around 90,000 in population.  But it is really only a matter of time before a major city like Kansas City, St. Louis, Dallas, Memphis or somewhere else is hit by a major tornado that does damage not in the hundreds, but the thousands or tens of thousands of fatalities.
In Alabama, it is particularly frightening that, prior to the fatal tornado in Tuscaloosa, there were three major tornadoes that were described as long-track.  Most tornadoes are like the one I saw, very brief and short-lived, often a matter of minutes.  These three stayed on the ground for over 60 miles, and the three combined stayed on the ground for 200 miles.
None of those hit major urban areas, however.  Both Tuscaloosa and Joplin had about 24 minutes warning before the tornadoes hit.  However, they were so powerful that they were not survivable for most people.  Generally, if you do not have a storm cellar or safe room, you are advised to get into an interior room, pad yourself, and get into a fetal position to protect your head, neck, and vital organs. 
However, the tornado was so powerful and on the ground so long it merely swept home after home off their foundations, meaning even the interior walls would not save people.
The question is whether these storms are the cause of climate change, or merely a pattern of normal but extreme weather.
An article in this morning's Sacramento Bee suggests that "climate change may [actually] be cooling California."  That is, of course, one person's theory to explain nine tornadoes, cold weather, and rain in May and June in California.
"It's what I call global weirding," said Bill Patzert, a climatologist at NASA's Jet Propulsion Laboratory in Pasadena. "This has been a very strange year all over the planet."
The article goes into issues such as La Nina (a cooling of the Pacific Ocean) along with Artic oscillations.  What has happened is that the Arctic was warmer than usual this year and pushed cold air and a strong jet stream into the US.
"It's a great snow producer, rain producer and tornado producer when it's in that pattern," Mr. Patzert said. "Nobody knows exactly what causes that."
"One theory gaining traction is that climate change, in fact, may be to blame," the Bee reports.  "The theory was developed in several published papers by Judah Cohen, an atmospheric scientist in Massachusetts."
Professor Cohen argues that "ice melt in the Arctic has produced more snowfall across Siberia. All that snow creates a giant cold air mass that diverts the jet stream, contributing to the negative Arctic oscillation."
"Colder and snowier winters caused by global warming? It may be one of the counterintuitive consequences of climate change," he said.
Meanwhile, this past week's Newsweek issue links climate change to increased incidence of freak storms.
"Even those who deny the existence of global climate change are having trouble dismissing the evidence of the last year," the magazine reports.
"In the U.S. alone, nearly 1,000 tornadoes have ripped across the heartland, killing more than 500 people and inflicting $9 billion in damage. The Midwest suffered the wettest April in 116 years, forcing the Mississippi to flood thousands of square miles, even as drought-plagued Texas suffered the driest month in a century," they continue.
And globally, they write, "Worldwide, the litany of weather's extremes has reached biblical proportions. The 2010 heat wave in Russia killed an estimated 15,000 people. Floods in Australia and Pakistan killed 2,000 and left large swaths of each country under water. A months-long drought in China has devastated millions of acres of farmland. And the temperature keeps rising: 2010 was the hottest year on earth since weather records began."
The article lays out a series of terrifying consequences in the next decade, including impacts on California.
They then note, "Yet only 14 states are even planning, let alone implementing, climate-change adaptation plans, says Terri Cruce, a climate consultant in California. The other 36 apparently are hoping for a miracle."
They add, "The game of catch-up will have to happen quickly because so much time was lost to inaction."
Indeed, I have often questioned why there is resistance to plan for the worst while hoping for the best.  The downside of climate change not happening, while preparing, is that we undertake changes that we probably need to do in the long run, in the absence of any climate change.
The Newsweek article is more pointed and blames both sides of the aisle for inaction.
"The Bush administration was a disaster, but the Obama administration has accomplished next to nothing either, in part because a significant part of the Democratic Party is inclined to balk on this issue as well," says economist Jeffrey Sachs, head of the Earth Institute at Columbia University. "We [are] past the tipping point."
"Climate-change adaptation was a nonstarter," says Vicki Arroyo, executive director of the Georgetown Climate Center. "If you wanted to talk about that, you would have had to talk about climate change itself, which the Bush administration didn't want to do."
While the Newsweek article was quick to blame government for inaction, it did little to education the public on the link between severe storms and climate change.
One problem that persists is that the earth's climate system is so dynamic. At a local level, changes may seem counterintuitive, for instance, why would California become cooler as the result of global warming?.  And that is just one possibility.
For a couple of decades there are also theories that changes in salinity in the ocean may impact the salt-exchange system in the North Atlantic, which would divert the Gulf Stream southward and produce a colder climate in Europe, which would have a huge impact on the entire Northern Hemisphere's climate and, ironically, produce an ice age.
The bottom line, for the tornadoes as well as other severe weather, is that warming the atmosphere has two primary impacts.  First, it increases the moisture-carrying capacity, which increases the amount of energy.  And second, it can increase the variance between cold air masses from the north that are more likely to be pushed down by a warming arctic and warm air masses from the south.  The result is more severe weather and stronger storms.
Unfortunately, the global warming deniers appear to be more organized and with a stronger message.  The result is a polarization on global warming and a larger number of people in denial about global warming, even as scientists have become more united.
Writes Newsweek, "So what lies behind America's resistance to action? Economist Sachs points to the lobbying power of industries that resist acknowledgment of climate change's impact."
"The country is two decades behind in taking action because both parties are in thrall to Big Oil and Big Coal," says Sachs. "The airwaves are filled with corporate-financed climate misinformation."
Says Daniel Sarewitz, a professor of science and society at Arizona State University: "Not to adapt is to consign millions of people to death and disruption."
But perhaps it would be better if we just continue to debate and play politics with these theories, rather than work on solutions that all sides could agree to.
—David M. Greenwald reporting