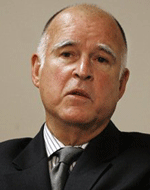 It was in a lot of ways an amazing turn of events, as Governor Jerry Brown gave up any hope of striking a bipartisan budget deal on taxes, abandoned the idea of placing tax extensions on the ballot, and instead announced they would push through a plan that would rely solely on the support of Democrats in the legislature.
The Governor's announcement was unveiled in a joint news conference with Senate Leader Darrell Steinberg and Speaker of the Assembly John Perez.
"I thought we were getting close, but as I look back on it, there is an almost religious reluctance to ever deal with the state budget in a way that requires new revenues," the Governor said Monday.
It still relies on some questionable assumptions, as they hope for "an economic surge" which would generate billions more in "windfall tax collections."
However, Governor Brown and the Democrats said they would agree in advance to further cuts, in case the money does not materialize – which is likely to be the case, though a revenue forecast projects the state will receive another $4 billion in extra revenue in 2011-12 based on strong tax receipts in May and June.
The Bee reports this morning, "The higher revenue forecast replaces the riskiest items in Democrats' first budget: a sale of state buildings, a quarter-cent local sales tax increase and taking $1 billion from First 5 commissions."
However, there will be cuts to education, corrections and other social service programs, should revenue fall short of projections.
School districts would be asked to reduce the school year by seven days, longer than it was proposed at any time under the previous regime.
"Going forward, we do expect more revenues in the budget year coming up, but in case we're over-optimistic, we have severe trigger cuts that will be triggered and go into effect. Those will be real," Governor Brown stated
In a statement from Senator Steinberg, "This is a balanced budget that protects, to the greatest extent possible, California's public education system, jobs, the economy, and our way of life. While this budget implements more than $14.6 billion in harsh and very real cuts, it also puts us on a pathway over the next 18 months to eliminate a structural deficit that's plagued California for a decade."
"This budget is the most austere fiscal blueprint California has seen in more than a generation. Spending levels are at an historic low, and every sector of society will feel the difficult choices we've made to bring this budget into balance," the Senator continued.
"Earlier this year, the Governor asked both Democrats and Republicans to get out of their comfort zones and do what was best for California," he added. "For Democrats, that meant agreeing to billions of dollars in cuts to programs that are vital to children, the elderly, the sick and the poor. We delivered in March and we're delivering again in June – with billions more in cuts, particularly if revenues fall short of projections."
"Unfortunately, Democrats were forced to deliver alone. We used all the tools available to us under the Constitution to do just that – deliver," the Senate leader said Monday.  "The imperative for revenue is as great as before because there is still a structural deficit looming. We will move forward through the initiative process to put the question before the voters in November of 2012."
However, the Bee reports that several economists think the leadership is crazy.
"Outside fiscal experts were doubtful that $4 billion in additional tax revenue would materialize," the Bee reported this morning.
"It isn't as if it's been a cascade of good news since May," said Jeff Michael, director of the University of the Pacific's Business Forecasting Center as reported by the Bee.
"They're out of their minds," said Chris Thornberg of Beacon Economics, a Los Angeles consulting firm, as reported by the Bee.
On the other hand, a reasonable argument can be made that, if they have a contingency in place, there may be less risk.  On the other hand, it will breed some uncertainty, particularly for school districts trying to set their 2011-12 schedules.
In addition to the $4 billion from higher projected revenues, the agreement adds a "1.06 percentage point sales tax swap that redirects money to local governments for Brown's 'realignment' plan rather than to the state. Sales tax rate will fall one percentage point on July 1."
It retains the $150 million cuts to UC and CSU, the $150 million cut to state courts, $200 million in online taxes, $2.8 billion in deferrals to K-12 and community colleges, a $12 increase in vehicle license fee generating $300 million, and a $50 million from fire fee for rural homeowners.
Gone are provisions to sell state buildings, $900 million from raising a quarter-cent local sales tax, $1 billion in cuts to First 5, and $500 million in cuts to local law enforcement grants.
Attorney General Kamala Harris issued a statement criticizing the budget.
She wrote, "The proposed $71 million cut will cripple California's statewide anti-gang and drug trafficking operations. Our Division of Law Enforcement leads 50 task forces across the state that target criminal gangs and drug trafficking organizations."
She added: "Earlier this month, one of these task forces took down 101 leaders and members of two transnational gangs terrorizing California's Central Valley. Last month, we announced the seizure of over 100 lbs of methamphetamine and the arrests of more than 30 gang members in the Bay Area.:
The attorney general concluded, "These cuts will eliminate many, if not all, of these task forces and jeopardize many ongoing investigations."
—David M. Greenwald reporting