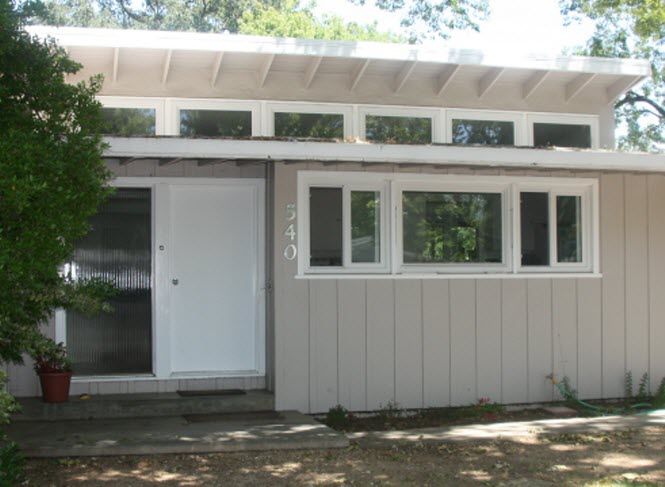 Davis resident Linda Clark still has gotten no official explanation, apology or even communication from federal officials following a raid of her property in late April, as officials served a warrant apparently looking for child pornography.
"I have had no contact with them since [the incident]," Linda Clark told the Vanguard in a Thursday interview at her Davis home.  "Apparently they are aware of my complaint… and [according to News 10] it's being investigated.  But nobody has contacted me."
"This goes on all the time," she said, "it just doesn't go on all the time in Davis."  People just do not complain elsewhere.
Incidents like this simply shock the sensibilities of a community that has been conditioned to believe these kinds of things happen in other places.
"I don't think this is the type of thing anyone expects to take place in Davis," Ms. Clark added.
As we reported last week, Ms. Clark was stunned to find, in the early morning hours of April 26, federal officials from Immigration and Customs Enforcement had entered the property that she owns, which is next to her current residence on Oak Ave.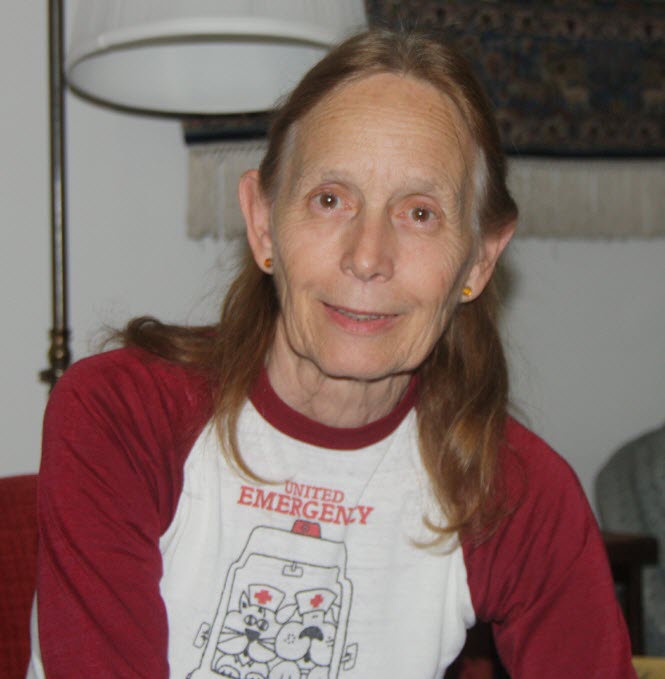 She wrote in her Davis Enterprise Op-Ed, "The incident described above occurred in a quiet, family-oriented neighborhood right here in Davis. Most residents of the house are either visiting international scholars or students, or American citizens who are students. No drug dealers. No 'illegal immigrants.' "
She continued, "No one offered the slightest resistance, unless cowering in fear or closing a door for protection from an as-yet-unidentified police officer who is presumed to be a robber constitutes 'resistance.' No one has been arrested or charged with any crime."
Ms. Clark told the Vanguard on Thursday that since writing the Davis Enterprise Op-ed she has talked to a lot of supportive people, but has not learned anything new.
She has two primary concerns, first the amount of force she found to be excessive, especially in the way that it terrified her tenants.  She was also concerned that most never even saw the search warrant before the ICE officials left. 
"They terrified some of the tenants, especially ones whose English is not very good," she said.
She said that many did not even realize it was the "police" who had entered the residence, at first.   Many of her tenants were foreign nationals and not primarily English speakers, they thought the place was being raided by burglars and terrorists.
According to her neighbor, she said they banged on the door and did yell police and warrant, however, clearly, not everyone inside understood what was going on.
"Some of the tenants thought that they were either being burglarized or they were terrorists trying to break in," she said.
"Most of the people in the house never saw the search warrant," she added.  "A couple of people were told that there was a search warrant.  The Vietnamese man or the couple from Chile had no understanding of what was going on or why people were rifling through their stuff."
She and her son were eventually shown the search warrant, but this was well after officials had entered the place. 
"I saw the search warrant somewhere in the middle of things, I was not aware that they had already searched through a lot of things and that they had everybody inside handcuffed," she said and then added, "I did know that they had gone inside with their guns drawn, because my neighbors told me that."
Linda Clark estimates that her place suffered several thousands of dollars in damages, including the unnecessary breaking in of internal doors.  She has not been compensated for the damage nor have ICE officials made contact with her since the event.
"They broke the lock on the master bedroom door to get into that bedroom.  That's the room where two Vietnamese women were in," she said.  "They were terrified and hiding.  They weren't about to open the door, so they broke the lock to get in."
They battered to pieces at least two other doors and dropped the battering ram on the floor causing a dent there.  They battered a door to pieces, and it was a sliding door that locked on the side that they were on.
"The occupant of the room said they kind of threw things aside and took the battering ram through it," she added.
She described that there was an outside door there, with another tenant on the ground with an agent holding a gun on him.  Given that, she said, "I have no idea why they needed to batter that door down."
"They could have gone around, there was at least one agent outside," she added.
Not only did they not compensate her for the damages, "They didn't even mention the damages to me," she said.  "They casually said to the occupant of that room that the landlady would take care of fixing the door."
"I have had no acknowledgment of any damages," she said but added, "That's really the least of my concerns.  It annoys me because it just adds to the amount of violence, that's my concern.  The kind of callous disregard for the people, the property, it's all under one sort of heading."
As she said, that is not her primary concern, as outlined in the complaint she has filed to ICE.
She wrote, "I think the ICE agents used excessive force while executing this warrant. They announced their presence in a manner that terrified those residents who could hear them yelling and banging on the door but who were unable to understand what was being said and by whom. Some of the residents thought they were robbers or perhaps terrorists."
"Agents entered the house with guns drawn with neither the consent of the residents nor any cognizance on their part that the people invading their home were federal agents serving a search warrant. With a seemingly callous disregard for the physical and psychological safety of innocent, frightened people, agents at gun point forcibly detained and handcuffed unresisting persons, several of whom did not understand they were police agents," she continued.
The justification for this use of force was ostensibly the safety of the officers and the tenants, despite the fact that all they were looking for was porn on a computer.
"Apparently their rationale is that it was for both the safety of the tenants and the safety of the officers," Ms. Clark responded.  "I didn't know that this had gone on until 4:30 in the day."
The Vanguard has acquired a copy of the warrant.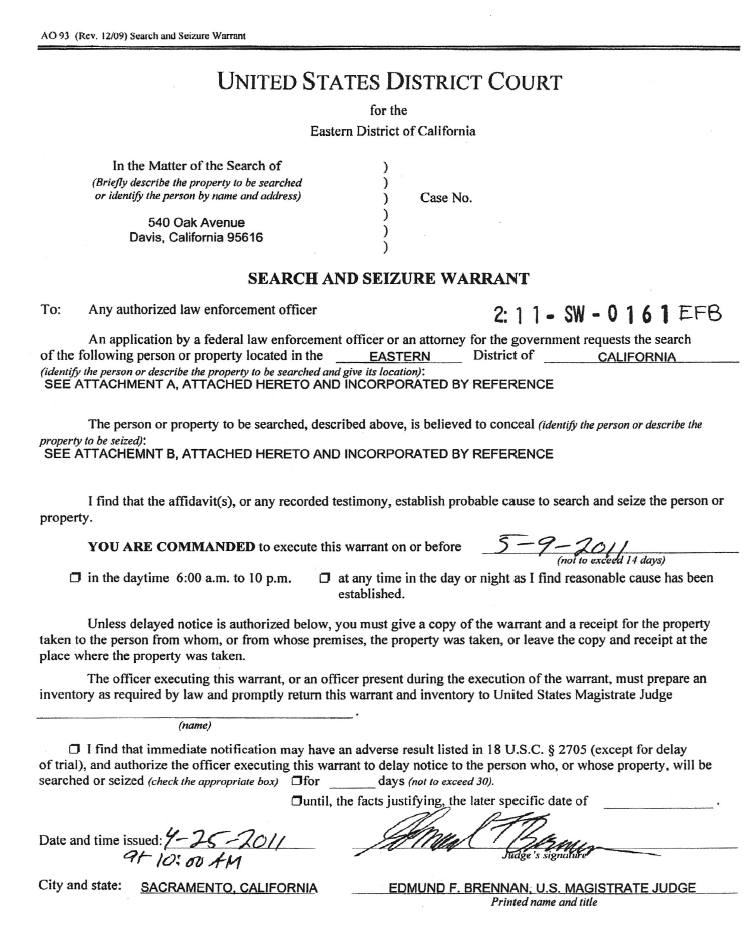 In the warrant is listed requests for "records and information" which include "any images of child pornography and files containing images of child pornography in any form" among other derivations there of.  There is no individual named in the warrant.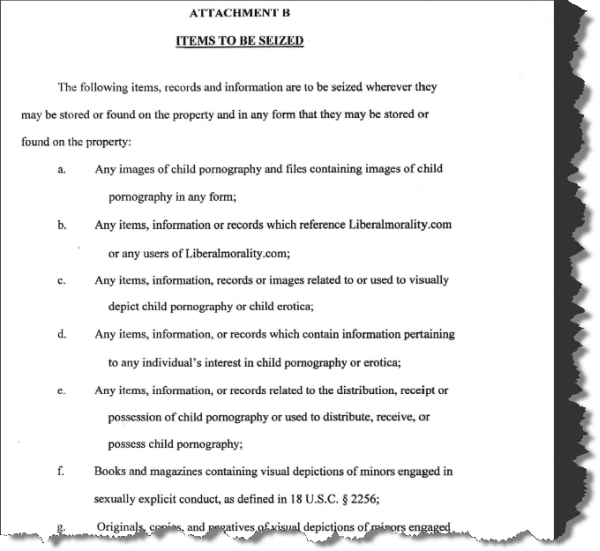 In her complaint, she writes, "Upon talking with an agent, outside of the house after identifying myself and being shown the warrant, I was led to believe they were looking for a computer and other information that may or may not have once been in the house, may or may not still have been in the house, and that was allegedly involved in the transmission of and/or used to visit a site involved in child pornography in March of last year."
From the warrant, she was able to infer that they were looking for a particular individual who had apparently accessed a child porn site in March of 2010.  "They were certainly referencing something that happened in that March," she told the Vanguard on Thursday.
The question became, why would they be serving a warrant on an individual who accessed a child porn site over a year ago?  Ms. Clark speculated this was part of an increased federal effort to crack down on child pornography.  "Because [child porn rings] are international and cross international borders, ICE gets involved," Ms. Clark said.  "I'm all in favor of that, I have my own personal reasons for [going after] child porn rings, kiddy porn."
"I have no objections to them going after child pornographers," she said.  "I have no objection to them searching the house, they had a legal search warrant."
I simply object to the excessive amount of force and that fact that some of the people didn't know even after they left that they had a search warrant," she said.  "That bothers me."
As she said, "My grandson [who was one of the residents in the house] said, you don't ask if someone has a search warrant or if you can see a search warrant when they're pointing a gun at you."
The bottom line for her is a due process question.
"My question has to due with the due process aspect, do they really have the right to search without people really knowing and seeing that there's a search warrant?" she said.  "How much of that has been eroded by the Patriot Act?  In which case, our elected officials should be doing something to rescind that." 
"I'm not holding my breath," she added.
—David M. Greenwald reporting