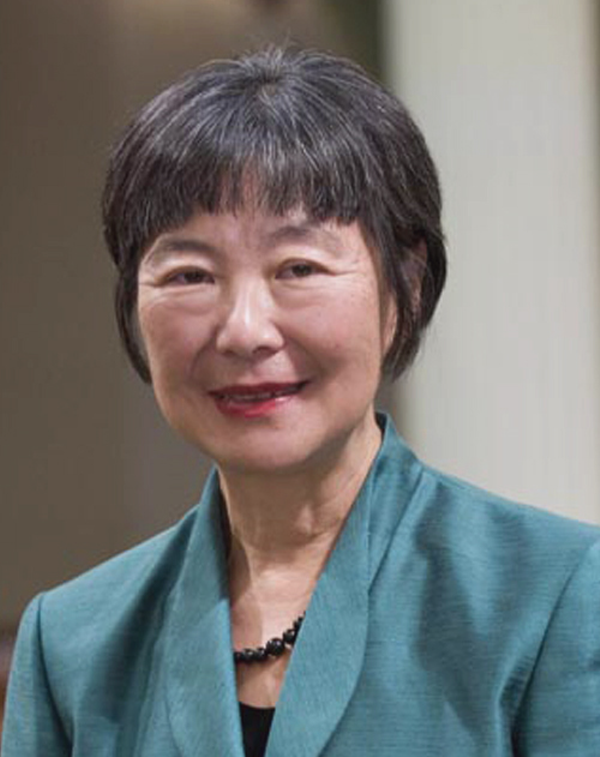 Since 1996, Davis has been represented in the Assembly by a Davis resident.  Starting with Helen Thomson, continuing with Lois Wolk and now Mariko Yamada, a Davis resident has held the Assembly seat in a district that included most of Yolo and Eastern Solano County.
While that was one of the few districts that really made demographical and geographical sense, that is now in doubt with the district maps that were released Friday.
As the AP reported, "The California Citizens Redistricting Commission  released preliminary maps, giving voters their first chance to see new boundaries not drawn by politicians interested in protecting their seats. Californians established the commission in 2008 in response to gerrymandering by lawmakers that preserved districts for incumbents and the parties."
Yolo County would be divided under such a plan.  In fact, Woodland and Davis, just seven miles apart would be in separate Senate and Assembly Districts.  Davis would remain with West Sacramento, and parts of Sacramento, as well.
Yolo County would be split in thirds in the Senate.  Davis would be in a District that included West Sacramento and portions of Sacramento including Downtown, Natomas and Elk Grove.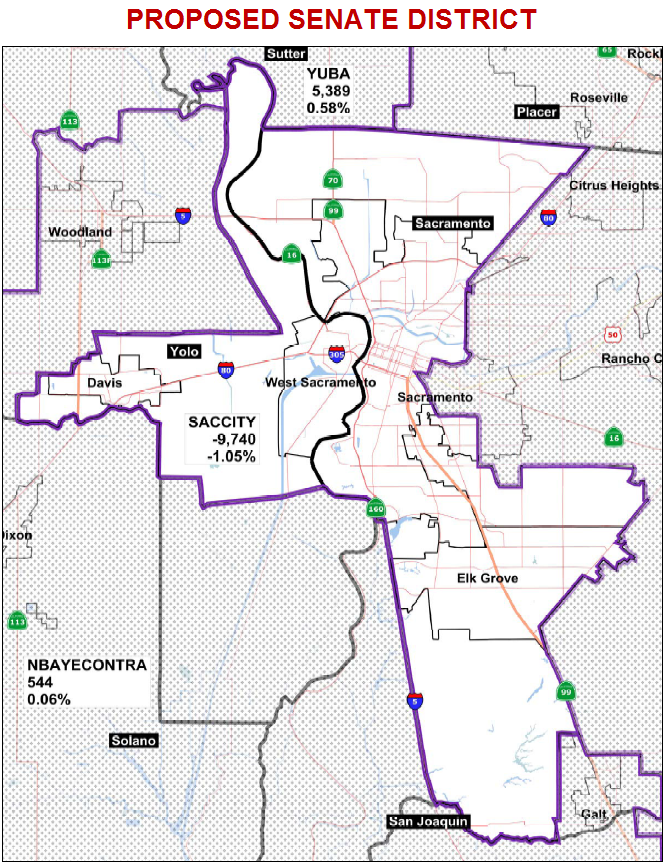 Senator Lois Wolk from Davis would, in fact, be in the same Sacramento region Senate District as Senate Leader Darrell Steinberg. 
That is where this gets tricky.  The Bee argues that they would never have to battle each other for the seat.
Writes the Bee, "Wolk, who lives in Davis, was first elected in 2008 to an odd-numbered district. Her term ends in 2012. If the new draft district including Davis remained the same in the final maps and was given an odd number by the commission, Wolk said she would run again in 2012. Steinberg, a Sacramento resident elected to an even-numbered district, would not be eligible to run because was elected in 2010, giving him a seat until 2014. Members may serve only two terms in the Senate."
They add, "If the district that included Davis received an even number, Steinberg would remain the representative through 2014 and Wolk would have the option to sit out for two years and then run for a second term in 2014. Either way, Wolk said she plans to run for a second term in whatever district includes Davis, and that Steinberg would support her."
Senator Wolk issued a statement stating that she is determined to run again.
"Based on the commission's draft maps released today, I am confident that I could serve well the people of the proposed district that includes my home, a number of communities I currently represent and a region I know very well," she wrote.
Craig Renolds, a Davis resident who is Senator Wolk's chief of staff, told the Bee that he thinks the maps may change significantly anyway "before they are finalized because the 14-member commission has not yet spent significant time reviewing the region in public meetings."
On the other hand, her strongest move might be switching to the Congress.  Davis leaves Mike Thompson's district, which really never made sense in the first place, joining Davis with the northern California coastline.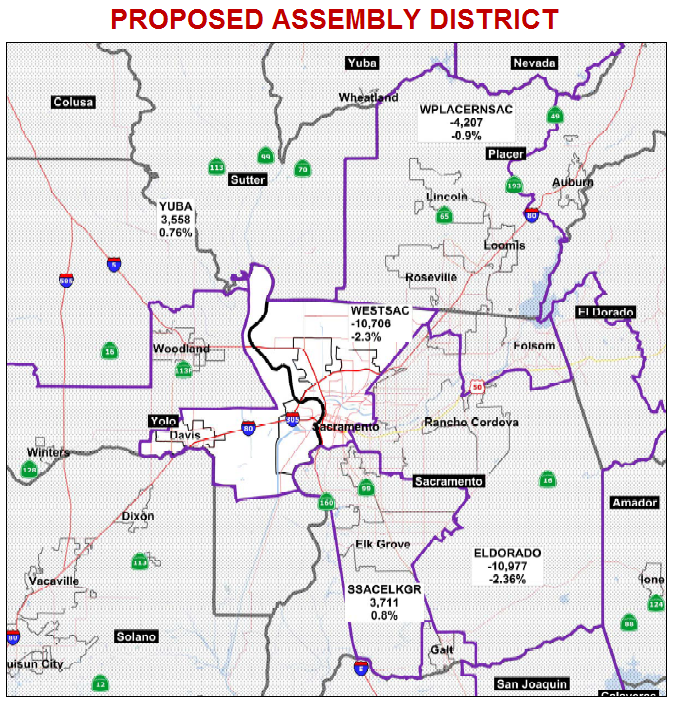 The new district looks a lot like the old Assembly District except it extends into Vallejo, Benicia, Pinole and Hercules in the East Bay.  That district would unite Davis and Woodland but it appears to exclude West Sacramento.
The most contentious will be the Assembly District which will put three incumbent Assemblymembers together. Roger Dickinson and Richard Pan would be in the same district as Mariko Yamada.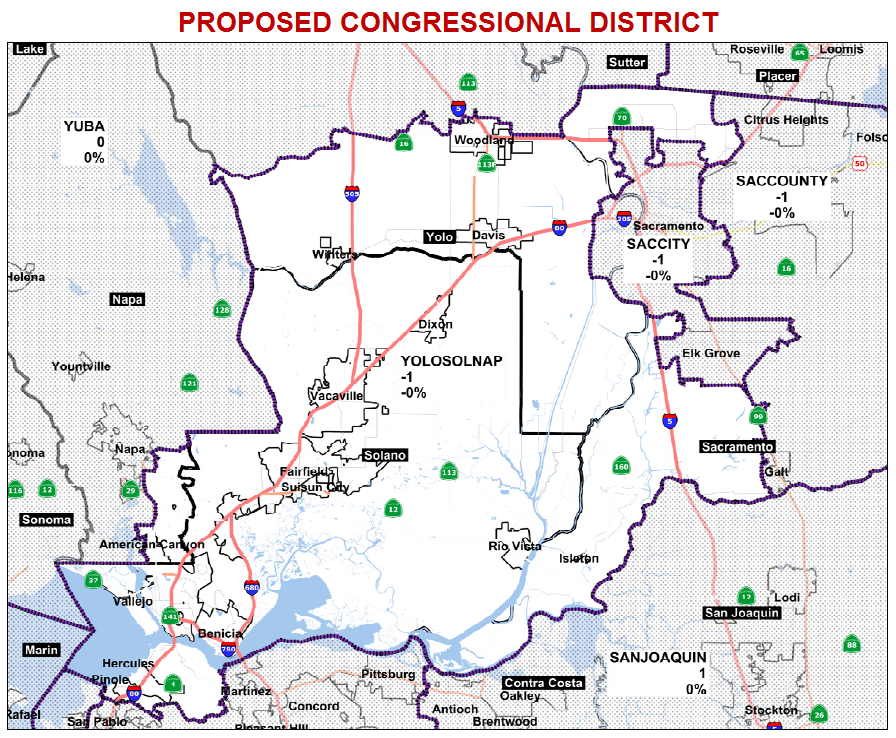 We have not spoken to Mariko Yamada, but Sacramento Bee reporter Phillip Reese believes that Assemblymember Yamada could move her home about a mile to the south into Solano County and end up in "a relatively safe Democratic district that has no incumbent and stretches across much of Solano County," much of which she already represents.
The problem with that analysis is that it ignores Mariko Yamada's roots in Davis that extend a couple of decades, and the fact that she has just one term left before she is termed out.  It might make more sense for her to simply run for the new Congressional District, much of which she already represents.
The bottom line is that this will hurt Yolo County's influence in the legislature as it is split apart and placed into competition with the larger Sacramento, which figures to dominate the landscape.
One person told me that they are glad to see Ms. Yamada go, particularly given her strong ties with the firefighters, but if she does go, it is only one term early and it comes at great cost for the other eight years for which she would not be in the Assembly anymore.
Overall, Mr. Reese, from the Bee's preliminary analysis, shows a large swing in the number of competitive seats.
Writes the Bee, "Bee database reporter Phillip Reese shows 51 would be considered safe for Democrats, 24 safe for Republicans and five in the swing category. That's an increase in competitive seats from the current district make-up, which has 52 safe Democratic seats, 26 safe GOP seats and only two swing districts."
They add, "Reese's formula for determining safe and swing districts applies current voter registration figures and the outcome of the Jerry Brown-Meg Whitman  gubernatorial race last November. Districts that have a registration advantage for one party but chose a gubernatorial candidate of another party are considered swing. Of course there are other factors at play in particular districts that could increase the number of swing districts."
In the Senate, his analysis "shows 27 would be considered safe or leaning for Democrats, 11 safe or leaning for Republicans and two in the swing category. That's an increase in competitive seats from the current district make-up, which – on paper — has 27 safe or leaning Democratic seats, 12 safe or leaning GOP seats and only one swing district."
But looking at those numbers closely, there is not a lot of difference, which is the point that we argued when this measure was on the ballot.  The reality is that, yes you can cut down on the ridiculously apportioned districts like the 1st Senate District, but the residential patterns of California and the overall maps of voting behavior belie a situation where you are going to create a lot of competitive districts.  It is just not going to happen.
All this creates is some new intrigue and some angst amongst the politicians and voters alike.
—David M. Greenwald reporting