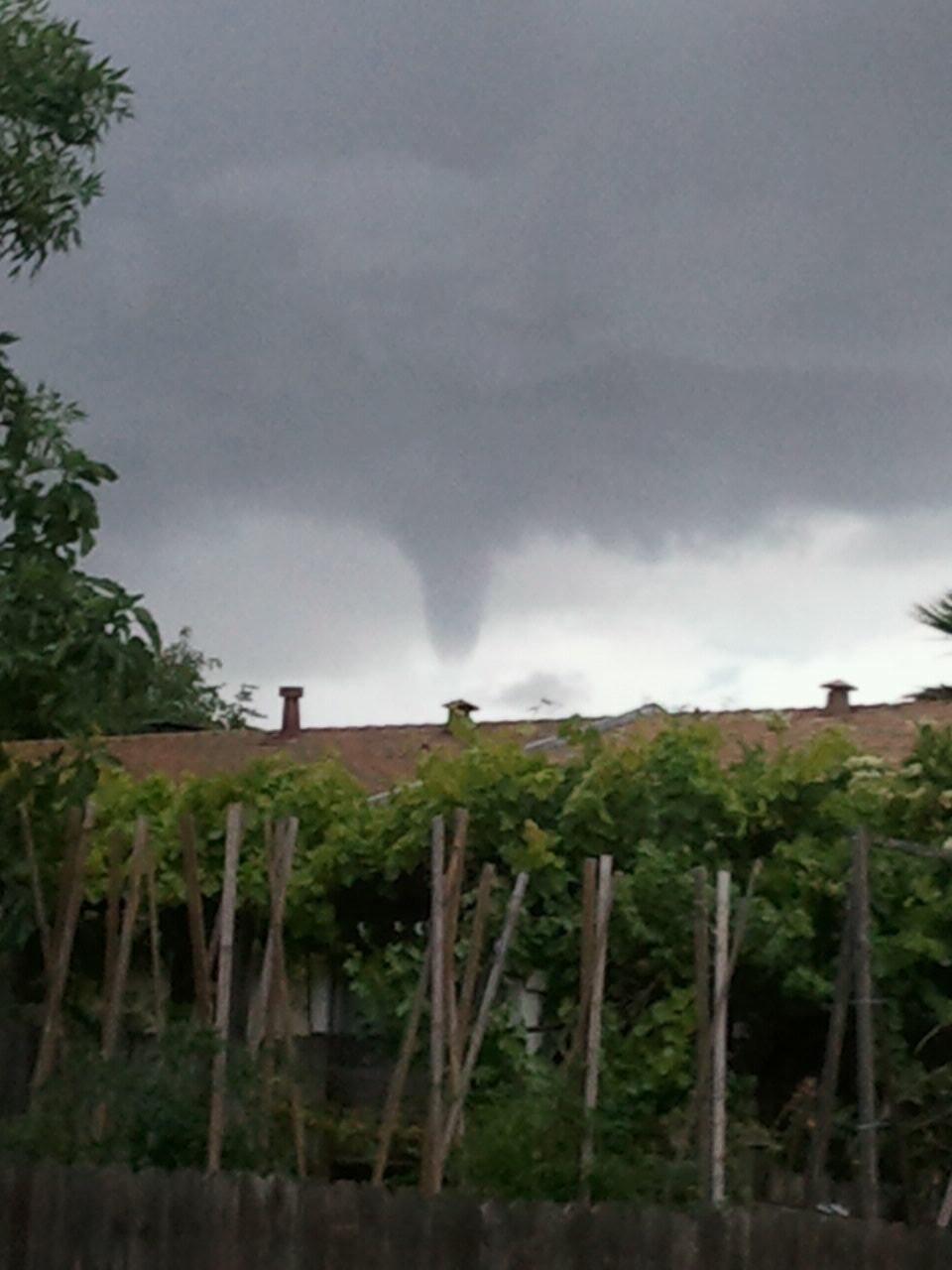 Tuesday this week marked what to many people was a welcomed respite from the summer heat, as a cool rain, more in place for February or March, blanketed the area for hours, dropping close to half an inch.  By most measures, it would have been unremarkable, were it not for the fact that it occurred on June 28 – something that, as we know, just does not happen in California.
Indeed, June began with a funnel cloud hovering over Davis on June 1 and ended with a gentle rain on June 28, before the return of the more typical summer heat by the end of the week.
It is often difficult to separate mere weather from climate, and it is almost forgivable when people make the error of suggesting one day of weather supports or refutes a notion.  Weather can be thought of as a mere data point. It was 98 and sunny today in Davis – that is weather.  Climate is the totality of data points, a trend that paints a big picture.
A recent three-part series in Scientific American paints a bigger picture of what is going on.  John Carey, whose research was funded by the Pew Center on Global Climate Change, wrote that "More violent and frequent storms, once merely a prediction of climate models, are now a matter of observation."
"In this year alone massive blizzards have struck the U.S. Northeast, tornadoes have ripped through the nation, mighty rivers like the Mississippi and Missouri have flowed over their banks, and floodwaters have covered huge swaths of Australia as well as displaced more than five million people in China  and devastated Colombia. And this year's natural disasters follow on the heels of a staggering litany of extreme weather in 2010, from record floods in Nashville, Tenn., and Pakistan, to Russia's crippling heat wave," he writes.
Weather or climate is a question we always must ask.  A single event is weather, a pattern of events is climate.  Extreme weather events have always occurred, but the magnitude of such events is such that they should only be expected to happen once in 100 years.  The predictions of these climate change models is that extreme weather of all sorts will become far more common.
Asks Mr. Carey, "So are the floods and spate of other recent extreme events also examples of predictions turned into cold, hard reality?"
His answer is yes.
"Scientists used to say, cautiously, that extreme weather events were "consistent" with the predictions of climate change. No more. "Now we can make the statement that particular events would not have happened the same way without global warming," says Kevin Trenberth, head of climate analysis at the National Center for Atmospheric Research (NCAR) in Boulder, Colo."
Mr. Carey argues there are two key lines of evidence.  He argues that we have not merely become more aware of recent disasters, but rather "The data show that the number of such events is rising."
To bolster his point, Mr. Carey talks to Munich Re, one of the world's largest reinsurance companies, which has compiled the world's most comprehensive database of natural disasters – going back to AD 79 with the eruption of Mount Vesuvius.
"Researchers at the company, which obviously has a keen financial interest in trends that increase insurance risks, add 700 to 1,000 natural catastrophes to the database each year, explains Mark Bove, senior research meteorologist in Munich Re's catastrophe risk management office in Princeton, N.J.," he writes.
They do find a small increase in geologic events due to better reporting.  But they find the increase in the number of climate disasters is far larger.
"Our figures indicate a trend towards an increase in extreme weather events that can only be fully explained by climate change," says Peter Höppe, head of Munich Re's Geo Risks Research/Corporate Climate Center: "It's as if the weather machine had changed up a gear."
John Carey shifts his attention to a second line of evidence which comes from an emerging branch of science called climate attribution, where researchers "examine individual events like a detective investigating a crime, searching for telltale fingerprints of climate change."
Writes Mr. Carey, "This doesn't mean that the storms or hot spells wouldn't have happened at all without climate change, but as scientists like Trenberth say, they wouldn't have been as severe if humankind hadn't already altered the planet's climate."
However, this science is not without skeptics and remains controversial.
"There's an active debate among researchers about whether the Russian heat wave bears the characteristic signature of climate change or whether it was just natural variability, for instance. Some scientists worry that trying to attribute individual events to climate change is counterproductive in the larger political debate, because it's so easy to dismiss the claim by saying that the planet has always experienced extreme weather."
That said, the evidence seems to be growing "for a link between the emissions of modern civilization and extreme weather events. And that has the potential to profoundly alter the perception of the threats posed by climate change."
Despite the growing consensus in the scientific community, in the United States the discussion of climate change has become injected with politics and thus polarized along party lines.
However, Richard Muller's testimony to Congress should give climate skeptics a bit of pause.  Professor Muller seemed like the perfect agent for climate skeptics, impeccable credentials, a Berkeley physist with a history of questioning scientific wisdom.
He had asserted that global measurements of temperature are flawed by the failure of scientists to account for things like urban heat islands.
While he believes that climate change is real and dangerous, he also believes that climate scientists have oversold their case and failed to heed the warning and criticism of outsiders.
Skeptics wanted a legitimate face, and to put legitimate research behind their claims, so many of them backed the Berkeley Project, including the Charles G. Koch Charitable Foundation.  "Oil billionaires Charles and David Koch are the nation's most prominent funders of efforts to prevent curbs on the burning of fossil fuels, the largest contributor to planet-warming greenhouse gases," a Los Angeles Times article reported on April 4.
In late March of 2011, Professor Muller reported his findings to Republicans on Capitol Hill who expected him to tout the company line.
Reported the Los Angeles Times, "But Muller unexpectedly told a congressional hearing last week that the work of the three principal groups that have analyzed the temperature trends underlying climate science is "excellent…. We see a global warming trend that is very similar to that previously reported by the other groups."
Reported the Times, "Conservative critics who had expected Muller's group to demonstrate a bias among climate scientists reacted with disappointment."
"Anthony Watts, a former TV weatherman who runs the skeptic blog WattsUpWithThat.com, wrote that the Berkeley group is releasing results that are not "fully working and debugged yet…. But, post normal science political theater is like that.", the LA Times continued.
Professor Muller had, over the years, agreed with Mr. Watts' view "that weather station data in official studies are untrustworthy because of the urban heat island effect, which boosts temperature readings in areas that have been encroached on by cities and suburbs."
However, many climatologists claimed that their research accounted for that effect.
"Did such poor station quality exaggerate the estimates of global warming?" Professor Muller asked in his written testimony. "We've studied this issue, and our preliminary answer is no."
Do Professor Muller's findings discredit all criticism of climate change science? No.
But it should serve as at least a cautionary tale that scientific inquiry into skeptic claims may in fact bear out the original findings.  People need to remember that scientific research published in journals is peer-reviewed.  Peers who know the field look for factors that may be unaccounted for.
Moreover, it is competitive.  The idea that there is some convention that would prevent counterveiling evidence to come forward is implausible.  The scientist who discredits a key plank of climate change theory could make a career, that is a strong incentive.
At the end of the day, I think the push against climate change is far more political than it is science-based.  The fact that much of the research is backed by industry money and supported by conservative think tanks ought to give people in the center much more pause.
Finally, I would argue at this point, what do we have to lose by making the kinds of changes and the shift to cleaner-burning technology?
—David M. Greenwald reporting