City Forced to Rely on Efficient Cost-Savings Devices Which Did Not Work As Advertised –
Lost in the shuffle during the budget debate and the employee response was an interesting tidbit in which numerous residents came forward to complain about the use of chip seal on their streets.
The city had been using the product as a way to forestall the inevitable repavement that would be needed on a number of residential streets, but that the city could not afford at this time.
As the city put it in a press release, "Chip seals such as this are used in place of asphalt overlays because it is a relatively inexpensive way to extend the life of a street needing remediation. The process seals the street to minimize intrusion of water into the surface and can extend the useful life of a street for up to ten years."
Or so they believed.  The problem is that sometimes when you cut corners trying to save money, you end up spending more money in the long run because you are using an inferior product.
As many residents complained, the chip seal was a bit spongy, especially as the weather heated up and this caused all sorts of inconsistencies and problems in the road surface.  Six or seven people in the same neighborhood came forward that night at the city council meeting with complaints about chip seal.
After much complaining, the city is finally admitting what apparently many people knew eight months ago, that this experiment has been an abysmal failure.  The city has now announced that it is working to address the problems with double chip seal on street.
In September and October of 2010, the city press release reported, the Public Works Department managed a Capital Improvement Project for the Contractor, International Surfacing Systems (ISS), to install a double chip seal on approximately 96,000 square yards of local street surface in various locations across town.
A letter to the editor appeared on October 17, 2010 in the Davis Enterprise which should have warned us about this impending problem, but few probably noticed and no one in the city offices apparently took heed.
Wrote Davis resident Kurt Austin, "One of the joys of childhood (and adulthood, for that matter) is being able to ride your bicycle or scooter, Rollerblade or play basketball on your neighborhood street. However, this has been made much less safe or enjoyable on many Davis streets recently with the decision to apply an 'asphalt rubber chip seal' on previously smooth surfaces. Plus, aesthetically it's just downright ugly."
"While I can understand the need to be frugal in this economy," he writes, "I would much rather have preferred keeping our previous street surface, minor cracks and all, to the incredibly rough, bumpy, gravelly surface that has replaced it."
This, he noted, is despite "reassurances on the city of Davis notice that states, 'Your street will receive a chip seal with a finer aggregate that will give your street a smooth black finish.' "
He wrote, "I know this town is big on city inspections. Maybe someone ought to go and out and inspect these surfaces. They will most certainly find them to be black, but not even close to being smooth!"
He continued, "Either the city promised what it could not deliver, or was duped by the company that completed the work. Either possibility is a big disappointment."
He then concluded with an ominous warning, "Be warned. Your street could be next."
He was right about that.  And now this has become another scandal for a city that cannot seem to get it right when it comes to cost-saving and about differentiating cost-savings from simply being cheap.
The city press release continued, explaining "This double chip seal was a two-step process with materials selected because they used rubber recycled from spent automobile tires and reportedly produced a durable driving surface for streets needing remediation."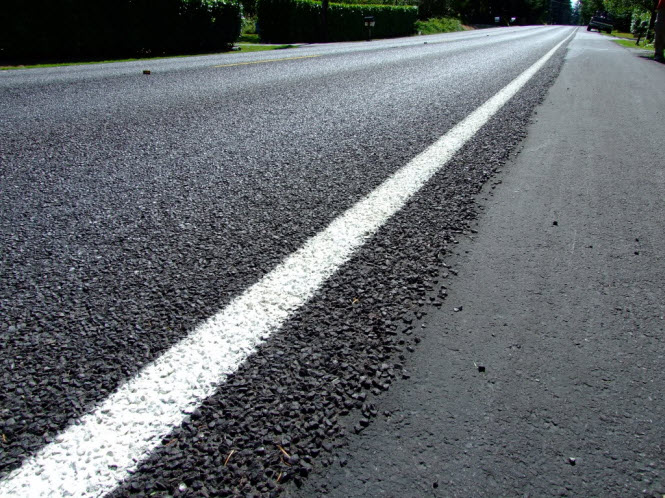 As mentioned, this was done in order to extend the life of the streets in an inexpensive way.
Chip seals, however, are traditionally rougher than an asphalt overlay. This is normal and to be expected. Over a year or so as traffic moves over the surface, the material is kneaded and the aggregates blend into the street, resulting in a smoother surface.
Several weeks after ISS completed the double chip seal project, city staff and residents observed that material was loosening from the street surface and becoming a nuisance.
To remedy this issue, ISS, at the City's direction and for no cost, provided additional street sweeping to pickup the loose material.
As 2011 progressed into the summer months and the ambient temperature rose, city staff and residents observed that the double chip seal material exhibited a softness that was uncharacteristic of street surfaces. Davis Waste Removal's tractor (for picking up green waste), made scars in the surface, and heavy vehicles were picking up the material in their tires.
I support ways in which to save money on capitol projects.  However, what seems to have happened is that the city, in order to find ways to get around the fact that they have a depleted road maintenance fund, instead of finding ways to save in other areas to divert money towards road maintenance, have tried to find ways to go cheap.
Sometimes, going cheap means getting innovative in your approach to providing basic city services to the public and sometimes it is just taking a shortcut and hoping it pencils out.  That latter situation appears to be what happened here, and we will now pay for this in other ways.
The city does not lay out what their "cure" is to this problem. 
According to the press release, they reported, "City Staff have put ISS and their surety on notice of this situation and have directed them to produce a cure at their expense. ISS has suggested a cure and City Staff is researching their suggestion. City Staff have engaged the City Attorney's office for legal assistance and have hired an expert for technical advice."
Is this a real cure, or more cost-savings approaches that, in the long run, will not really be cost saving?
In the meantime, it looks like the city will have to do something.
They concluded their press release, stating, "A solution to the issue should be implemented this summer or early fall. It will involve further construction activities to the streets in question, including no-parking days when the construction takes place. Affected residents will receive proper notification. It is the Public Works Department's objective to correct this situation as soon as possible and with as little impact to the public as we can. We appreciate the patience of the community as we work to address the situation."
In the meantime, we can only hope that the efforts of council to divert $1 million to road maintenance mean that we do not have situations like the Chip Seal fiasco arise in the future.
—David M. Greenwald reporting