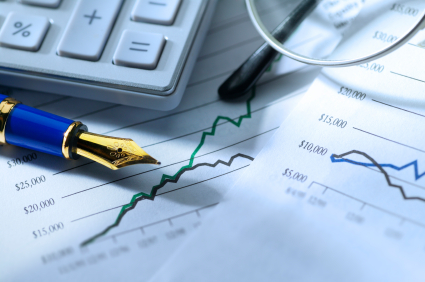 Davis city employees flocked into the council chambers on June 21, many perhaps for the first time, and appeared to be stunned and shocked at what they were hearing.  In part, this was due to lack of outreach and communication.  In part, this was due to the fact that the previous city manager and city council kept the true nature of the problem hidden from public employees and the voters alike.
In order to understand why the seemingly sudden $2.5 million in personnel cuts is necessary, we need to look at a number of factors that led to this policy.
I argue that the need for these cuts is fostered in unsustainable fiscal policies from the middle part of the previous decade.  These policies worked on paper so long as the city experienced property tax growth, and from 2003-04 to 2007-08, property tax revenues nearly doubled from $7.4 million in 2003-04 to $14.3 million.
The city also took advantage of $3 million in sales tax from the 2004 half-cent sales tax hike.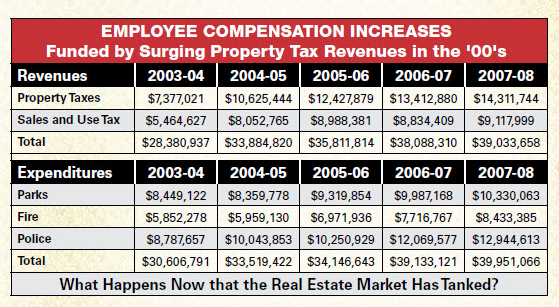 As a result, during the same period employee compensation grew dramatically, particularly on the public safety side, where the city expenditures for fire personnel increased from $5.9 million to $8.4 million in four years, and police personnel expenditures increased from $8.8 million to $12.9 million.
However, following the collapse of Lehman Brothers and the Real Estate Market, the city was unable to keep up with the tremendous gains in salary and benefits.  At this point, both sales tax revenues and property tax revenues are flat, but somehow the city is going to have to pay increased costs from retiree health and pensions.
How big are we talking?  Let us look.
At the same time, we see an explosion of commitments to employee pensions and health benefits.  In the year 2000, CalPERS was superfunded, meaning that they had enough money to pay current pension obligations without taking much money from employers or employees.  This was due in part to the dot.com boom in the stock market.
However, at roughly the same time, local governments began increasing pensions to public safety and then later all employees.  Public safety began to retroactively receive 3% at 50, and later all employees 2.5% at 55.  Once they made it retroactive, the money had not been paid into the system, thus creating an unfunded liability that has only increased over the last decade.
We had no unfunded liability in 2000-01.  Two years ago the number was $25 million.  Now we are looking at a $45 million in unfunded liability, due to rate smoothing by PERS.
Couple that with decreasing earnings expectations, and cities like Davis will have huge bills that will come due at a future point in time.
In this chart, which was actually created back in 2009, we can see the explosion in PERS contributions from 2000-01 when it was superfunded, to the present.  Even ignoring the superfunded period, from 1990 to 1999, the average PERS contribution was $1.8 million, and by 2010-11 it was approaching $7 million.
The last years on that chart were projections, but what actually happened is that CalPERS did a "rate smoothing" so that it flattened the actual costs, pushing them off to future years in hopes that things will improve.
The question is, where are things going.  CalPERS currently projects that they will make about a 7.75% return.  However, most analysts believe that rate is too high.  Last year, they voted narrowly to continue at 7.75%.   Most believe that they will drop that to 7.5% or 7.25%.
Paul Navazio has calculated that for each .25% drop in the assumed annual rate of return (ARR), the city would have to pay out $1 million all-funds to cover it.
Back in January, the council discussed this issue.
Councilmember Sue Greenwald told the council, "Starting two and a half years from now, when the permanent increases start to kick in, how much more per year in absolute dollars will we have to pay out in pensions and retiree health over what we pay today, assuming a one-half percent decrease in the return rate assumptions?"
The answer is scary.
"We will be paying $7 million more than we're paying today," Councilmember Greenwald said.
"That's every year, pretty much forever, that we'll have to readjust our budget pie," she said.  "This is huge and you can just see that in the 53% in four years, in the absolute value of our benefits."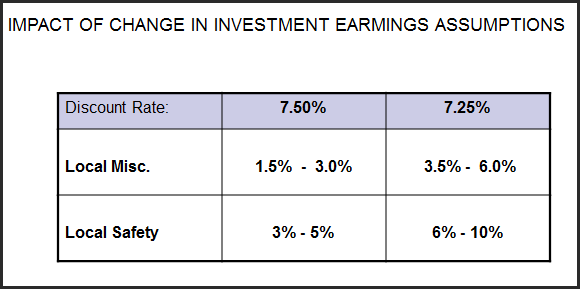 Assuming a linear impact, you can see that for every quarter percent, you are looking at about a 3% impact on miscellaneous employees and a 5% impact on safety.  The numbers get scary pretty quick when you understand those numbers are additional percentages of payroll over and above what we are paying now.

Here you can see the impact of just moving from 7.75 to 7.5% ARR.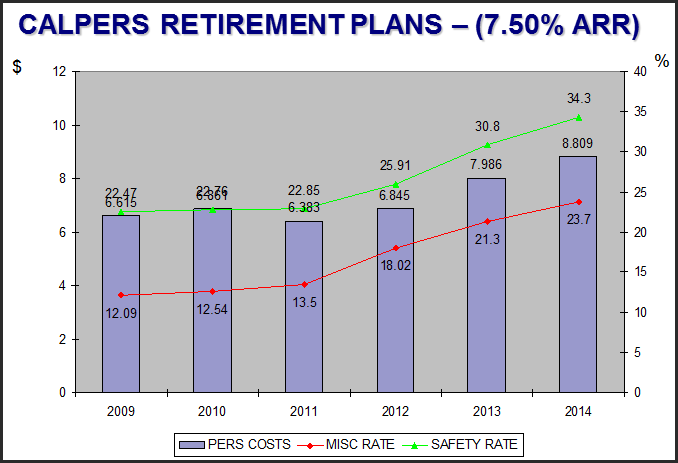 Imagine what a $7 million budget hit looks like.  That is what is actually coming for the city.  Add in the increased PERS costs, the reduction of .25% in ARR, continued flat revenues for both sales and property taxes, increased payments toward the unfunded retiree health liability, and increased transportation costs stemming from the need to put general fund money into road repair. Add in the loss of money from redevelopment, and finally add in the potential loss in revenue from the parks tax due to huge increases to water, and you are easily looking at $7 million, if not $10 million by 2015.
What this budget attempts to do is move us in the direction of funding that $7 to $10 million, incrementally.
What it purports to do is to put $850,000 into transportation to pay for road repair.  The road repair issue stems from the loss of state and federal grants and other one-time funds.  Even with that funding, the city was only at $850,000 per year in funding for road repairs.  This was creating a backlog of deferred maintenance.  At the present rate of trajectory, the city was looking at roughly $15 to $20 million in deferred maintenance costs.  This puts the city back on track to at least keep up with current demands.
Second, it takes $500,000 and puts it towards pensions.  Some argued that this was premature, but why wait when you know it is coming?  At worst you are cushioning the blow, and if you do not need it, it could be put into retiree health.
Retiree health is the last part of this equation.  The city has moved toward fully-funding what is now a $60 million unfunded liability.  It will take at least 30 years funding it at $4 million additional in funds to fully fund the retiree health program.  $1 million will now go toward that, which will help close the gap sooner and reduce the city's costs.
What has happened is a perfect storm, with increased employee compensation, increased obligations to pensions and retiree health, combined with the collapse of revenue streams, which have necessitated the city to get a handle on future costs or risk bankruptcy and massive job loss.
Unfortunately, the city employees make up 80% of general fund spending and $7 million represents roughly 20% of the spending.  That means that other than perhaps a few cost-cutting measures that the city has not employed outside of employee costs, most of the reduction will have to be borne by the employees.
Employees can do their part to reduce the need for layoffs.  I have already laid out ways for the city to reduce costs through an across-the-board ten percent pay cut to department heads and managers along with reduction in fire personnel staffing.  Employee concessions could include taking up a greater share of PERS costs and a second tier for PERS rates, which would be a longer term solution to this problem.
Had the council not acted now, the problem would have been worse and the impact to city employees more severe and sudden.  Previous councils and city management did little favor to the employees by deferring the costs and thus the pain of cuts.
—David M. Greenwald reporting