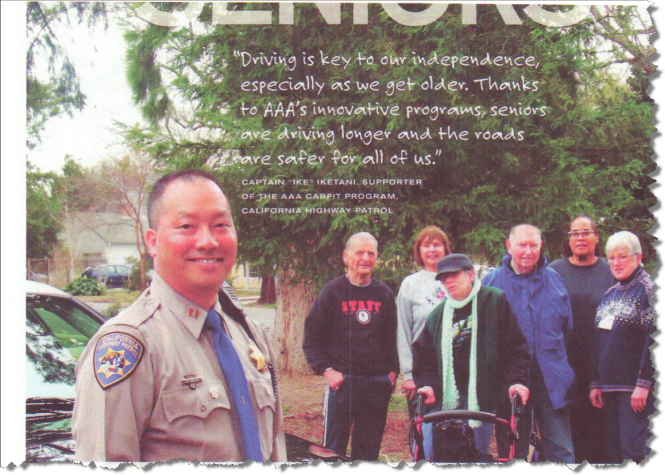 By Elaine Roberts Musser
If a driver is physically or mentally impaired to such an extent that it seriously interferes with the ability to drive safely, what should be done?  According to California Highway Patrol Chief Mona Prieto, "There are 11 million drivers 75 and older in the United States.  With the baby boomer population aging, in twenty years one in four drivers will be elderly.  And studies by the Insurance Institute for Highway Safety find that older drivers themselves suffer the most severe consequences of their crashes."
As CHP Deputy Commissioner Joe Farrow reminds us, "Unlike the legal age set for when you can start driving, there is no legal age for when you should stop.  It varies person to person on a number of factors, including physical health, eyesight, and what medications you may be on."
According to Dr. David Norene, an internist and geriatrician, "What happens when you age is that your reflexes tend to slow down.  And you may not be able to react as quickly to events as you would otherwise.  Sometimes medications are prescribed, which also can slow down a person's reaction time and their thinking time.  Also the aging process can effect vision and hearing.  So I would encourage families and physicians to take note of these and address these problems before they become a serious problem."
Should doctors see an illness, such as dementia, Alzheimer's Disease, lapse of consciousness or poorly controlled diabetes, those are reportable to the county.   That information is then forwarded to the Department of Motor Vehicles.  Most likely the effected person's license will be revoked as it should be, for everyone's safety.
But how do you start the challenging conversation with your impaired loved one on giving up the keys to the car?  It is difficult to be brutally honest with an elderly parent.  Often adult children feel as if they are being disrespectful towards their loved one.  It is not uncommon for an elderly father to have the role of being the one in charge.  He stubbornly has no intention of giving up his authority or independence, even if it kills him or others on the highway.
But as Deputy Commissioner Joe Farrow points out, "It may be difficult, but it's a conversation you need to have.  This is a family issue to be sure, but it is a law enforcement issue as well.  Running a red light, going through a stop sign is illegal and dangerous, no matter the reason."  Just ask Carolyn Roberts, an adult daughter whose mother was killed by an older driver.  She feels strongly that "the vehicle is a weapon…if we are impaired physiologically… then we possibly should not be behind the wheel.  And it really doesn't matter what age."
So how do you start the difficult discussion?  Janice O'Brian, a woman whose father was diagnosed with Alzheimer's Disease, explained, "My father is 73 years old, and about three years ago he was diagnosed with Alzheimer's…So we had to create a plan, and now we make him dinner, we take him on …errands, things like that."
Elaine Roberts Musser, an attorney and Yolo County Commissioner on Aging, notes if the elderly person does get into an accident, "The financial implications can be massive…You may be responsible for the other person's medical expenses…  As a legal professional, I believe it is the responsibility of everyone to determine whether a senior needs those keys taken away.  That means if you're an adult child of the elderly person, if you're a doctor, even a friend.
Carolyn Roberts agrees: "You're talking about a huge financial liability.  The person who is killed, or the people who are… injured, could potentially sue the family for their life savings.  And I hate to say that there is a monetary issue tied to this, but that is the reality."
As Ms. O'Brian succinctly put it, "We didn't want to have a defining moment like that.  We were afraid to, if we waited until a time like that, we would feel guilty, we would feel like we had a legal responsibility, because we knew of…[my father's] issues and we were still allowing him to drive."
Deputy Joe Farrow summed it up best by insisting, "So don't wait for a defining moment.  Have the difficult conversation now, for the senior's safety, for your safety, and your family's safety, and everyone else on the road."