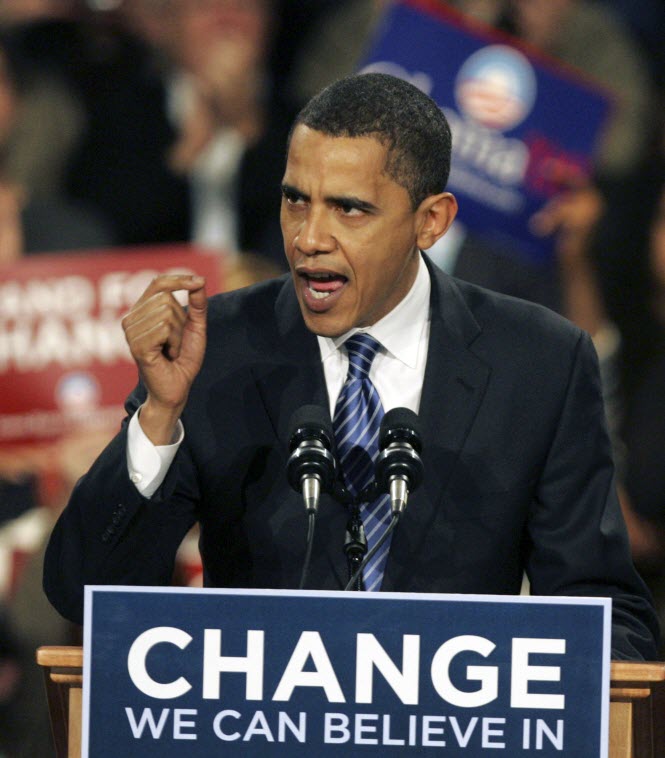 I really dislike writing about national politics, as it is too polarizing and tends to induce meaningless partisan debate.  Sometimes though, you just cannot avoid it, and this week really is about the national calamity that faces this nation.
There was a time when I bought into the Obama hype about hope and change.  It did not take long for reality to sink back in.  But to be fair, the near collapse of the nation's financial markets, along with a collapse of the real estate market and the near collapse of the US auto industry did not happen under Obama.
Still, history will judge Obama on how he reacted in a time when the nation was at a low point.  I am not going to tell others what to think of Obama, I think like anyone he is complex and a mixed bag.  But I know how I will judge him.
I will judge him on the debt ceiling crisis.  He had a choice: he could solve the problem of the debt ceiling as Harry Truman had and simply raise it.  Or he could bargain and eventually capitulate.  That is what he did.  What we now see, in this nation with teetering financial markets and gloomy forecasts, are the result of that capitulation.
The problem I face is that I do not exactly have anywhere good to go.  I am fundamentally opposed to the other side of the aisle.  I think most third parties are naïve at best and dangerous at worst.
The crisis was in every single way self-inflicted and I am reminded of Star Wars I, in that this was the phantom menace and I am not even sure who was pulling the strings behind the stage on this one. It may have been stupidity matched with sheer stupidity.
Because, while the President may go down as Capitulator in Chief, Republicans are just plain reckless.
I can see my conservative friends and readers saying, here we go, blame the Republicans.  The truth is, I blame both sides and I just laid out exactly where and how much blame Obama gets.  Now it's the Republican's turn to take their lumps.
I saw the comment from someone lamenting on how horrible it was trying to balance the budget.  I think I have established myself as a guy who would be pretty fiscally responsible.  I agree we need to move back toward the balanced budgets we had 20 years ago in the 1990s.
But I am not sure that in the depths of the worst recession since the great depression is really the time to be cutting spending in massive amounts.  And I am very much believing that you do not risk the full faith and credit of the United States of America to do this.
That is what happened.  It is a fact.  We will be paying for this, perhaps forever.
Last night the S&P (Standard & Poor's) removed the United States government from its list of risk-free borrowers for the first time ever.  It's not exactly clear what that means other than symbolically.
As the New York Times reports this morning, "It described the decision as a judgment about the nation's leaders, writing that 'the gulf between the political parties' had reduced its confidence in the government's ability to manage its finances."
"The downgrade reflects our view that the effectiveness, stability, and predictability of American policymaking and political institutions have weakened at a time of ongoing fiscal and economic challenge," the company said in a statement.
What does that mean?  Well it could mean that investors would demand higher interest rates from the federal government which would raise costs of borrowing.  That's not a good thing.
"What's changed is the political gridlock," said David Beers, S.& P.'s global head of sovereign ratings. "Even now, it's an open question as to whether or when Congress and the administration can agree on fiscal measures that will stabilize the upward trajectory of the U.S. government debt burden."
However, experts say that the fallout could be relatively modest and "because Treasury bonds have always been considered perfectly safe, many rules prohibiting institutions from investing in riskier securities are written as if there were no possibility that the credit rating of Treasuries would be less than stellar."
This pales in comparison to what would have happened had there not be a raising of the debt ceiling.  The message has been sent.
As one columnist wrote, "I still think it was terribly wrong for the Republicans to use the threat of default to insist on massive spending cuts, though President Obama also deserves blame for playing his hand so poorly."
He added, "Putting on my pragmatist hat again, I also think Congress could not have chosen a worse time to rein in spending. Yes, the country's enormous debt – and the entitlement programs that are driving the federal deficit – needs to be brought under control."
You have to consider how poor the economy is and then ask whether "choking off spending" will make matters worse.  That is what we have done.
Again, this is not just about blaming Republicans.  They had the wrong policy, but Obama mishandled the crisis, which he could have put a stop to immediately.
From the left, the criticism has been deafening.  Liberal economist Paul Krugman wrote that the Obama administration has insisted that the economy was on the mend.
"But," he wrote on Thursday before this mess reached full-force, "the economy wasn't on the mend.   Yes, officially the recession ended two years ago, and the economy did indeed pull out of a terrifying tailspin. But at no point has growth looked remotely adequate given the depth of the initial plunge."
He attacks both sides.  First the Republicans: "Republicans won't stop screaming about the deficit because they weren't sincere in the first place: Their deficit hawkery was a club with which to beat their political opponents, nothing more – as became obvious whenever any rise in taxes on the rich was suggested. And they're not going to give up that club."
Then Obama: "But the policy disaster of the past two years wasn't just the result of G.O.P. obstructionism, which wouldn't have been so effective if the policy elite – including at least some senior figures in the Obama administration – hadn't agreed that deficit reduction, not job creation, should be our main priority."
He also blames the Fed: "Nor should we let Ben Bernanke and his colleagues off the hook: The Fed has by no means done all it could, partly because it was more concerned with hypothetical inflation than with real unemployment, partly because it let itself be intimidated by the Ron Paul types."
The weirdest part, as pathetic as Obama looked in this crisis, he came out okay.  Writes the Washington Post Friday, "Through the wreckage of the last month emerges Obama. Battered and bruised, for sure. But still standing."
Perhaps it is just good by comparison.  The Post reports, "Compared to Congress, Americans liked his handling of the debt-ceiling negotiations: 46 percent approve, 47 percent not so much. They trust him more to make the right decisions on the economy (47 percent) than congressional Republicans (33 percent). And they like job he's doing, again relatively speaking. Obama's approval rating rests at 48 percent."
Meanwhile, Congress is at an all-time low, and considering they have been low for the 25 years I have watched politics, that is saying something.  "At 82 percent disapproval, Congress has the highest negative rating in the history of the poll. Boehner's job performance got a thumbs down from 57 percent of those surveyed. His approval rating is just 30 percent. Folks were none-too-pleased by the debt-ceiling mess. They didn't like how anybody behaved. Not Republicans (72 percent). Not Democrats (66 percent)."
Those of you defending the Tea Party, you are a vast minority in this country, "And the disapproving view of the Tea Party, which has members of Congress who profess to do its bidding, continues to grow. The Times poll from April put the approve-disapprove at 26 percent-29 percent. Today, it's 20 percent-40 percent. Not only that, now 43 percent think the Tea Party has too much influence on the GOP. In April, it was just 27 percent."
Despite it all, President Obama may survive and gain reelection not because he has been a good President, but because the Republicans have been worse.  They have focused on stupid things like the "birther" controversy.  And they were reckless and nearly plunged the country into economic disaster for no good reason.
Moreover, the cast of characters that are lining up to take on the President next year are, shall we say, "challenged."  And that's being kind.  When Michelle Bachman is taken as a serious candidate, you are not about to unseat a sitting president.
Unfortunately, I take no solace in these numbers.  I see a needless crisis and a void in leadership, and a Washington that has no idea what real people have to deal with on a daily basis.
They don't feel our pain, they are simply playing a game.  As Simon and Garfunkel once said, "Anyway you look at this we lose."  It is the Phantom Menace and the politicians have conspired to create a fake crisis because they want to distract us from focusing on the real one.
—David M. Greenwald reporting