Sacramento City Manager Contract Shows Us Business As Usual Continues –
The numbers were stunning.  And they come as a stark reminder that business as usual is not over, that the arms race top to bottom has not been thwarted by the economic downturn nearly as much as we would like to believe.  That even as Wall Street and, indeed, Washington sway under the pressure of a potential new downturn, the message has not been reached on Main Street any more than it has on Wall Street.
We can perhaps excuse or even forgive the Davis City Council giving Steve Pinkerton $188,000 in salary.  After all, the City of Davis was near the near bottom in city manager compensation.
But the numbers coming out of Sacramento on Tuesday should sound alarm bells up and down the coast.  Sacramento, whose city has laid off public safety workers galore, will be giving their new city manager, John Shirey, tens of thousands of dollars more than the two previous full-time city managers.
According to the Sacramento Bee his base salary is $258,000, which is higher than any other current city manager in the region, and he will receive a total of $305,940 in salary, benefits and allowances.
Worse yet, "The City Council's offer to Shirey comes just weeks after it filled a $39 million budget deficit by making cutbacks that included laying off 42 police officers."
Councilmembers can justify it any way they want.
"It's a fair package for a professional city manager, for the capital of California and the largest city in the region," Councilwoman Sandy Sheedy said. "We need someone who needs no training, who can just come in and start putting the city in the right direction."
Mr. Shirey himself said that "people should know that I'm going to earn every dollar and more."
"I'm always expecting something to be said any time a public official's salary and compensation is there in the public venue for review," he said. "My salary is very fair compared to my peers up and down the state. If anything, it's under market."
On the one hand, Sacramento is among the largest cities in the state, and two dozen city managers earned more in 2009 than what Mr. Shirey will make.  However, he is getting about a $35,000 more than his predecessor, the interim city manager, made and $49,000 more than what the previous city manager made.
Even Mayor Kevin Johnson questioned whether this was the appropriate time to boost the city manager's pay.
"John deserves our full support as he prepares to become city manager, but today's news is a tough pill to swallow for our community," Mayor Johnson said. "It's hard to justify salary raises and contract guarantees when we're cutting cops, closing fire stations, and watching our economy enter a free fall. I'll respect the will of the Council, but understand why this hiring process continues to frustrate the public."
Now the reality.
As much as the contract in Sacramento is stunning in that it gives the city manager in Sacramento a huge raise at a time when the city is cutting back vital services, there are a few things that should sound alarm bells in Davis.
First, as stunning as the salary is, it is really not that much higher than ours, especially when you consider the population difference and the revenue difference in the communities.
Moreover, if the $281,000 total compensation figure for Steve Pinkerton is remotely correct, Mr. Shirey will only make about $24,000 more in total compensation than Mr. Pinkerton.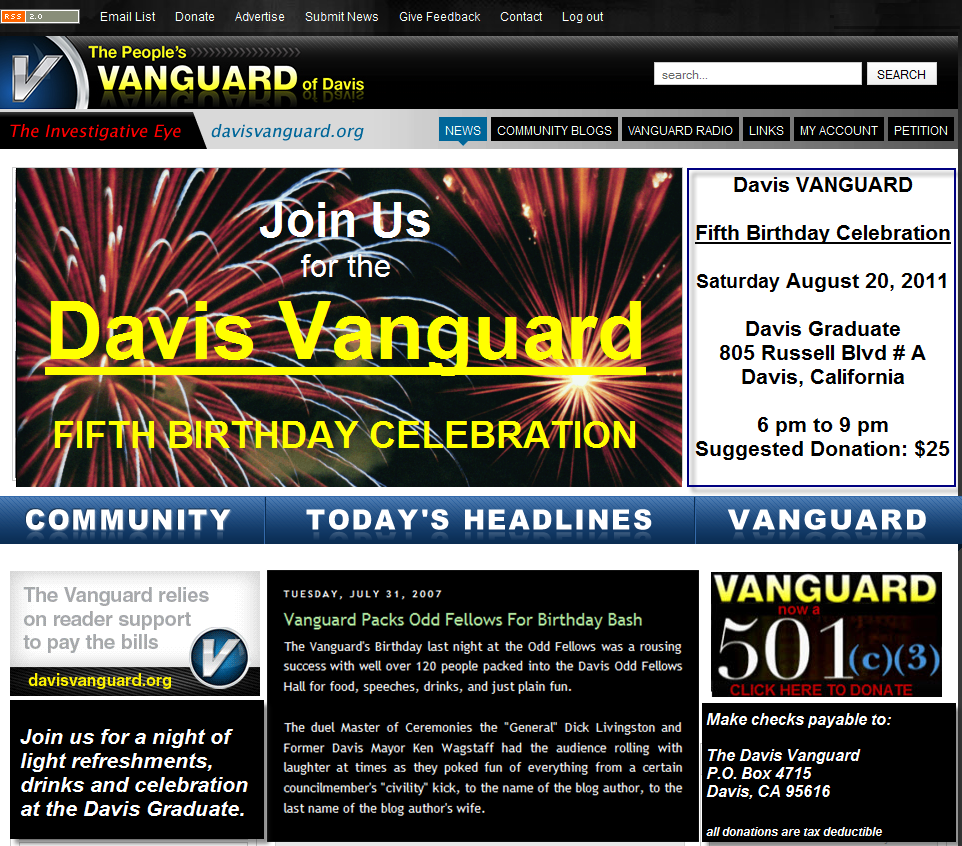 The alarm bells will sound from Sacramento because it is a big city that everyone is watching, but what this really shows us is that even now, when revenues have not rebounded, when the economy is teetering back on the brink of another recession, cities have not been able to find ways to stop the arms race.
The problem, of course, is twofold.  First, a city like Sacramento or even Davis will justify the higher rate, arguing that they need to hire a quality individual to lead the city, and they can rationalize that the general fund hit caused by $35,000 is minimal compared to the size of the budget.
Neither Davis nor Sacramento will break their budget based on the salary of one city manager.  However, it is an illusory justification.  The salaries at the top inevitably will pull the rest of the salaries with them.  Moreover, they send the message to employees not to cooperate.
This is the real danger.  We are telling employees that we face economic crisis if we do not make cutbacks and then we go out and raise the manager's salary by $34,000.  How much sense does that make?
The problem is that we are in real danger.  We face economic collapse in this city if we cannot reform our system, but the nuclear arms raise to economic destruction is continuing unabated.  Across the state apparently, city councils have proved that they cannot resist raising city manager and other management contracts.
And, while it is true that Davis and other cities have seen unsustainable rates of increase across the board to employees, led by firefighters and public safety, it is difficult to look at the size of these raises and the timing and not think, placing yourself in the shoes of a Bobby Weist, why should I cooperate when they are going to be lining the pockets of the top executives?
Why should rank and file employees even consider taking less money when the leaders in a city – the city manager and the city council, cannot control the top of the line?
I naively thought that the current downturn would bring back sanity and end this ridiculous race to the bottom.  Sadly, that will not happen.  And it is quite simply stunning.
I am beginning to believe that cities deserve what they get.  It is frustrating, because neither the communities that they represent, nor the workers that rely on them for their pay checks, deserve it.
—David M. Greenwald reporting