There has been a lot of talk about the new California districts; the consensus is that while there may be a limited case to be made for racial disparity and the disadvantaging of minority voters, California is likely stuck with what it has created.
That is because, short of a court decision to call the citizen redistricting commission unconstitutional – which appears very unlikely – the voters are probably not going to willingly vote to turn the power back to politicians to draw district lines.
The biggest complainers in this process are the very Republicans who saw this process as a way to remove the drawing of district boundaries from the hands of Democratic legislature.
A Sacramento Bee editorial on Sunday called this "carping" that this is "a failed experiment at permitting citizens to redraw legislative boundaries," and "buyer's remorse."
They wrote, "Republicans ought to thank the commission for a job reasonably well done, and be happy that the lines commissioners have drawn were not far worse for the once-Grand Old Party of California."
As we wrote last week, there seems to be a certain level of denial among Republicans about where they stand with California voters, this despite the fact that, other than the Governor Schwarzenegger regime, Republicans have been shut out of most major offices in California since 1994.  And in most cases, it is not even a close call.
It is not that errors were not made.  The Bee cited "Martinez, the Contra Costa County seat, is in a district that includes Yolo and Napa counties," but the Bee also wrote, "But leaders should stop the bellicose warnings about funding a referendum to unravel the commission's work and turn the redistricting responsibility over to a panel of judges."
To be honest, I would prefer that a panel of judges do exactly this.  However, the Republicans are being silly if they think it is going to help them.
The Bee echoed our argument from last week, "Any losses have nothing to do with the commission and everything to do with demographics and voter registration.  This is a party that has been losing market share for years. A mere 31 percent of California registered voters call themselves Republicans."
When you are dealing with numbers like that, you cannot win.
The other major concern is the notion that "white voters will dominate" in the new districts.
Jim Sanders of the Sacramento Bee, as is usual, did a good job of dispelling much of these concerns.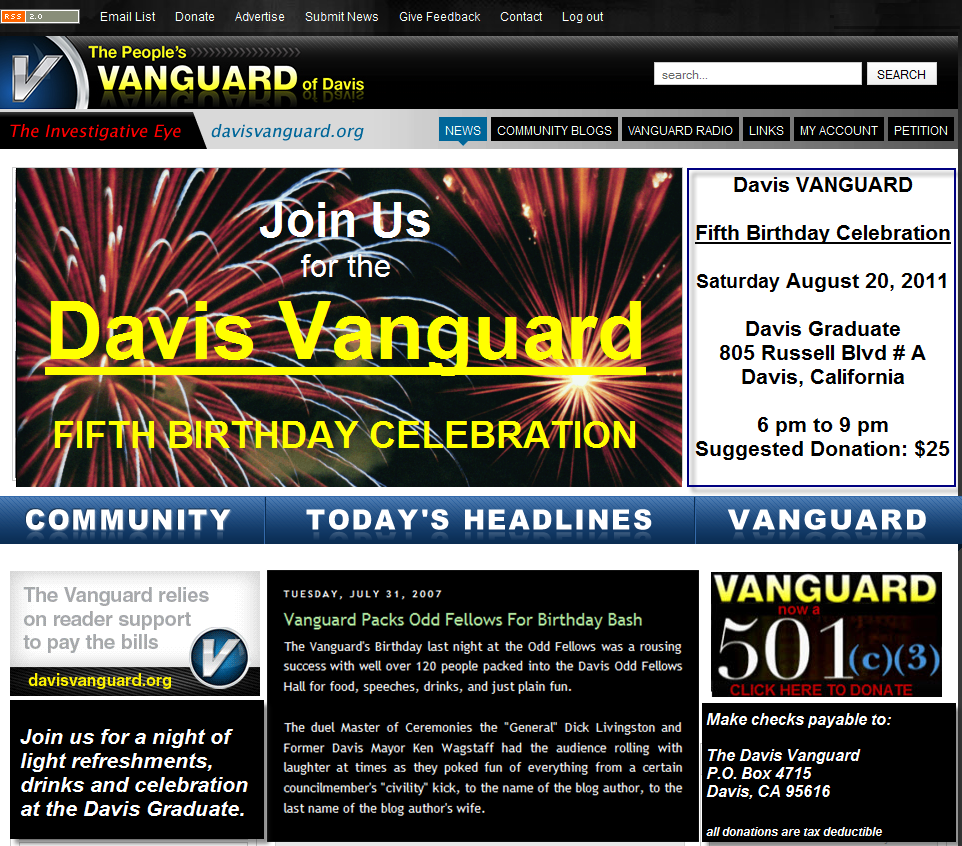 He wrote, "Districts drawn by the state's first-ever redistricting commission may bolster the clout of other racial groups – particularly Latinos – but probably not end the longtime political dominance by whites."
But beneath those numbers is a very different pattern.  While it is true that California's white population is now a minority in absolute terms, they remain the largest single group, which distorts their influence.
Wrote Mr. Sanders, "In six of every 10 new legislative and congressional districts drawn by the California Citizens Redistricting Commission, whites comprise more than 50 percent of the adult citizen population, exceeding the total of all other groups combined, according to statistics by Redistricting Partners, a research and consulting firm."
But that imbalance has more to do with population distribution rather than discrimination.
However, increasing it does not matter.
"Minorities, more and more, are getting the ability to get elected almost anywhere," said Paul Mitchell, a Democratic strategist and leader of Redistricting Partners.
The article cited two Asian-Americans, including Mariko Yamada, who were able to capture seats in districts where Asians represent a tiny fraction of the population.
Moreover, while there is no district in California that has a majority that is African-American, there are six blacks in the Assembly and two in the Senate.
Latinos hold a majority in just 14 districts, but hold 23 legislative seats.
Part of the problem is that whites tend to dominate the rural areas, coastline and Los Angeles suburbs according to Tony Quinn, a political analyst who was formerly a GOP legislative aide, as he told the Sacramento Bee.  Moreover, as he pointed out, whites account for 60 percent of all votes that are cast.
The bottom line, the analysis suggests, is that Republicans will lose seats this year, not because of any bias by the commission that is required to have the support of all three groups (Democrats, Independents, and Republicans), but because they have lost numbers over the past decade.
Meanwhile, minorities whose numbers have grown but who remain concentrated in small geographic areas, will have increased clout but gained few seats in which they are the majority.
The Bee even was able to defend, with some credibility, the shortcomings of some of the districts.
For instance, the commission gave San Joaquin County, home of Stockton, its own Senate District.  But that meant that other districts became distorted, such as one that now stretches from Rancho Cordova to Death Valley along the eastern edge of the state.
However, they defended it, "But given that so much of California's population growth over the last decade has occurred in the south and along the coast, it is inevitable that some distant rural areas will have to be married with Sacramento's suburbs."
Indeed, there is nothing particularly unique about it.  Recall the old state Senate District that Maurice Johannesson held in the 1990s.  It extended from the Oregon Border to include Yolo County and Solano County up unto Benicia.  In fact, that map had three districts in northern California, each of which extended from the Oregon Border south toward the Bay Area or Sacramento.
Or, recall our current Congressional District, which extends from the Oregon Border south to Santa Rosa and then veers across to capture Napa, parts of Solano and Yolo County.
Population density practically dictates that.
The Bee called this process "far preferable to the old system in which legislative leaders and their operatives picked their voters."
Perhaps so.
To the Republican whiners, the Bee said, "Instead of griping about the lines, Republicans should focus on recruiting candidates who appeal to that fast-growing segment of the population. While they're at it, they should find candidates who can attract moderates' votes."
Probably good advice.
The Bee stands by its previous position: "Under the current system, leaders of both parties meet in back rooms and carve up the state after each 10-year census. By dividing up communities based on party prerogatives, they ensure safe seats for incumbents or designated heirs, creating legislative districts that resemble a mix of distorted Rorschach blotches."
At the end of the day, as the state of California now stands, it probably does not matter how the lines get drawn, the Republicans are going to be on the outside looking in.  And the Bee's advice is probably best as to how to combat that.
—David M. Greenwald reporting