Will Water Policies Further Imperil Funding to Local Schools?
An already bad month is about to get worse, and we are only a third of the way through August.  It seemed like, just a few months ago, a rebounding economy was triggering less deep cuts to education and other state programs.
Now, as the July numbers come out, showing dropping revenue, fears on Tuesday were raised that deeper cuts to education would be needed.
"While July's revenues performed remarkably similar to last year's, they still did not meet the budget's projections," said Controller John Chiang. "While we hope for better news in the months ahead, every drop in revenues puts us closer to the drastic trigger cuts that could be imposed next year."
His monthly report, covering California's cash balance, receipts and disbursements in July, shows revenues were down $538.8 million (-10.3 percent) below projections from the recently-passed state budget.
Recall that in order to make the budget be more than just a "paper" balanced budget like those of the previous administration, automatic cuts would be triggered if revenues fell short.  Cuts include a reduction in school spending that shrink the academic year by up to seven days in some districts.
Water Rate Hikes Could Put Local Funding in Jeopardy
On the heels of this bad news, is a taste of local reality.  The Davis schools have avoided the most draconian cuts, due the generosity of local voters who have passed three parcel taxes since 2007.  However, that might be about to end.
While there were some clear missteps along the way, voters only very narrowly approved Measure A with 67.2 percent of the vote that required 66.7 percent in order to pass.  That measure put into place a $200 parcel tax for the next two years, in hopes that by the time it expired, the economy in the state would be improving and thus future extensions would not be necessary.
Already there was bad news, as experts expected the state's high unemployment rate to remain in place until 2013.
Yesterday the Federal Reserve announced that low interest rates would remain in place until at least the end of 2013, meaning that they expect the current slowdown to continue, if not worsen.
Things then get tricky for the school district that right now has already scheduled a parcel tax renewal of Measures Q and W, worth $300 per unit, to be on next spring's ballot.  By that point, the city will have already implemented, unless ratepayer and/or voters stop them, the first of several large water rate increases.
For residential ratepayers, they are looking, on average, around an $800 increase over the next four or five years in their water rates.  Will those water rates put another parcel tax extension in jeopardy?
Already people were seeming to be at the point of saying "enough."  A large enough percentage was willing to, on a temporary basis, pass a parcel tax last May, but with water rate hikes and another city parcel tax on the horizon, will that change?
A $300 parcel tax means roughly $5 million for the schools, enough to cover a lot of the past state cuts to education.  In 2013, the district would then see the $200 parcel tax passed this May come off the books.
This is not a one-time increase in water rates. They will occur over a four-year period, and will have a chance to impact multiple school parcel tax efforts.
Local business owners have already questioned the timing of the water rate hikes during a struggling economy, but this week's news is likely to add more fuel to that fire as we face the very real possibility now of a second recession.
And that just covers the status quo.
Things look about to get a lot worse.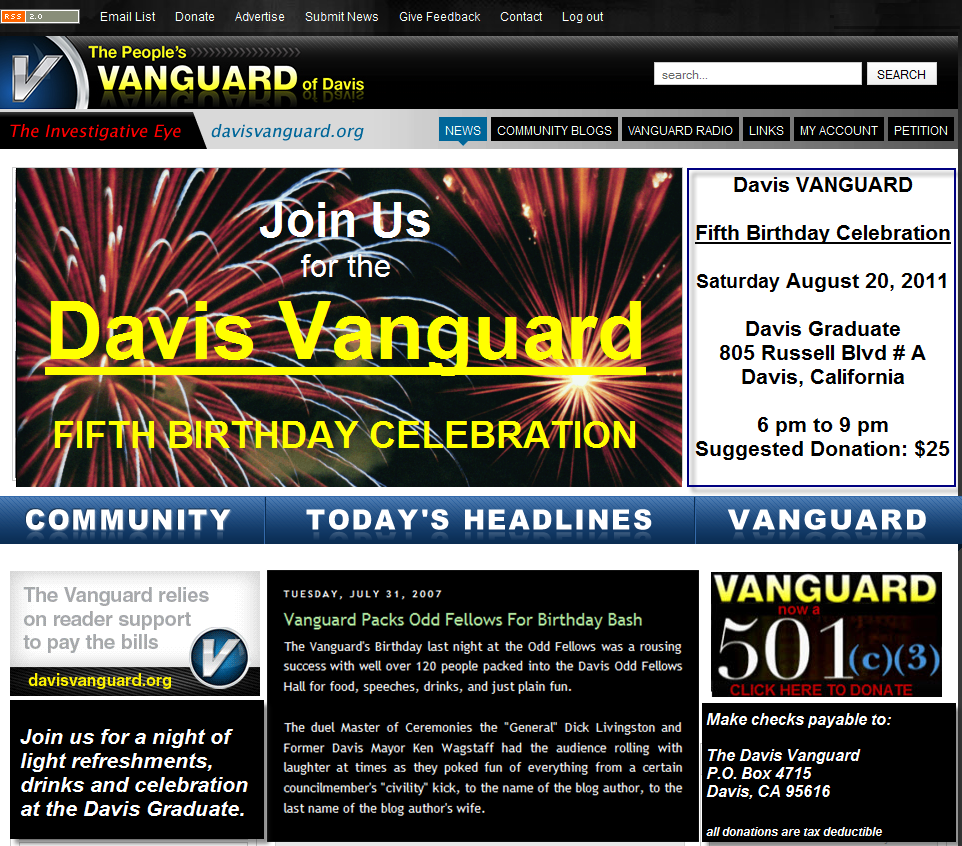 Back in June, the governor suddenly went from a pessimist or realist to an optimist.  In actuality, he became a realist, in the sense that he realized he was not going to get revenue from the extension of taxes and therefore he knew he needed a more optimistic budget.
So the June budget relied upon the projection of $11.8 billion in higher revenues over the next 18 months.
The state saved this money in the spring, but revenues fell well short in June and July.
The projections earned criticism from lobbyist Bob Blattner who said on Tuesday, "You would have had to be foolhardy to think we'd float our way out of this whole thing just on the economy. We should have smelled something."
While Mr. Blattner is undoubtedly correct, back in June things were looking up, but since then the Dow has fallen nearly 10 percent and economists are now downwardly revising revenue and growth expectations.
Where does that leave the school district?  We do not know yet.  Even the state officials are not sure when cuts would be triggered.
The Bee reports this morning, "The impact may not reveal itself until September at the earliest because of when quarterly filers report their estimated tax liability."
Department of Finance spokesman H.D. Palmer, whose department will release their own revenue figures in the next few days, suggested that his sales tax data may be more positive than the controller's.
"A lot of things still have to happen that are going to have a far greater impact relative to what happens to the trigger," he told the Bee. "The biggest is when we revise our economic and revenue forecast in the fall.
Jason Sisney, for the Legislative Analyst's Office, agreed that it is too early to judge when the triggered cuts would take effect.  However, he warned, "The odds are definitely tougher than they were a few weeks ago. A significant part of our revenues are correlated with the performance of the market. Such a large turn in the market is clearly not helpful to the state's revenue situation."
The school district has likely already maxed out the amount that they can get locally through parcel taxes, and the Measure A vote was clearly a sign of that.  The question is really, at this point, whether they will be able to maintain the level of the current parcel taxes, with local policies on water appearing likely to put that into jeopardy.
—David M. Greenwald reporting