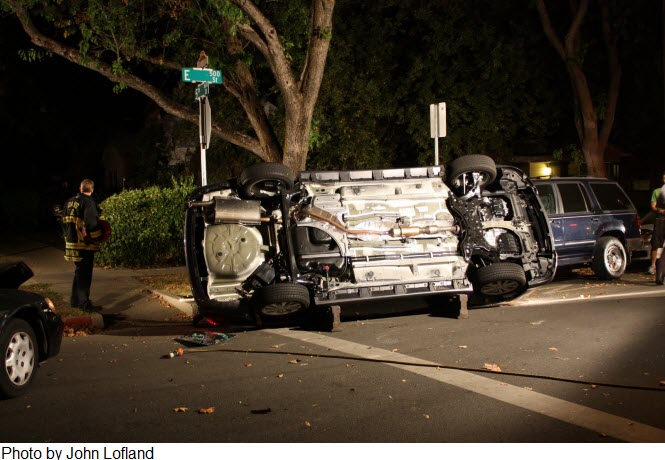 Back in March, the Vanguard asked whether the city was "Slow-Playing the Fifth Street Redesign."  Since then, the amount of notable progress on the subject is rather invisible.
The Vanguard learned that KD Anderson and Associates has been commissioned as transportation engineers.  How much has occurred?  Hard to say, though it does mention on their website, "Our firm has been involved in the development of General Plan documents for many northern California communities. Representative projects include the Circulation Elements of the Grass Valley, Los Banos, Hanford, Chowchilla, Corcoran, Davis, Orland and Yuba County GPU/DEIR's."
Residents of the surrounding neighborhood have become increasingly concerned about the lack of progress, combined with the continued high rate of accidents.
Resident John Lofland, for instance, on the Old North Davis Chat blog noted yesterday that Fifth Street Safety Troubles are not new and pulled up a 1982 Fifth and D car collision showing a resident with an overturned vehicle.
Last weekend, Mr. Lofland, a Professor Emeritus and notable Davis History expert, noted, "About a year ago, I noticed I had accumulated 15 of these 'photo-essays.' Most are at the 5th and E intersection, but a few are at 5th & F and 5th & D."
Davis Patch noted a few weeks ago that 5th Street was among the areas with most traffic accidents, particularly at the intersections of E, F, G and J, where there were 15 accidents in 2009 alone on those four intersections.
Not only does the city appear to be dragging its feet, we note that some of the photos on the KD Anderson page are less than encouraging.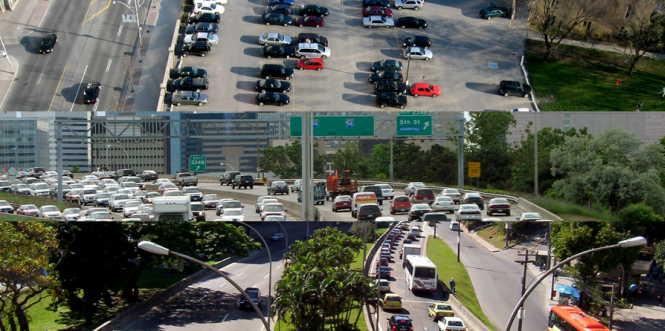 While obviously these photos are not the entire extent of the KD Anderson portfolio, it does lead one to wonder their commitment to smart street design and multimodal usage.  They seem to be focused on automobiles, highways and traffic congestions, and have no photos of bikes, pedestrians or buses.

Contrast it to the depiction of Nelson Nygaard showing multimodal transportation in an urban setting.  That company won an award for the San Francisco Better Streets Plan.
We do not, unfortunately, know much more about what is happening than we did in March, just over five months ago.
Back then we reported that there is increasing concern that city staff is slow-playing the Fifth Street Redesign, even as the public safety threat continues to mount in the form of new accidents each day.  At some point, one of these accidents is likely to produce a fatality and the city may well have a lawsuit on its hands, having acknowledged the dangers of this road but not having acted soon enough to prevent them.
Residents are now threatening to protest.
As we reported in March, 2012 appears to be the target date as reported to the Vanguard by Roxanne Namazi, the Senior Civil Engineer with the city's public works department.  That is, provided that the council approves advance funding for the project.
When council approved this pilot project in April of 2010, the council had announced they had been awarded a grant by SACOG (Sacramento Area Council of Governments) to undertake this project.  That grant will cover only a portion of the initial expense.  Moreover, it begins in the 2013-14 fiscal year.
At that time, the Vanguard reported that the city was hopeful about finding some funding to be able to start sooner.
That was a Community Design grant, in the amount of $836,000, which was approved for the project last February, with funding allocated for the Federal Fiscal Year 2014.
According to Ms. Namazi, Caltrans has approved the Preliminary Environmental Study (PES) that the city submitted last year.
"We have completed the Phase I Environmental Report, as requested by Caltrans," Ms. Namazi informed the Vanguard. "[The] Consultant will be submitting Scope of Work for the Phase II shortly.  We will take a recommendation to the Council on this."
She had also told the Vanguard they were in the process of preparing a report to the city council authorizing issuance of an RFQ (Request for Qualifications) for design/engineering services for the corridor, for either late March or early April of this year.
The city had also filed a Request for Authorization to Proceed with Preliminary Engineering to Caltrans in November of 2010.  The city expected to hear from Caltrans soon thereafter, and if approved, any project expenditure after that approval date would be eligible for reimbursement.
At this point, the city seems to be set on going forth with a consulting firm that does not appear to specialize in this particular type of work.
At some point, hopefully, the council will take the reins back and put their foot down.  After all, this is the sort of stuff that the mayor, among others, stake their election bids upon.
—David M. Greenwald reporting