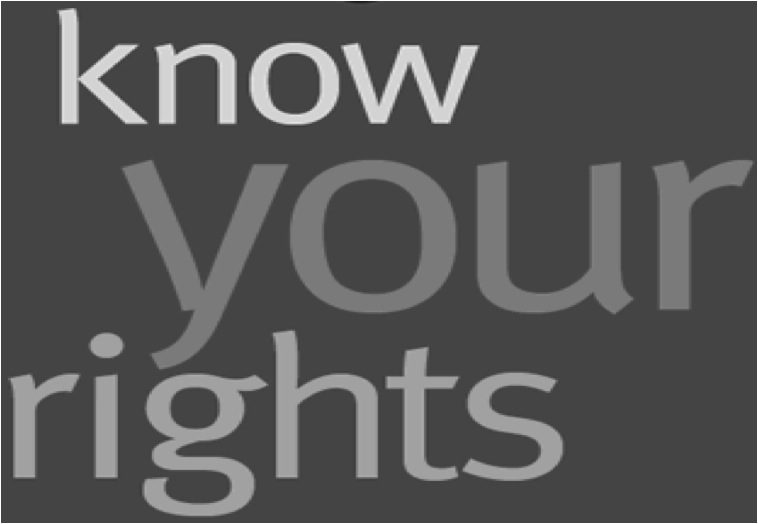 It is still about an hour or two before our second grader will excitedly get up and head off to school.  Like many kids, he will have his backpack filled with snacks, his books, paper and pencils.  But this year we have done something new for him, we told him about his constitutional rights, should he ever be confronted by a situation where the police want to talk to him.
It is sad that it has come to that, but just as we describe to children in great detail what to do if they ever encounter a stranger, it is time to teach them their rights when confronted by police.
The name "Student Resource Officer" implies something wholly different than what it actually is.  The resource officer is supposed to be a resource for children, an asset used by the community and the school in an attempt to address situations in the lives of students in a forum other than the judicial system.
It involves the placement of a law enforcement officer within the education environment, involved in a number of functions that aim at prevention.
According to one handbook, "The SRO is a resource for students, parents, teachers and administration regarding law issues."
In the past, there have been some questions about the role that Student Resource Officers play on the high school campus.  The SRO was brought in, in the belief that the officer could serve as a valuable resource to the students.
"We're fortunate," Superintendent Roberson explained to the Vanguard, "Davis PD works with the school district and we do have a resource officer at our secondary schools."
"I am comfortable with the role that the Davis Police Department [plays] and our partnership," he said.  "Our resource officer is exactly that, he is a resource for students as well as our staff there at the site."
However, one thing that people need to understand is that these are police officers that we are putting onto our campus.  They do not stop being police officers just because there are students and school issues at play.
And so, when we see a young student like Alana de Hinojosa, taken from her class, questioned and threatened for an hour with no parents, no lawyers, no advocate from the school district, it makes all parents uneasy.
To me it was a feeling of betrayal.  Our second grader has had a rough year of transition away from his mother and into our home.  At one point we reached out to the police department because he looks up to police officers, aspires to be one in the future.
Chief Black sent Officer Ellsworth, the day before he became the SRO, to our home.  He talked with us and visited with the child periodically throughout the year.
Little did we realize that he would be doing things to other students that would appall us and violate our trust.  Sadly, as the result of this incident we have told our second grader he is to have no further contact with Officer Ellsworth.  That trust has been betrayed.
If that is the role that police officers play, whether they are designated SROs or otherwise, then our children need to understand that they have rights under the law.
According to the school district's code, Section BP 5145.11, "Law enforcement officers have the right to interview and question students on school premises."
The code continues, "If the officer needs to interview or question the student immediately, the principle or designee shall accommodate the process, and give the student appropriate privacy, and if requested by law enforcement officer will share information to the maximum extent permitted by law, modeling cooperation with community law enforcement authorities."
Furthermore, "The principal or designee shall request to be present during the interview and such request may be granted at the law officer's discretion and with the student's approval."
I do not have any idea what any of that means in terms of the duty a staff member has to a child or a student in their care, and we need to fix that and quick.
What the code does not talk about are lessons that Alana de Hinojosa could have taken to heart, and lessons that could have helped her.
She said that she wants the public to understand that she was an adult at the time that this happened, that she was taking AP Government and studying journalism.
"For two years, I knew my rights, I understand that and I understand the school is not required to give me my Miranda rights, my Miranda warnings. But I just feel, I feel very strongly that the school acting as loco parentis shouldn't have let that happen," she said.
"I felt like trash in that room," she added.  "I was so stripped down to the very core that I felt so vulnerable, that I had no option. I had actually no options and I wasn't told that I could leave, or told that I could call my parents."
I do not know about you, the reader, but it was very painful to hear and read those words.  This is someone who trusted in the system and feels betrayed.
I feel like we betrayed her.  Like we did not give her the tools to fight back.  She held firm to her convictions that she was not obligated to turn over the names of the individuals she spoke with, but what she did not know was her rights.
That is what we must teach the children – their rights. Does your child know what to do if they encounter law enforcement?  Do they know what to do if they are stopped by the police?
We also want to believe that if we have done nothing wrong, we have nothing to fear.  And yet thousands of people who are completely innocent get entangled in criminal prosecutions each year, and some even get convicted of crimes wrongfully.
They have the right to remain silent.  They have the right to ask if they are being detained and if they are not being detained they have the right to leave.  But one of the points that the ACLU's Know Your Fights folks make is an important one, "You have the right to remain silent. If you wish to exercise that right, say so out loud."  You need to be assertive and in order to be assertive, you have to be sure about your rights.
If they are being detained, they have the right to ask for an attorney.  It is not clear that they have the right to request their parents be present.
But is this not an unfair burden to a student?  Should not the district, even though Ms. de Hinojosa was technically an adult at age 18, have informed her of those rights prior to questioning?  Should they not have acted in loco parentis by acting as a parent would?
The one thing I think everyone believes is that what the ACLU suggests makes sense: (1)   Revise existing policies on police interrogations; (2)   Train school personnel about students' rights with respect to law enforcement officers; (3)   Advise students of their rights with respect to law enforcement officers before any on-campus police interrogations; and (4)   Prohibit law enforcement personnel from interrogating students on district property without first obtaining parental consent.
Where things, I think, diverge is that both the district and police believe they followed the rules.  If what Ms. de Hinojosa says is accurate, and to me she was extremely credible, then something went wrong.  It is not supposed to work this way.
If the police did not violate any laws, and from what the student says, I believe that to be accurate, then the problem rests with school policies, district training and students understanding their rights.
I was reading the police report, interestingly enough, from Elk Grove about that shooting, and at the beginning of the interview with the officer it said, "As per Elk Grove Police Department Policy No. 310. Officer Beckham was advised that he was not in custody" and that he was free to leave the interview. He was advised that he was not obligated to answer incriminating questions. He was further advised that any voluntary statement provided by him would be made available for inclusion in the Administrative or other related investigations."
Think about that for a second.  In the contract that police officers have, they have guidelines that they must be informed of.  Why do students not get the same treatment?  Why is it that the district does not have a guideline that informs a student – who is far less knowledgeable of the law than a police officer – that they are not in custody and therefore free to leave the interview, that she is not obligated to answer incriminating questions?  This officer was accompanied by his attorney, so why are students, most of whom are minors and all of whom are young and lack knowledge, given so much less in the way of tools and information about their rights?
I still think the public needs to know what happened here, but I think we can all agree on tightening up the school policy, teaching the students that under our Constitution they have the right not to talk until and unless they have someone serving as their representative and their advocate, and teaching students when they are free to leave and when they must stay.
I hope the school district goes back and fixes their policies and fixes their process of adhering to those policies.  Until then, my instruction to my kids will be, you will not talk to the police without my presence or the presence of an attorney that I have asked to represent you.
—David M. Greenwald reporting